How Hologic increased its production efficiency by 25% with modular material handling system
Hologic is a leading healthcare and diagnostics company that offers a variety of mammography products. For Hologic to operate efficiently and keep up with the fast-paced medical industry, it needed first to be organized to maximize productivity.
Hologic's floor layout was flawed, and this became particularly evident when the company moved production lines from one building to another, and space became a significant issue. Given that time wasn't exactly on the company's side, Hologic needed something it could easily design and assemble.
Read on to learn how a modular pipes handling system helped Hologic increase its production efficiency by 25%.
Estimated reading time: 5 min.
---
Lean manufacturing to streamline operations
To address its productivity issue, the company undertook a large-scale lean manufacturing transformation, led by the plant's continuous improvement leader, Jimmy Sutjito. He underscored the importance of finding hands-on manufacturing equipment that could be adapted quickly and easily—just like Hologic's innovative products.
David Clarke, Quality Engineer at Hologic, explained that workspaces were cramped due to the facility's production equipment. As such, it became difficult to navigate in and around the area—there just was no consistent flow. In addition to being very cluttered, the production floor posed a safety hazard to workers as they continually risked tripping on wiring and cables.
A modular system for personalized, efficient working spaces
After exploring various avenues, the Hologic team opted for Flexpipe's modular tube and joint connector system. Before implementing modular structures in their production plant, several Hologic staff members attended a 2-day training workshop at Flexpipe's facility to familiarize themselves with the system.
They learned about the system's workings, from CAD design to assembly. During this free training session, they assembled a new workstation prototype, which was then sent to the factory for testing and employee feedback.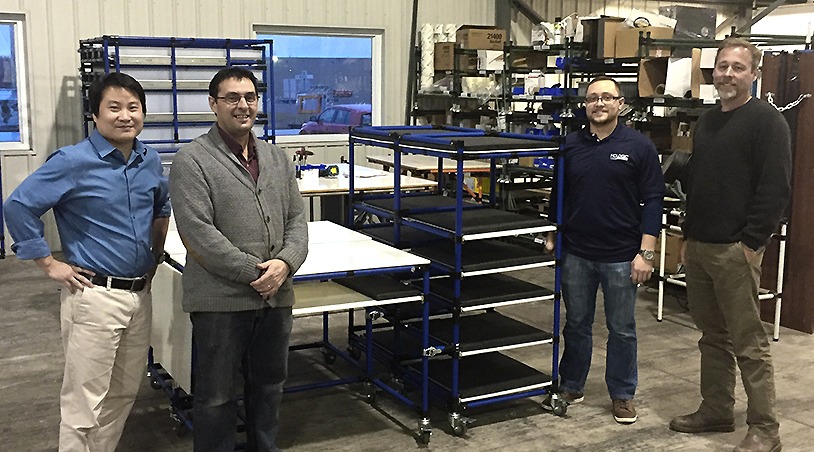 The workstation was a hit! As time went on, the advantages of the workstations prompted the team to add a fleet of modular carts and flow racks to their production floor.
Furthermore, the staff made several additional improvements to the workstations. For starters, each one was customized according to its designated function. From then on, employees no longer had to share tools as each workstation was equipped with its task-specific tools. The staff also freed up floor space by consolidating larger workstations into smaller ones.
Task-specific workstations for optimal efficiency
Workstations are appointed with a foldaway side table for times when a sub-assembly requires a larger work surface. Each structure is set on wheels to facilitate quick layout reconfigurations. Simple, custom swivel arms now hold each workstation's monitor, so employees have an unobstructed view of their surroundings.
Before the improvement process, the stations' front panels were collecting old papers and prevented natural light from streaming in the production area.
A vertical shelf and open drawers are also part of the custom features. This mobile shelf can be permanently attached to the workstation if necessary, and it holds all required tools and equipment for an employee's tasks, such as testing equipment. The lean manufacturing workstations also have shelves with an Ethafoam (polyethylene foam plank), which houses various tools in their designated spaces—a concrete application of 5S principles.
Worker input comes first when planning new structures
Hologic supervisors usually begin a new Flexpipe project process by discussing with floor workers about which equipment changes could enhance productivity. Information from production workers is essential for an ergonomic, user-friendly final product.
Once all the suggestions have been collected, the team sketches out the designs either by hand or with CAD software or calls upon Flexpipe's team. When supervisors are available to oversee the assembly, most structures are built in-house. Hologic staff regularly rely on Flexpipe's support during Kaizen blitzes or when designing more complex structures.
Hologic always keeps the modular system's parts stocked with a Kanban system for updates on structures or for projects requiring speedy completion time.
You can do whatever you need to do with it, you just need a little imagination and engineering, and you WILL come up with something that will work for any individual application.

David Clarke – Quality Engineer at Hologic
Reducing movement waste with an effective floor layout
Reducing movement waste was the most significant accomplishment in implementing lean manufacturing practices. Condensing workspace and clearing away clutter achieved this, which in turn made it much easier for employees to find the right tools, equipment, and parts quickly as they were all close at hand.
To date, Hologic has built more than 70 structures for about 120 floor workers – and this was all completed in just one year. The production gains have been numerous: improved lead time, a 10% reduction in labor needs, and 20% additional floor space made available (by using fewer skids, smaller bins, and smaller workstations). According to the plant's continuous improvement leader, the lean transformation brought about a 25% increase in productivity after all was said and done.
In 2017, Hologic's Danbury, Connecticut site received the Manufacturing Leadership Excellence Award from the Manufacturing Leadership Council and Frost & Sullivan. This award honors companies and individual leaders shaping the future of global manufacturing. The company is also set to receive two other awards in 2018 for significant changes they have brought about in the Aries and AWS areas.
Get your team onboard
with our free design & conception training
LEARN MORE
---