How Safran's Mirabel facility saved more than 40% on workstations and other equipment!
Safran Landing Systems, a world leader in aircraft landing and braking systems, had begun work to double the size of its Mirabel (Que.) plant in 2014. As staunch proponents of the "Lean Manufacturing" principle, Safran's management wanted to take advantage of the expansion to find a way to reduce the costs of its storage systems. Read on to see how they were able to cut the cost by more than 40% thanks to a modular pipe and joint system.
---
Who is Safran Landing Systems
The company's capabilities encompass the full life cycle of landing and braking products – from design and manufacturing to support, repair, and overhaul. More than 7,000 staff members work in the Safran Landing Systems locations throughout Europe, North America, and Asia.
Being a partner to 30 leading commercial, military, business, and regional airframers, Safran ultimately has a hand in more than 25,000 total aircraft, which make over 40,000 landings each day. Needless to say, the company has a significant role in ensuring that passengers get to where they need to go safely.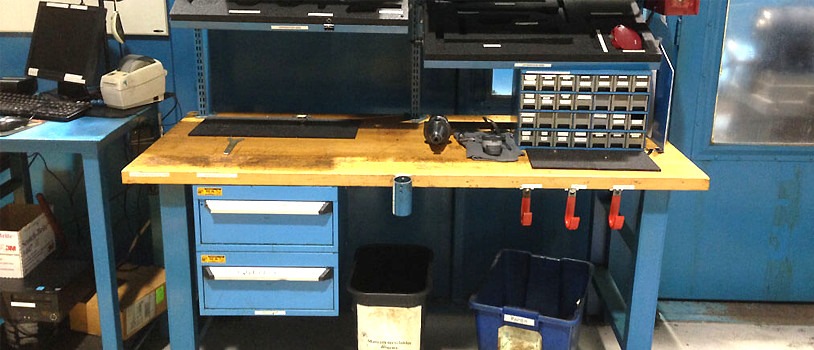 Getting bigger and working smarter
The expansion catalyzed for management to make significant changes, notably with regard to employee productivity. As such, they took to analyzing how employees used the tools and equipment at their workstations to carry out their respective tasks.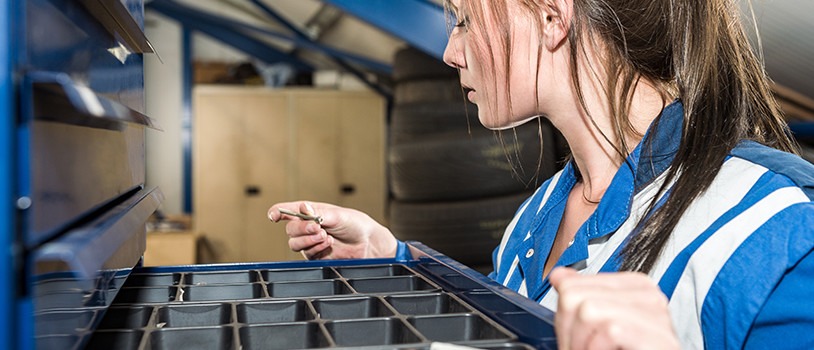 Chaotic parts storage
One element to reconsider was storing parts and tools in large metal cabinets and drawers. In addition to being costly, this type of storage proved to be challenging to newcomers who had trouble finding the necessary parts to carry out specific tasks.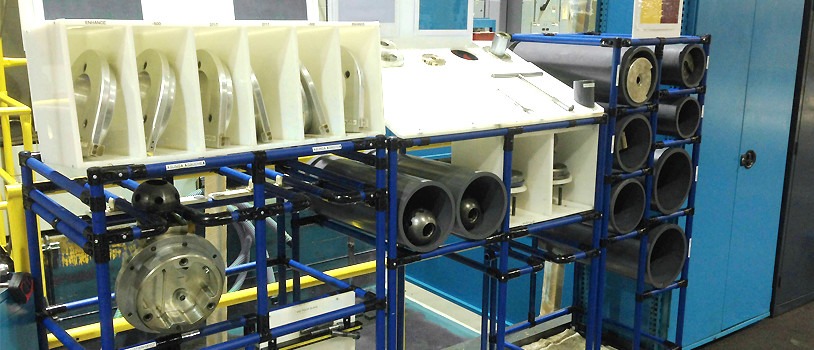 Flexpipe, a place for everything and everything in its place
The Lean Sigma team, who was spearheading the continuous improvement program, began to search for a new alternative to do away with the metal storage cabinets. The team soon discovered Flexpipe, a developer of modular pipe and joint systems designed for industrial and manufacturing environments. Flexpipe allowed employees to design and build their storage structures, kitting carts, handling racks and more. Existing metal cabinets were soon replaced with modular racks to store parts, while shadow boards were brought in to store tools.
A small-scale trial, just to see…
The Flexpipe system was integrated only in a small part of the plant on an experimental basis to see how the machinists adapted to the change. The result? An overwhelming success! The equipment's adaptability and flexibility were a clear winner. The machinists were hooked, and many of them requested Flexpipe lean manufacturing workstations.
600 structures later
Since the introduction of Flexpipe during the plant's expansion, more than 600 structures have been created for about 200 of the facility's fabrication workers. At present, roughly 80 percent of the plant's departments utilize Flexpipe in some way – and that number is expected to grow within the next few years. Now that says a lot about the added value of the modular pipe and joint system at Safran!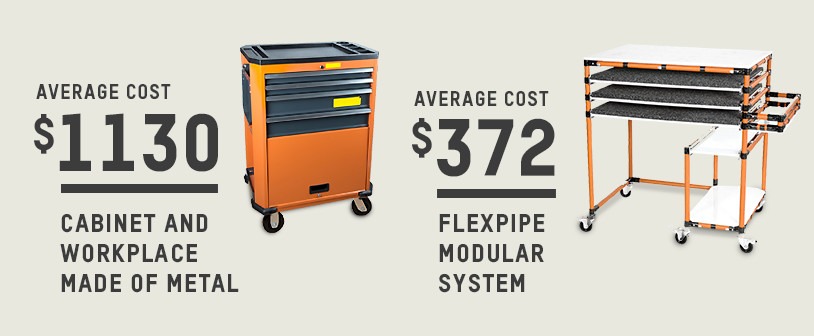 Working in a more organized and less costly manner
Flexpipe does not just allow the Mirabel plant workers to operate better and more efficiently; the structures also reduce cost by more than 40% compared to the metal cabinets. What's more, is that the Mirabel plant's Lean Sigma team can provide such structures on demand.
Quick response time to requests thanks to the integrated Flexpipe workshop
Finally, given the significant advantages of the modular systems, Safran's management team set up an on-site workshop in its Mirabel facility to permanently stock Flexpipe inventory. Therefore, various structures can be built within a short timeframe. Many employees also participate in the creation of their Flexpipe structures, leading to highly customized structures that can boost performance even more.
We want to make the
modular system affordable!