Why your workplace requires a Flexpipe Crib
The Flexpipe Crib is a storage structure that requires assembly. The structure will allow you, among other things, to organize your various modular system parts, make the system far more intuitive to use. This equipment may appear to be somewhat costly to the uninitiated.
However, by reading below, you'll get a comprehensive overview of the Crib's potential and usefulness in your work environment.
An excellent example of 5S principles
The Flexpipe Crib was designed according to Lean Manufacturing
A place for everything and everything in its place is a crucial concept in 5S principles, and the Flexpipe Crib is an accurate reflection of this concept. This structure features three distinct sections: cutting workstation, centrally-located shelf unit, and tube storage cart.
The cutting workstation includes a platform to set up a saw, storage shelves for your tools, and a drawer with foam cutouts to store small tools.
The 5-tier central unit includes two shelves and three conveyor levels for optimal product storage.
The cart includes an 8' section for tube storage as well as a section designated to manage scraps efficiently.
Each of these components is mounted on wheels making it easier to move each one around for quick configuration changes. Furthermore, you can quickly create a U-shaped cell to reduce movements during the assembly process. One can also choose to close off the Crib when not in use to save space.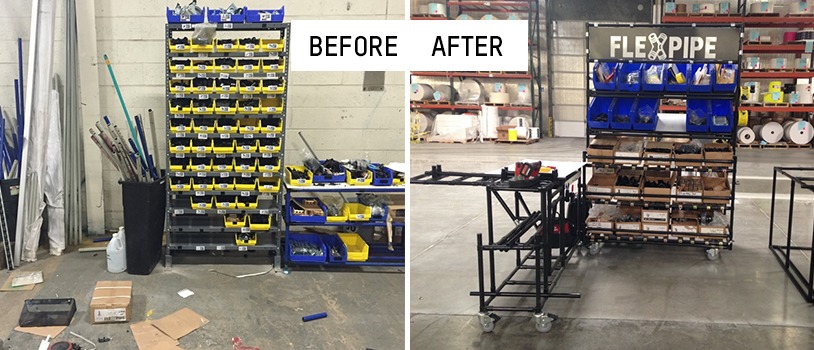 The Flexpipe Crib was designed according to the Kanban "two-bin" system to facilitate the inventory of assembly parts at a glance. Two posters displaying all the possibilities of Flexpipe products grouped by category are also included in the Crib's packaging. Why not do like our customer below and build lateral supports to display the posters clearly!
With these posters clearly visible, no matter who tries to build stuff, they can see what items are available

Michael Dumas – Manufacturing Manager at Barfield Inc.
Too often, structures are assembled directly on the floor or stacked pallets. This is probably the best way to lose parts and increase the risk of work-related accidents.
The Crib is an ergonomic and organized location specifically designed to assemble your modular structures.
Use it to show your team just what Lean Manufacturing standards are all about. In a best-case scenario, each of your facility's departments should be organized in such a way that they are just as Lean as your Crib.
An excellent self-teaching opportunity
Fill two needs with one deed when learning about the modular system's various uses
Each Crib comes with pre-cut parts, a detailed, step-by-step assembly plan, and two parts posters. The assembly instructions have been simplified to make the learning process more comfortable, regardless of your skill level.
It took us a while to begin assembling our Crib, but it turned out to be a training session in itself. When we got down to it, we discovered the modular system's enormous potential. We also realized just how practical some parts were and put them in our structures. We should have taken it out of the box much sooner!

Jamie & Jamie – Maintenance workers at Robinson Innocations
More information:
How modular carts help this logistics company improve its efficiency
It is the most frequently used parts that will go into your Crib's assembly.
When the time comes to assemble more complex structures, you will have already learned the modular system's basics. It's worthwhile to keep in mind that assembling the Crib enables you to understand each component's usefulness in the overall system.
With over 150 different components, you'll become familiar with certain parts that are often overlooked. Such as accessories (AO-CLIP, AC-STRAP, AI-CORNER, AS-REST), slide brackets (FL-COU), and two types of wheels: stem swivel caster (W-4ESB) and plate swivel casters (W-4PSB).
Here is the list of tools included in your Flexpipe Crib:
Afterward, all you'll need to do is equip yourself with cutting and assembly tools such as a saw, drill, driver, and measuring tape. Complete your lean manufacturing workstation's setup with an assembly platform made of Flexpipe tubes! That said, you'll be able to build it according to the size which meets your needs as well as the available floor space.
To determine which tools are best suited for your situation, please read our articles regarding the best tube and joint system cutting tools and assembly tools to get the job done.
Your mini moonshine shop
Where assembly and creativity go hand in hand
The location you choose to set up your Flexpipe Crib can be more than a mere assembly zone. Make it a place where creativity will fuel continuous improvement initiatives. This area should be accessible to all to encourage as many employees as possible to participate in the creative process.
To set up an efficient and productive moonshine shop, you need a dedicated space at the plant, equipped with basic tools and materials. For example, some companies have a moonshine shop right in the middle of their facility so that employees can see innovative work taking place in real-time.
You can also use your Crib as a storage unit for your 5S tools. Colored labels, floor marking stickers, visual learning tools, or any other 5S project-related items can all be kept in this location for quick and easy use.
As such, the Crib will become a purpose-driven location where 5S principles and Lean Manufacturing principles are highly visible for daily implementation.
More information:
9-step checklist for a Kaizen moonshine shop
Some even use the Crib as a meeting point to discuss essential topics and address urgent problems (Obeya) or for daily morning meetings (DMM).
In a nutshell, the Flexpipe Crib will be a valuable asset when integrating 5S in your facility.
On the one hand, it will help you become familiar with the modular material handling system. On the other hand, it will be an ergonomic and safe place for your continuous improvement projects.
Besides being an area dedicated to assembly and creativity, it can also be a designated gathering-point for Lean-themed meetings.
Summary
Reviewer
Review Date
Reviewed Item
Author Rating