5 types of modular gravity flow racks to increase production line efficiency
Flow racks are also known as first-in-first-out ("FIFO") racks, gravity racks, cartons flow, or gravity-fed rack ("GFR"). They enable containers, plastic bins or loose parts to flow from back to front thanks to inclined racks where gravity naturally forces parts to be used on a first-in-first-out basis. Flexpipe's five types of flow racking systems can increase your production line's efficiency and reduce production costs in several ways. How? Read on for detailed descriptions of each type of structures and how they can solve specific production problems.
---
The ABCs of flow racks
Gravity flow racking systems are very easy to implement in any given facility as part of the FIFO method. Here's how it works. On one side, the employee tasked with keeping materials in stock at the point of use in production areas (sometimes referred to as a Water Spider —mizusumashi in Japanese) will supply containers of new parts to the production side on inclined tracks. They will then unload the empty containers from return lines.
On the production side, workers will always pick the oldest components available first and then channel the empty component containers back to the supply side. The structures are designed and built to bring parts as close as possible to the work zone, thereby ensuring that employees work ergonomically.
Ideal for Kanban and Lean Manufacturing
Flow racking structures are ideally suited to a Kanban system. The structures are also essential in Lean Manufacturing as production lines can operate without the stoppages that would typically occur when restocking employee workstations. Implementing gravity racks can therefore substantially increase productivity.
For more information on how to build a flow rack, please read our
How to build flow racks
STEPS to build a gravity flow rack
Safety first
If you need more than 1 level of flow, set up ergonomic landing and loading stations for your containers that range from a minimum of 24 in. up to a maximum of 60 in. The first level will store your raw materials and the second level, the empty containers.
Remember to factor in a 3-in. clearance to load and unload containers for easy picking.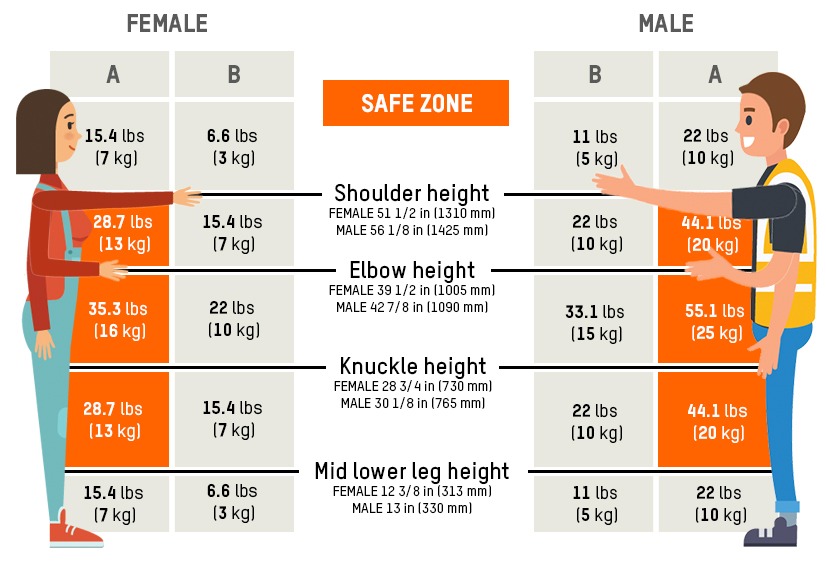 Return lines for empty containers to ensure continuous production
Let's start with return lines for empty containers: these are tracks that move empty containers from the production side to the supply side where an employee can replenish necessary parts. This way, employees do not have to step into the production zone to load or unload containers.
Now, while return lines are not a type of gravity feed racks we highly recommend implementing them for these reasons: to make part replenishment faster, reduce work interruptions so the production line can maintain its pace, and free up employee workspace. For ergonomic reasons, return lines are always located at the bottom or the top of the structures.
Supermarkets racks to have stock nearby
Supermarket racks, or marketplace racks, are higher density flow racks strategically located on the production floor to create mini stockrooms. Gravity flow racks in warehouse reduce transportation time—one of lean manufacturing's eight wastes—between the production line and the storage area, in addition to cutting down on forklift traffic. The stock level in a marketplace rack will be higher than the point-of-use racking, but lower than the central warehouse.
L-shaped flow racks for proximity of parts
While most gravity flow shelvings are designed to be in a straight line, some of them are built in an L-shape. This configuration saves workers from making unnecessary, repetitive movements. L-shaped gravity racking is used widely in the automotive industry to bring parts as close as possible to the operator's machine. However, these structures are not intended for this industry only; they can be used in any environment to make workers' tasks safer and more efficient. Check out the photo gallery to see how we create them. 
Depending on the size and weight of your containers, it is best to test and rework your prototype, so it accurately meets your requirements. Once you have mastered this type of structure, you will be able to create a Z-shaped flow rack with two angles.
One-piece flow conveyor stations for Lean Manufacturing
These structures incorporate the concept of gravity racks by their eight-foot roller tracks. The one-piece flow concept is a core element of lean manufacturing, which is widely used in the Toyota Production System (TPS) and where each operation only builds what the next operation needs. Subway restaurants also use single-piece flows to custom-make one sandwich at a time on a long—but not deep—counter.
The stations are built in such a way that employees can work on only one product at a time. By creating a workspace restricted to the bare minimum, workers naturally carry out their tasks according to the one-piece flow concept. Also, as roller tracks also move products more efficiently from one location to the next, employees are less inclined to make unnecessary movements.
Disvover here how to maximize your employees day-to-day tasks
Gravity-fed workstations to free up floor space
Flow tracks are integrated into lean manufacturing workstations to feed workers with parts, raw material, hardware, fasteners, or for sub-assemblies. They are used for small-density bins such as fasteners, whereas portable flow racks units will store bigger parts. Additionally, embedding gravity racks into workstations saves floor space and reduces costs. When designing return tracks for empty containers under a workstation, remember to make them short enough to leave enough room for the workers' feet.
Flow racks examples
– One-piece flow assembly line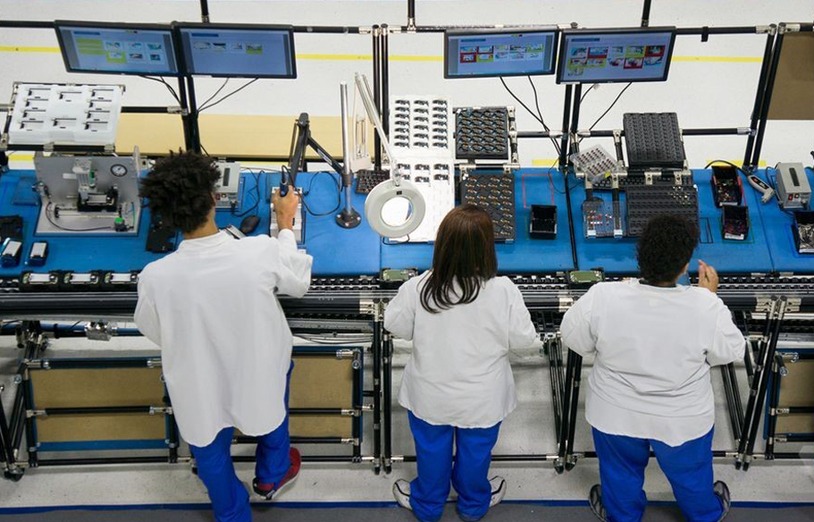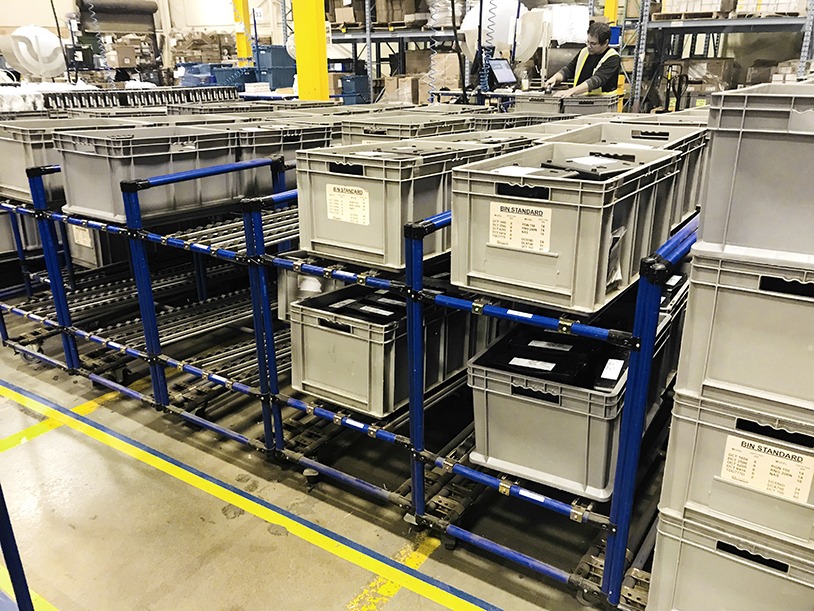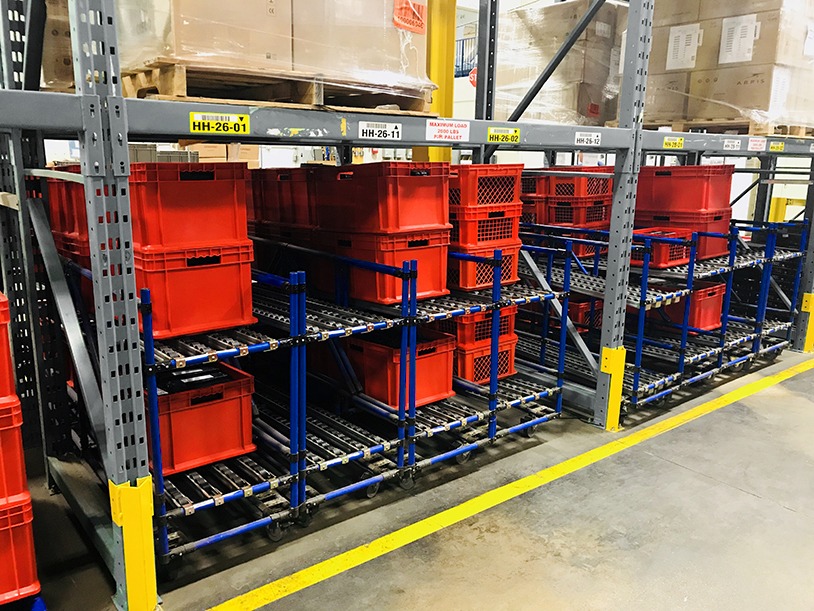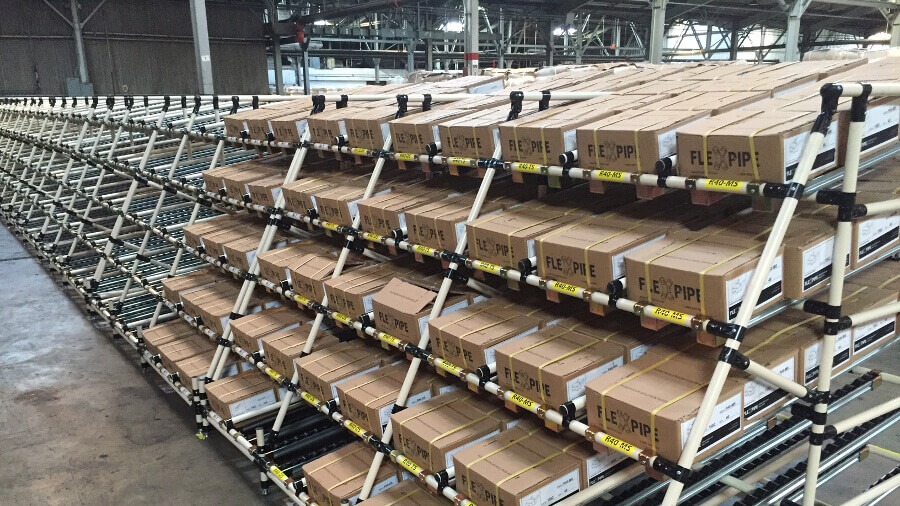 Example of Flow racks built with Flexpipe
With our starter kit you can
build your own flow rack