Why buy 8-foot pipes instead of 4-meter pipes?
Estimated reading time: 4 minutes
Are you wondering about which pipe length you should buy to reduce costs? Read on for details about transportation and scrap costs in the comparative study we did on eight different projects built with 4-meter and 8-foot pipes.
True or false #1: buying 8-foot pipes reduces freight costs?
True or false #2: 4-meter pipes generate fewer scrap pieces?
In 2017, we began offering 4-meter pipes to accommodate some of our customers' needs. Recently, we decided to look into the benefits of these 4-meter pipes and did some investigating of our own. Keep reading to learn the reasons why – following our tests – we recommend purchasing 8-foot pipes instead of 4-meter pipes.
We know that the industry norm in pipe and joint systems are most likely 4 m pipes because Japan's Yazaki introduced the product in 4-meter lengths many decades ago. However, when it comes to standard building materials such as plywood or timber, 8-foot lengths are most often used. This is mainly due to housing construction standards, and for reasons regarding health, safety, and freight costs.
The table below compares the cost of purchasing 8-foot versus 4-meter pipes for use in 8 different pipe and joint projects. Since most of our customers obtain 4-meter tubes from our competitors, we've since introduced Creform 4-meter pipe pricing. To round out the table, we also calculated the monetary value of scrap pieces shorter than 12 inches, since they are generally not reusable.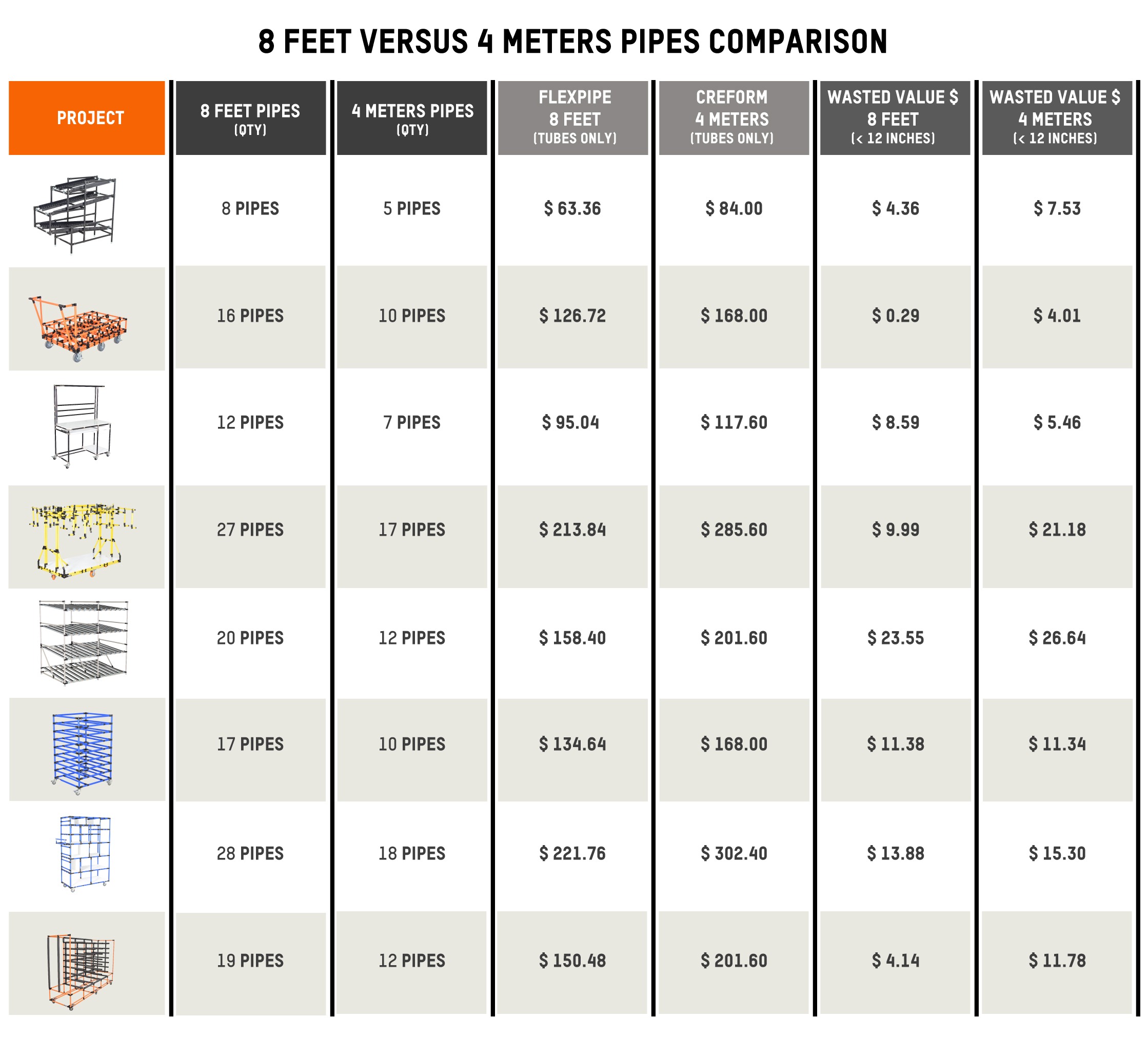 *Prices based on 2022 regular catalogs from Flexpipe and Creform.
According to the numbers in the table, it's safe to say that the average piping cost per project is just about the same. While the value of the scraps under 12 inches long is a little less expensive in the "8 feet" column, we can affirm that you'll get better reusable scrap pieces with 4-meter pipes.
Regarding work-related illness and injury, 4-meter pipes need to be handled with greater care than 8-foot pipes. There is an increased risk of self-injury or harm to others, regardless of whether you are handling the pipes manually or using a forklift. For these reasons, and to adhere to ergonomic guidelines, we decided to keep 8-foot pipes as our main product offering.
Drawbacks of 4-meter pipes:
Require extra-long forks to handle 4-meter pallets. This can be a waste of time for the forklift driver.
Require a more considerable amount of floor space to get the pipes out of the truck and to move non-standard pallets throughout the plant.
Require a more significant footprint or specialized racking to store the pipes vertically or horizontally.
Require a larger cutting table, thus take up more space.
Require a wood crate for handling and shipping, which is an additional cost.
May require time or money to get rid of the wood crate.
It cannot be shipped by UPS or FedEx, as the authorized maximum length is 10 feet.
Increase freight costs by 42% (see below).
As a side note to the freight costs mentioned above, 8-foot pipes can be shipped with regular carriers, while the 4-meter ones must be sent with LTL carriers.
In the chart below, you will find prices listed on freightcenter.com, which were calculated on October 25, 2018, with an $80 overlength fee. Since summer 2018, most LTL carriers charge an overlength fee on material exceeding 8 feet. We prioritize carriers offering delivery over two business days.
8-foot shipment values ; 24x96x30 500 lb
4-meter shipment values ; 24x157x25 500 lb
Drawbacks of 8-foot pipes:
Generate more reusable lengths to manage (exceeding 12 inches long).
Higher in cost if you are a one-time user and do not intend on re-using the scraps.
So, to answer the first true-or-false question, which was, "Buying 8-foot pipes reduces freight costs?" The answer is TRUE: you will save on freight costs with 8-foot pipes and avoid the hassle of handling 4-meter units in the plant.
For the second question, "4-meter pipes generate less scrap?" the answer is also TRUE: 4-meter pipes reduce leftovers mostly for long structures. However, if you regularly build structures, you will be able to re-use leftovers quickly since most of them exceed 12 inches.
If you frequently work on continuous improvement projects for the plant, you are better off with 8-foot pipes.
If you use industrial pipe racking systems only occasionally for specific quantity projects, e.g., a contractor who builds new carts or FIFO rack for a client, you are better off with Flexpipe 4-meter pipes. If you use pipe and joint systems for small or in-house projects, opt for 8-foot pipes as they can quickly be shipped via courier.
We hope this comparison test was helpful to you. If you have any questions, please contact your project manager. He will be happy to provide any assistance you might need.