How kaizen initiatives improved batch-to-batch processes at American Woodmark
---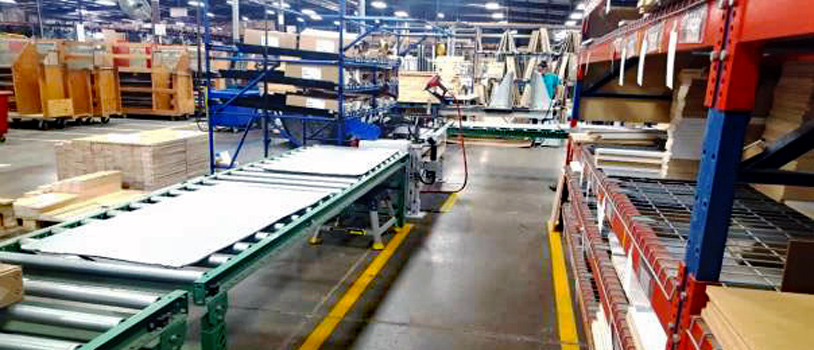 Carlos Rubio – head process engineer at American Woodmark in Dallas, TX – was tasked with improving the residential cabinet manufacturer's material handling systems and batch-to-batch production processes. Carlos and his team made their own Flexpipe material handling structures to lower cabinet assembly cycle times, reduce transit times, and shorten the distance for work-in-process parts. They also improved the aesthetics of the workstations while improving ergonomics, worker safety and reducing the likelihood of musculoskeletal injuries.
Read more to learn about the role Flexpipe's modular material handling systems played in the success of this expansive 5S and Kaizen project.
American Woodmark
With a rich and storied history of over 70 years, American Woodmark is now well-recognized as a market leader, designer, innovator, and manufacturer of high-quality cabinetry. Currently, among the three largest cabinetmakers in the United States, American Woodmark employs over 10,000 dedicated team members and runs 17 manufacturing facilities that produce over 41,000 cabinets a day and over 10 million cabinets each year.
Corporate responsibility and environmental stewardship are hallmarks of American Woodmark. The company's environmental sustainability program is complemented by a company-wide commitment and focus on caring for its community, environment, and people. With over 6 million contributed to charities and a well-established internal career orientation and development program, American Woodmark is committed to making a lasting impression.
Typical Causes of Lost Time and Work Stoppages
No manufacturer is immune to lost time or work stoppages. They happen. However, manufacturers that ignore the root causes of downtime often realize that these causes are systemic. These problems repeat themselves across the shop floor – from one workstation to the next – until continuous work stoppages impact the entire batching process. Over time, complacency creeps in, and these everyday delays become part of a company's culture.
Some of the most common work stoppages manufacturers encounter include unsuitable material, missing critical tools, parts, and consumables, improper storage and handling, or missing assembly instructions. Other work stoppages might be caused by poorly identified trolleys, machine downtime, injuries, or missing work orders.
Assuming these issues will somehow correct themselves is no way to alleviate the problem. In fact, it has the exact opposite effect; These problems only get worse with time. As more companies adopt lean concepts, these issues need to be tackled head-on. Thankfully, Carlos and his continuous improvement team took a more proactive approach to solving these problems.
For Carlos, it became a constant concern. He found that "our performance needed to improve" and that building Flexpipe structures would "…make everything cleaner, reduce the time workers needed to find parts and eliminate workers borrowing tools from each other."
5S and Kaizen Initiative at American Woodmark
Carlos has over 40 years of experience in tooling, process optimization, and lean manufacturing. Having spent 30 years in Aerospace – and ten years in the Oil and Gas Industry – Carlos was perfectly positioned to drive improvements at the American Wookmark Dallas TX facility.
With a 5-year history at American Woodmark, Carlos leads a seven-member team focused on implementing 5S (Sort, Set-in-Order, Shine, Standardize, Sustain) and other lean manufacturing principles. Their goal was to work alongside production employees to effect change and raise the bar on each other's performance.
This continuous improvement mindset and partnership between management and employees means the entire American Woodmark team is dedicated to eliminating waste, minimizing lost time, and eliminating work stoppages. For this 5S and Kaizen initiative, Carlos and his team identified three critical areas to improve. These initiatives are outlined below.
1. Create a New Customized Flexpipe Trolley
The Dallas facility had always used fixed structure material handling trolleys. Unfortunately, materials, parts, consumables, tools, instructions, and work orders were haphazardly strewn about these trolleys. There was no structure, process, or approach that employees followed for handling, storing, and using materials, tools, and consumables.
The customized Flexpipe cart Carlos and his team made was a drastic improvement. They made a Flexpipe trolley with designated areas for hardware, created a surface with die-cut foam for tools, and provided easy access for staple guns. This meant employees no longer wasted time borrowing tools, looking for parts, or misplacing materials. For Carlos, the "…process was easy. We made a customized Flexpipe trolley that was substantially better than what we had before."
2.Create a New Customized Flexpipe Flow Rack for the Hardware Station
The original hardware station had no means of providing workers with new bins of materials, consumables, or parts once existing bins were depleted. This meant that production employees had to walk long distances to get replacement bins. There was also nowhere to position the drill gun and other critical tools.
The upgraded Flexpipe flow rack provided space enough for three bins so that each time a bin was depleted, a replacement bin slides to the front of the flow rack and takes its place. This means the employee no longer had to leave the workstation. A tool balancer was also added to the Flexpipe structure to make it easier for the operator to find tools.
Here is a summary of the before and after key performance indicators (KPI) or metrics for the hardware station.
| | | | |
| --- | --- | --- | --- |
| Metric | Fixed Structure | Flexpipe Structure | Improvement |
| 5S Score | 60% | 75% | 25% |
| Lost Time | Only enough space for 1 bin | Flexpipe Structure provided enough space for 3 bins | Reduced wasted time |
| Safety/Ergonomics | Operator had to lift the full weight of the electric drill/stapler | Tool balancers reduce the risk of musculoskeletal injuries for tool operators | Reduced Incidence of Injury |
3.Create a New Customized Flexpipe Flow Rack for the Metal Box Station:
The original metal box workstation had no flow rack. Materials and parts were stored under a table and along the length of a 30-foot conveyor. The parts and consumables were not held in bins. Instead, they were left inside their original supplier boxes. This means workers spent a lot of time inspecting individual boxes in the hopes of finding the consumables and parts they needed for a specific cabinet.
Carlos and his team made a Flexpipe flow rack that eliminated these issues entirely. Instead of storing consumables under the entire length of the conveyor, everything was neatly placed in the new Flexpipe flow rack. Workers simply had to access the bins on the Flexpipe flow rack immediately in front of the workstation. No more wasted time looking for parts and no more wasted time walking the length of a 30-foot conveyor.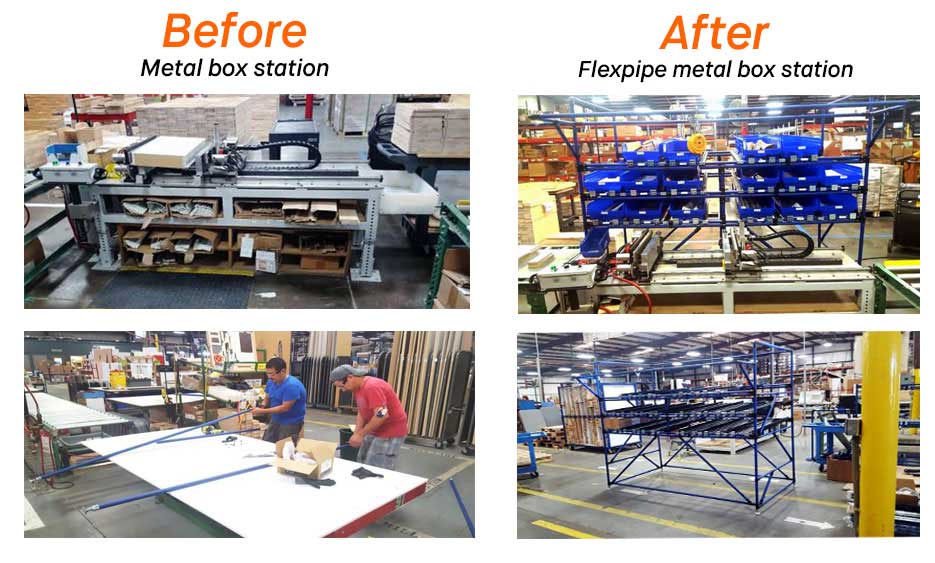 | | | | |
| --- | --- | --- | --- |
| Metric | Fixed Structure | Flexpipe Structure | Improvement |
| 5S Score | 64% | 75% | 17% |
| Average Distance Traveled (Ft) | 180 Feet | 18 Feet | 90% |
| Safety/Ergonomics | The operator had to bend over to get parts | No more bending over | Reduced Incidence of Injury |
| Safety/Ergonomics | Operator had to lift the full weight of the electric drill/stapler | Tool balancers reduce the risk of musculoskeletal injuries for tool operators | Reduced Incidence of Injury |
A Modular Material Handling Solution
Change takes time. It takes a committed team that understands that making small incremental changes will eventually lead to significant improvements. Carlos was so happy with the results that he decided that other American Woodmark locations could benefit from Flexpipe structures, "I have since manufactured several modular Flexpipe material handling structures and shipped them directly from Dallas to our California facility."
For Carlos and his team, this was not a one-time exercise. They will "…continue to use Flexpipe and use the solution to make more improvements."
FLEXPIPE: DESIGNED WITH LEAN CONCEPTS IN MIND
Flexpipe is an innovator in modular material handling systems with an expansive customer base across North America. Flexpipe is not only less expensive (30% less) compared to its competition, but it offers multiple customer-centric services to help customers easily integrate tube and joint systems into their manufacturing. These services include on-site visits and evaluations, custom builds, excellent after-sales support, and a one-of-a-kind free Flexpipe Creator Extension to help in modular material handling designs.