Major Corrugated Box Manufacturer Gets Lean with Flexpipe
President Container – a major manufacturer of corrugated boxes with a storied history going back to 1947 – had three core objectives when creating their lean visual workplaces: Improve visuals and cleanliness in and around workplaces and machines, reduce manufacturing setup times, and enact effective end-of-shift cleanups.
---

LISTEN: AUDIO INTERVIEW WITH MATTHEW GROSSBARD
In this interview, Matthew Grossbard, Continuous Improvement Manager at President Container Group, talks about how continuous improvement is achieved. Interview conducted by Caroline St-Germain and Charles-Olivier Roy of Flexpipe's marketing team.
What it Means to be Lean
The essential principle of lean manufacturing – and its precursor 5S (Sort, Set in Order, Shine, Standardize, Sustain) – is to eliminate waste by using clearly-distinguishable visual queues and clean workstations to increase productivity and efficiency.
Success requires flexible, nimble, and easily-scalable solutions where continuous improvement is a continuous feedback loop; Improve efficiency by identifying the root cause of downtime, enact a proactive improvement plan, assess results, and make adjustments if needed.
Flexpipe's modular piping solutions are designed with lean concepts in mind. They help companies like President Container adopt lean principles by empowering them to quickly erect standing structures, shelving, boards, workbenches, carts and flow racks.
The solution is so flexible that companies can also construct their own portable carts and tuggers. In President Container's case, they used this flexibility to full effect by making Flexpipe a critical component in their lean visual workplaces as Matthew Grossbard, Continuous Improvement Manager, stated "From where we started to where we are now – from a visual standpoint around the facility – it's night and day."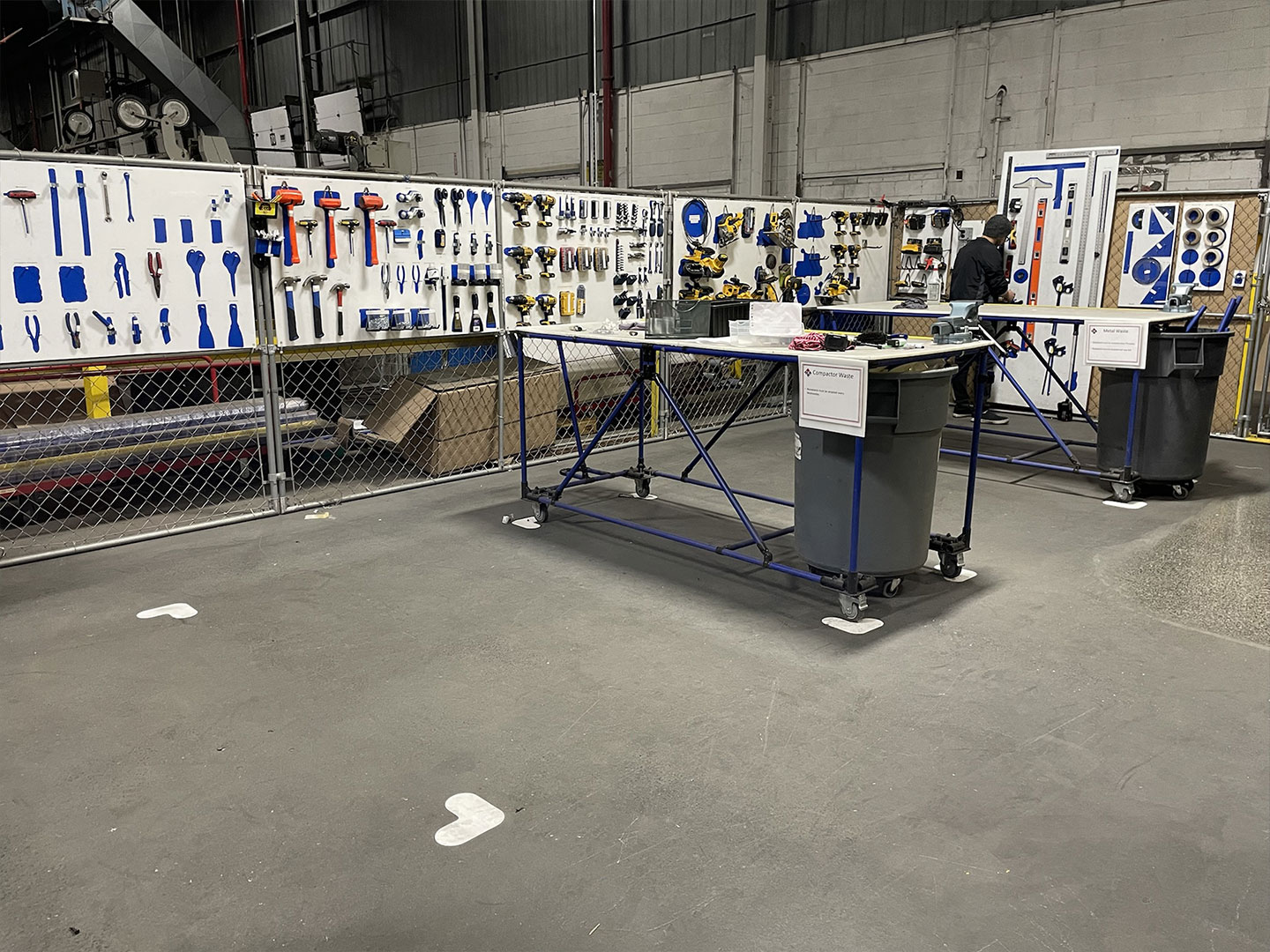 A stock of pipes ready for a new continuous improvement project.
A Five-Year Collaboration with Proven Results
Tribalism is a common problem in manufacturing. However, working from memory without standardization can cause several problems. It's also common for production employees to claim ownership of tools while adopting their own storage practices. Sometimes they even hide those tools.
All of this adds up to a lot of wasted time, something Mathew as Continuous Improvement Manager experienced himself. After adopting Flexpipe's easily assembled work structures he asked a rhetorical question with a fantastic answer; "How long did it take to find that tool before? It took about 10 minutes. So, when we created the organized visual workplace it now only takes 5 seconds."
Creating a visible workplace means employees see an organization invested in its success and theirs. It puts an end to tribalism while making it easier for new employees to transition into their new roles. Standardization is key and periodic
Mathew's five-year relationship with Flexpipe is also playing a critical role in changing the company culture while also improving employee retention. Employees are starting to appreciate the cleanliness of the workplace and the simplicity of Flexpipe's products when erecting standing structures and it's clearly having an impact on employee morale.
Employee buy-in means employees can look to Mathew and his team to create new structures as "the crews bring up requests to us on a regular basis". Employees fill out suggestion forms about any improvements they feel need to be made. While Mathew received more forms initially, he now sees fewer requests which he attributes to the successful adoption of the Flexpipe solution.
Low Costs with Flexpipe Customizable Structures
For Mathew, the ability to quickly create customized, strong, durable standing structures and material handling systems with Flexpipe's pipe and joint systems is the ideal solution. The company is no longer burdened by the high costs of manufacturing fixed structures.
Companies typically ask maintenance to create standing structures and it's a costly endeavor. Aside from the time needed to manufacture the structure, there's also the time involved in researching and purchasing multiple different materials, which are rarely off-the-shelf items.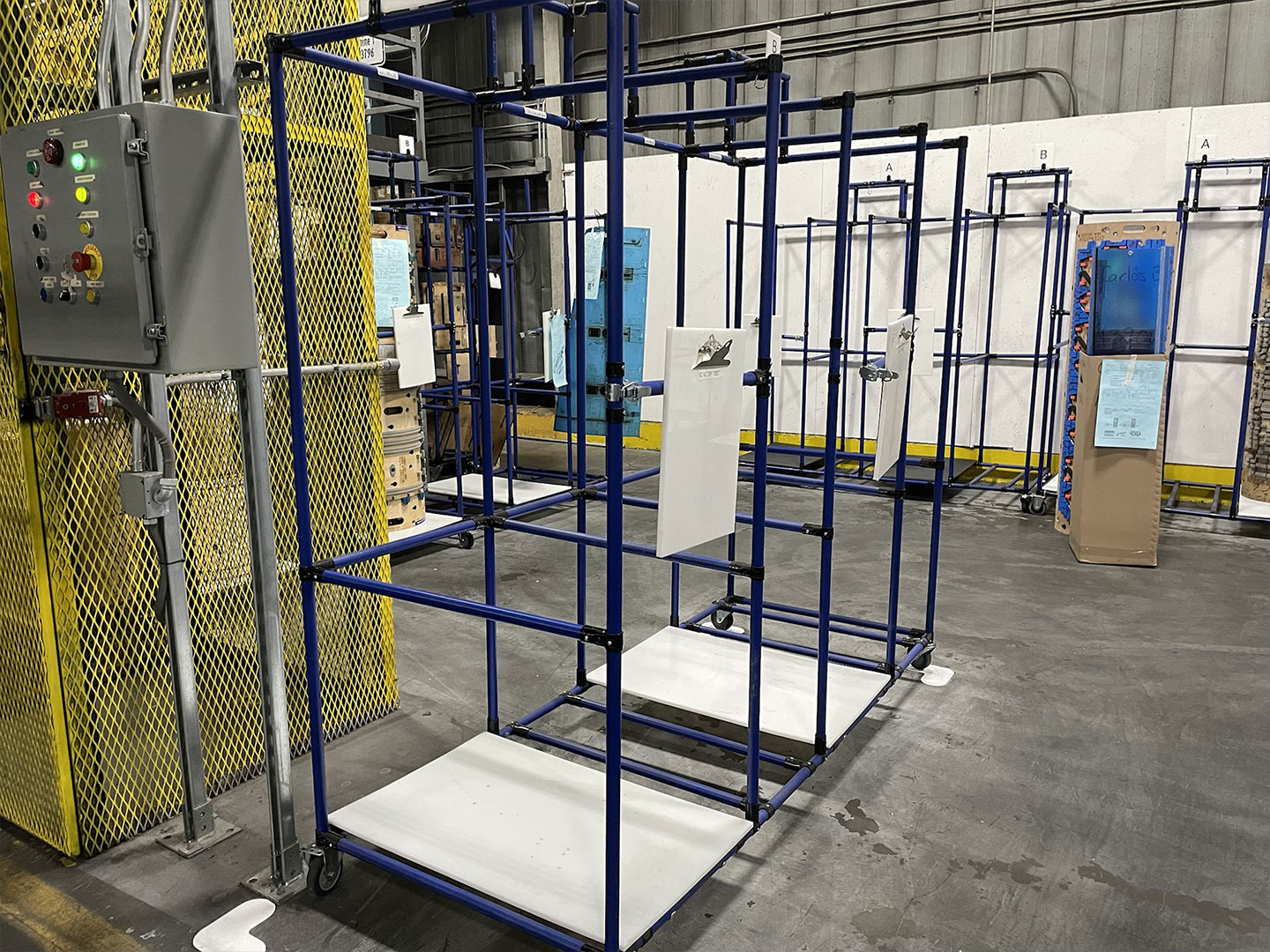 Spending valuable production time manufacturing a fixed structure that may, or may not, be a solution is by no means lean. It's a waste of time, valuable resources, and money. None of this is a concern for President Container. According to Mathew, "That's the beauty of your product. It's flexible. You can build something, tear it down and build it again. It's easy to use and it quickly became second nature to us".
A True Team Effort
President Container ensures that the whole team is involved in putting together a Flexpipe modular structure. The Sustainability Department is responsible for ensuring all modular structures are clean and maintained. The Project Department starts the build from the ground up when new machines are received. These two departments act as the leads with Mathew overseeing it all as the Continuous Improvement Manager.
Every second year the company receives new machines which invariably require a new visual workplace. Mathew and his team have clearly benefited from their experience with Flexpipe solutions as it allows them to quickly and seamlessly revamp old structures. Even for everyday problems, there's a solution with Flexpipe "recently, we had a challenge where we didn't have a place for a tool. OK. We don't have a place for it so let's go build one."
An Innovative Solution
Perhaps the greatest example of innovation is exemplified by how Mathew spearheaded the quick assembly of a Flexpipe structure to sit on the top of a flatbed Golf Cart. This structure allowed the corrugated carton manufacturer to store and transport tools, ink, print plates, and cutting dyes across a 525,000 square foot facility.
The ultimate benefit of this initiative meant no individual workplace or equipment was left sitting idle waiting for critical tools or materials. This novel solution significantly cut down on idle time while reducing transit times for employees.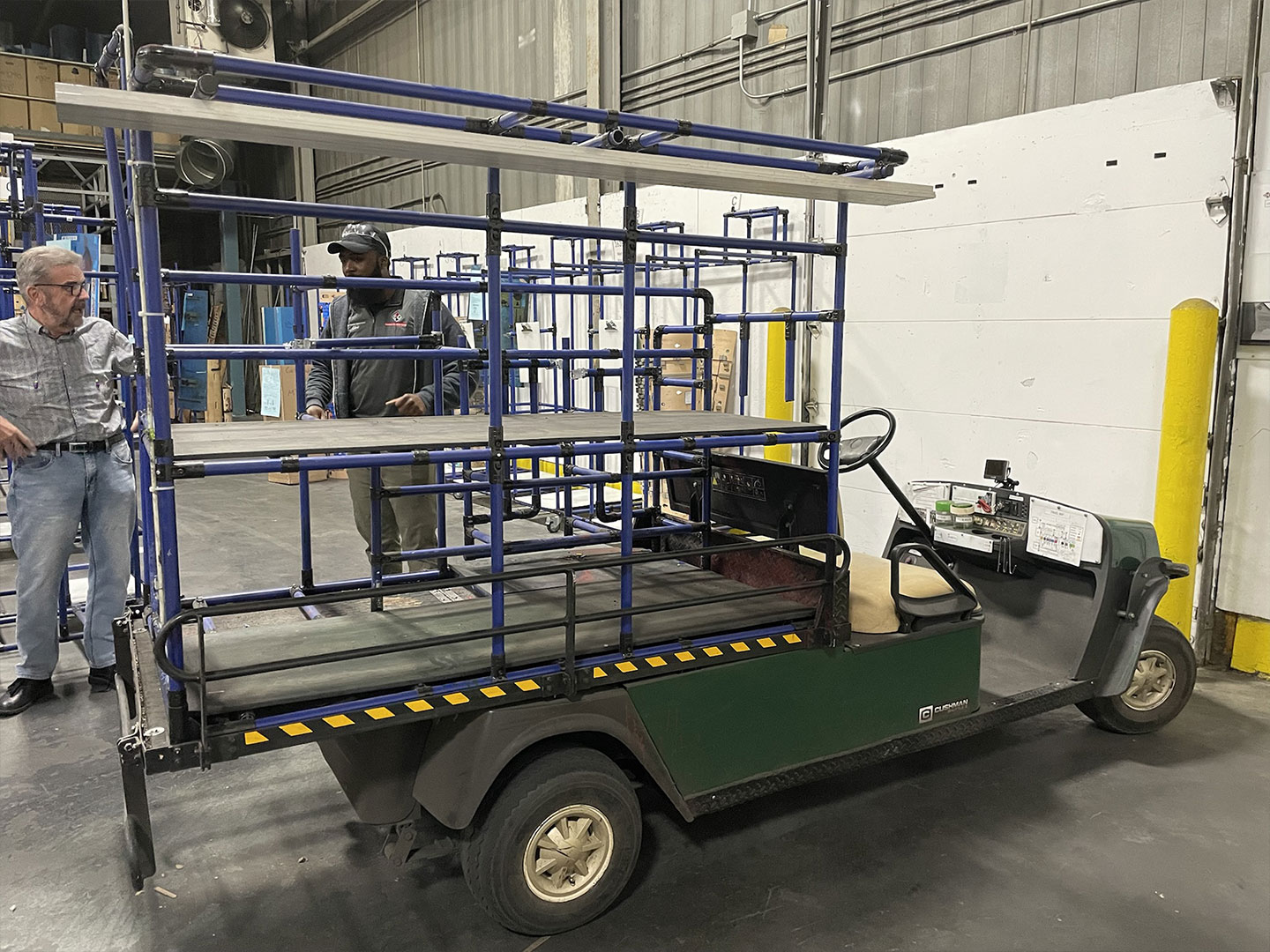 This golf cart was optimized as a transportation waste solution.
Flexpipe's solutions are easy-to-assemble and just as easy-to-disassemble. The Flexpipe family of products reduces waste, improves efficiencies, eliminates ide time, and maximizes production and warehouse space. It's the ideal solution for any business looking to adopt lean principles.
Crack down on
production wastes with Flexpipe