Using Flexpipe for Lean Manufacturing CabinetMakers
---
ADOPTING LEAN MANUFACTURING
Regardless of your industry, some employees may be reluctant to change, while others may embrace it. For those who resist change, it's often a question of personal comfort; we've always done it this way, so why change? However, with consistent training, constant feedback, daily upgrades, and commitment, you will achieve significant lean improvements using Flexpipe.
Flexpipe is a tool, but the employees drive the improvements
Here are just a few examples of lean improvements using Flexpipe products.

Source: MetCabinet About Us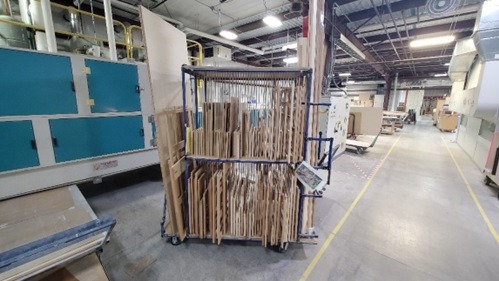 INCREASE PRODUCTION FLOOR SPACE BY REDUCING OVER-PRODUCTION
Several cabinet makers using Flexpipe can decrease over-production while dramatically reducing the square footage of their shop floor. This reduction in floor space saves the company money while making it easier to manage materials, quarantine defective products, collect scrap or refuse, and move semi-finished and finished goods between lean work cells.
We often come across Cabinet makers who have fully adopted batch production. Trying to make different types of products simultaneously, along with redundant work processes and poor material flow, often leads to WIP cabinets, drawers, trims, and sides strewn about the shop floor. We see this quite often. The solution to this issue is provided below
Learn about one-piece flow and how it could be put in place.
Make sure management and owners are on board with the new one-piece flow philosophy.
Be ready and open-minded to adjusting work tasks, departments, and different production and assembly activities.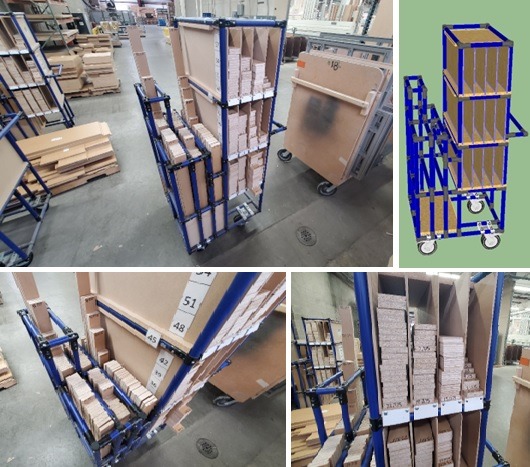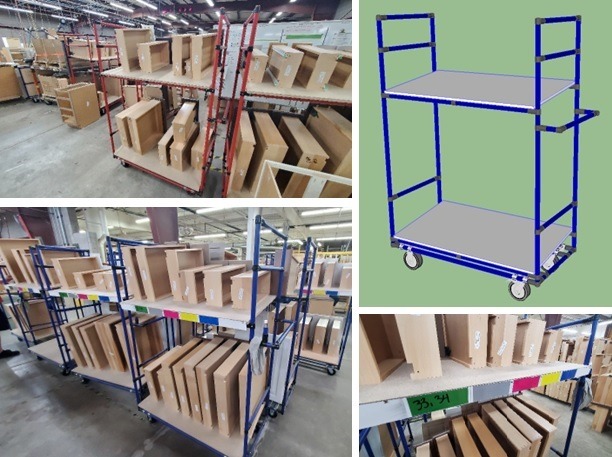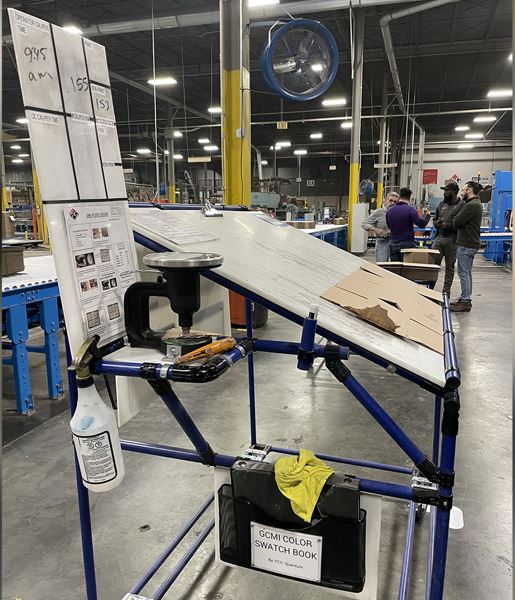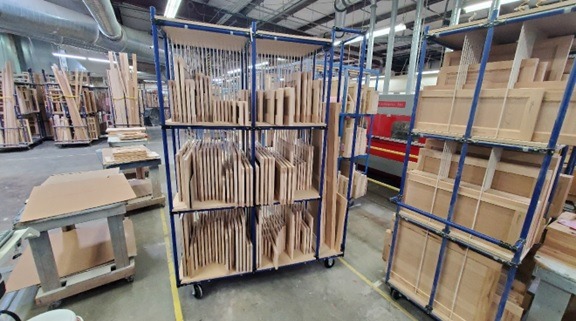 This Flexpipe cart in the finishing department is used for cabinet frames, end panels, backs, shelves, etc. Each subcomponent and material is neatly placed in its appropriate slot, making it easy for operators to access a given piece when needed.
OPTIMIZE MACHINE UTILIZATION WITH EFFICIENT CHANGEOVERS
Companies invest a lot of money in automating their machinery and equipment. Unfortunately,   these same companies often ignore the lean structures and material handling solutions critical to maintaining running equipment. They simply don't invest enough time, energy, or money to ensure that their material handling structures are optimized.
Even the newest automation falls short if the structures around them aren't properly organized. Not convinced? Take some time to investigate and measure your cutting machine's productivity and efficiency. You're likely to find there is far more downtime than you expected. Very often this is due to inefficient changeovers.
Review your loading and unloading procedures. Focus on ergonomics so that operators have easy access to tools and work instructions and never have to wait for one-at-a-time forklift deliveries of raw materials.
Have the next job (complete with material and work orders) ready well in advance to reduce waiting time.
Try to put as much as possible every day on casters to give you flexibility and reduce waiting time.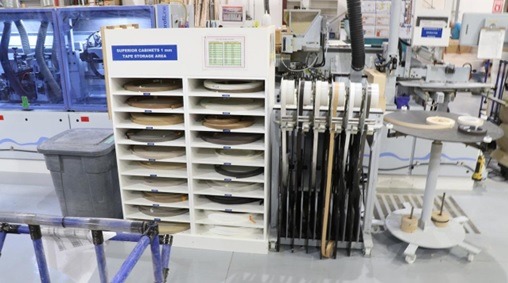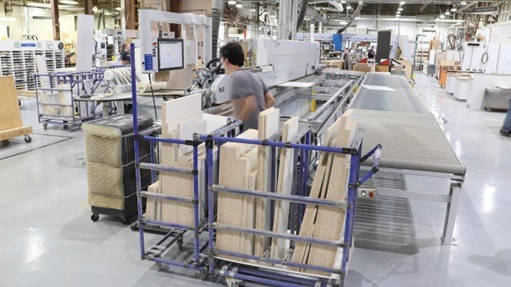 A Flexpipe cart on the Homag Edgebander machine at Superior Cabinet. It applies matching edge tape of various colors to the sides of the melamine to match the finish on the top and bottom.Source: Superior Cabinet.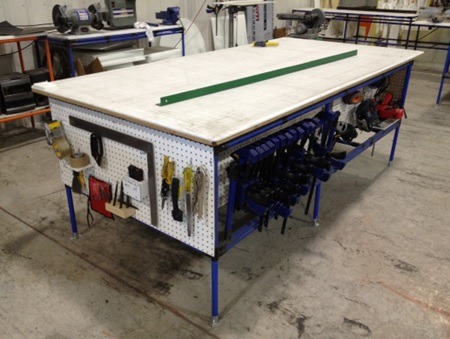 USING WORKER CREATIVITY TO BUILD A LEAN CULTURE
You will never sustain a lean culture if you don't engage, train, and spend on your employees. The woodworking industry has so many talented, hard-working, resourceful, and creative people. Unfortunately, there are often underutilized. This unused worker creativity is by far the biggest waste in the industry.
Several companies have highly-skilled and experienced employees who have decades of experience. While experience is important, it can sometimes lead to an unwillingness to adopt change. Again, the mindset becomes, "Why change anything when it has been working for  25 years?''. Here are some guidelines to make sure all employees are speaking the same language.
Train workers, so they can name and spot the 8 most common causes of waste.
Get employees into a routine by holding a daily meeting where the agenda covers the previous day's improvements and any KPI.
Engage workers and make them take part in small Kaizen events. This is a great opportunity to test out ideas, modify structures and learn from mistakes.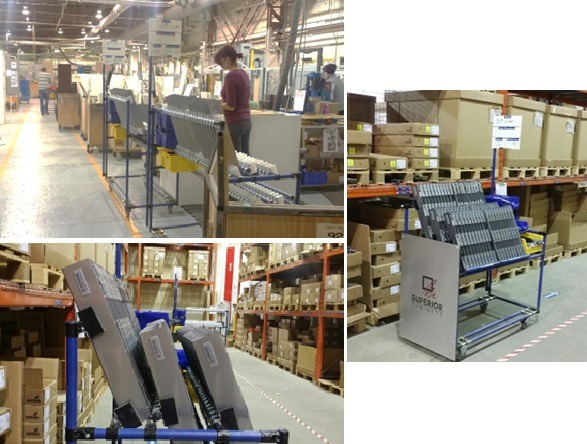 Rack design by Michael Kachur – Continuous Improvement Manager and certified Lean Champion at Superior Cabinets in Saskatoon, Canada.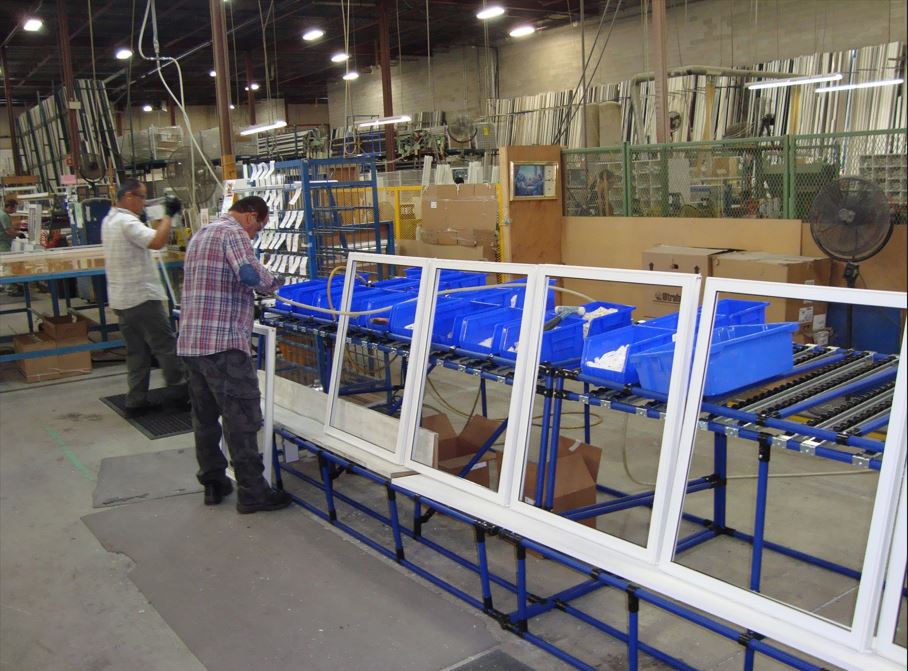 ELIMINATE WASTED TIME BY INCREASING ASSEMBLY PRODUCTIVITY
Within the woodworking industry, it's common to devote money and resources to storage, trimming or cutting departments while the packaging department is left with too few resources or focus.
Assembly is a labor-intensive activity where small incremental changes can have a large impact. Most importantly, these changes don't involve changing the layout of the shop floor.
Creating a custom-made lean work cell or workstation reduces unnecessary movement and excessive walking. When lean work cells are positioned near one another, it reduces transit time for work-in-process parts. 5S and ergonomics are critical requirements for these new lean work cells.
Get employee feedback on what they waste time on. It can be missing tools, instructions or having to walk long distances to move parts or get material.
Celebrate your accomplishments and improvements. Congratulate your employees and be proud of what you've accomplished.
Make these small Kaizen events a frequent occurrence.
Wood vs Flexpipe Tube and Joint System
Wood can still be used for cart surfaces or siding. However, your stations and carts should be made from Flexpipe – which is easy to adjust or modify. Flexpipe and wood are similar in price but Flexpipe is far more durable, versatile, and much stronger compared to wood. More importantly, it won't rot or warp due to humidity and moisture.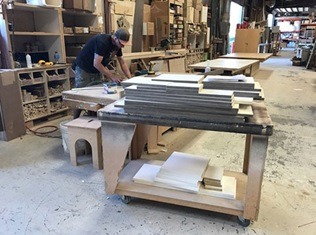 Wood cart Feist Cabinets & Woodworks
ALUMINUM EXTRUSION VS FLEXPIPE TUBE AND JOINTS
You can save up to 50% with Flexpipe tubes and joints compared to aluminum material handling systems. Aluminum has the required precision for machines, equipment, and robotic integrations, but it's far too costly for carts, racks, or workbenches. Another issue with aluminum is the tendency to have water stains over time. Flexpipe is easier for workers to use, far less expensive ($8 per 8 feet of pipe), is available in multiple colors, and will never stain.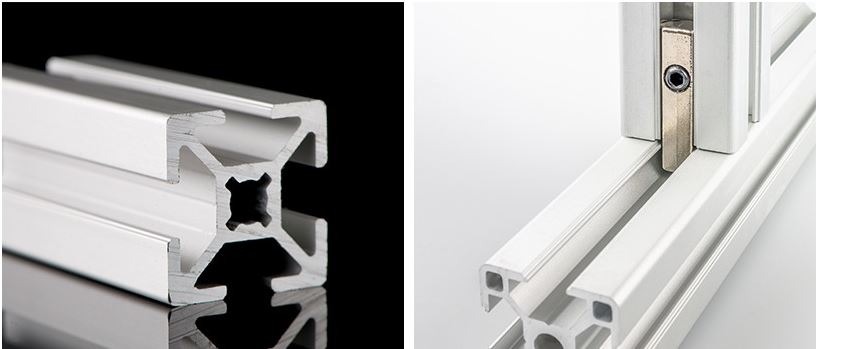 STEEL VS FLEXPIPE TUBE AND JOINTS
Steel is a universal material with multiple applications. However, creating material handling equipment with steel requires welders and painters. Changing existing welded structures is even more costly and time-consuming.
With Flexpipe, there's no need for welders or painters. There's no need to spend an inordinate amount of time trying to modify an already welded structure. Anyone with a little creativity can cut or assemble pipe and joints in a fraction of the time and costs compared to welded structures.
You can quickly put in place improvements and change your Flexpipe structures every day as ideas and suggestions come forth. No need to scrap old, welded structures. No need to re-weld existing structures. The changes you make to a Flexpipe structure in the afternoon can have you up and running in the morning.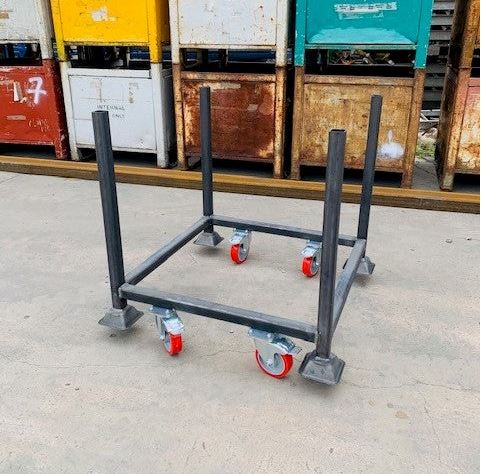 SIMPLIFYING LEAN MANUFACTURING ADOPTION WITH FLEXPIPE'S MODULAR SYSTEM
Flexpipe is widely-recognized among North American manufacturers as a modular, scalable, easy-to-use, and inexpensive material handling solution. The company's free design extension for SketchUp allows manufacturers to custom-design and build their own tube and joint material handling structures. Customers rely upon Flexpipe's team for its design acumen, speed of response, and the company's cost-effective solutions.
If you would like to see how Flexpipe can help you adopt lean concepts while reducing your costs of material handling, then contact us now.