Attend a free 2-day workshop in our Facilities
Next sessions:
November 28 & 29, 2023 in english
February 6 & 7, 2024 in english
During this 2-day in-house free workshop, your team members will learn how to use the Flexpipe system, so they start properly assembling parts. Places are limited. Book early to reserve your spot!
---
Free from work-related distractions, future Flexpipe designers and assemblers will completely immerse themselves in an environment where modular structures are everywhere: even in the kitchen! They'll be able to put their creative skills to use, and confidently learn how to build structures that are safe and study.
Please read below for an overview of our training sessions. We will cover the following:
At the end of the training, what should my team members be able to do?
What's the training schedule?
Who should attend?
How much does it cost and what's included?
What material do I need?
Book your training
Who does the training?
How should I prepare?
Where are the Flexpipe's offices?
At the end of the training, your team members should be able to:
Analyze a situation and find a creative solution with the Flexpipe system
Learn how to use more than 170 Flexpipe parts and maximize their potential
Design and draw structures by hand
Calculate loading capacity and learn various bracing techniques
Assemble a structure
Know which tools and equipment are required
Design and draw structures with Sketchup 3D software
What's the training schedule?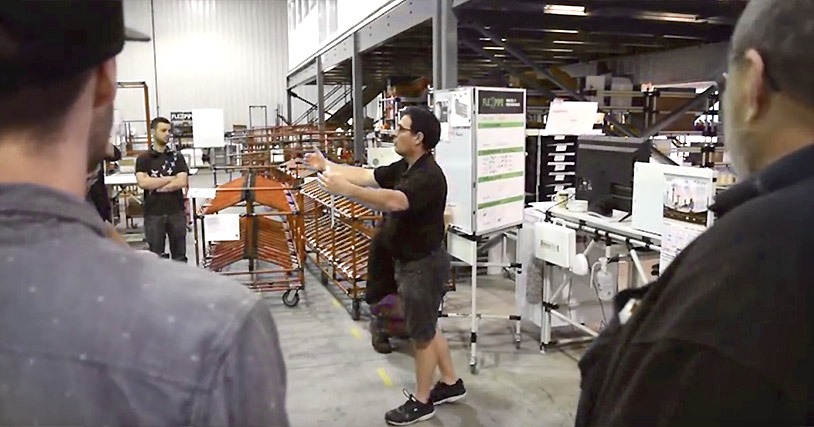 During the training, you will assemble a project for your company. The only fee is to buy the material required for this project. Here is the training schedule in detail:
DAY 1
Module 1 – Presentation of the modular system (8:00 to 9:00 AM)
Introduction to the Flexpipe system
Establishing participants' expectations
Showcase Flexpipe structure picture library
Overview of the system's primary components
Required tools
Module 2 – Introduction on how to assemble (9:00 to 10:00 AM)
Participants will learn how to assemble the Flexpipe Cube.
Module 3 – Hand sketch and manual design (10:00 AM to 12:00 PM)
Cutting rules
Bracing techniques
ISO sheet
Calculating the bill of material
Website technical information
Free lunch – hosted by Flexpipe (12:00 to 12:30 PM)
Module 4 – Assembling your project (12:30 PM to 4:00 PM)
Participants will begin assembling the frame of their structures while the trainer shares practical tips to make the process easier.
DAY 2
Module 5 – Assembling your project (8:00 AM to 12:00 PM)
Participants will finish the assembly they began the day before.
Free lunch – hosted by Flexpipe (12:00 to 12:30 PM)
Module 6 – 3D computer design of standardized structures
Flexpipe's Creator Plugin
Cutting rules specifications
Designing a real project
Note:
you're welcome to leave after lunch if you don't intend on using our software.
Who should attend?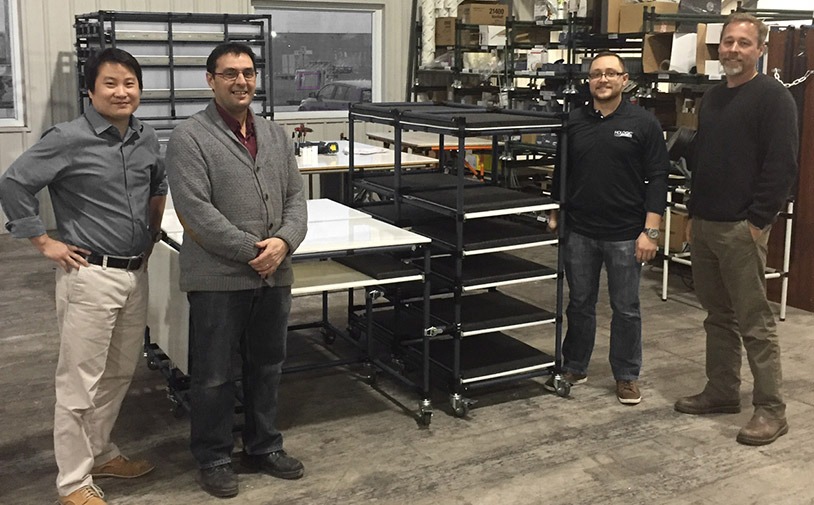 To make the integration of this new system easier, you'll want to involve, and get as many people as possible on board. That way, everyone will be on the same page.
maintenance workers
continuous improvement specialists
manufacturing engineers
project managers
tool designers
creative employees!
Be sure to read these two articles before selecting the session's attendees.
How much does it cost and what's included?
The training session is free of charge. You only need to cover your traveling costs and that of the material used to build your project.
Book your training
What material do I need?
We recommend a starter kit as your first project. These kits include the most commonly used parts to build specific structures. Our starter kits can be purchased online.
More information:
here's everything you need to know about our starter kits.

Who does the training?
Esteban Solano
Esteban has assembled more than 250 Flexpipe structures. A woodworker by trade, Esteban channeled his resourcefulness and built his home from the ground up! Originally from Costa Rica, Esteban grew up in Florida where he studied industrial design. Esteban speaks English, Spanish and French fluently, and he has garnered work experience in several countries.
How should I prepare?
Don't worry, no homework or studying is involved before the training. We've made sure our training is easy and worry free!
You can also arrive with a project in mind if you want to accomplish a specific project!
What are the directions to Flexpipe's offices?

We are located 45 minutes from downtown Montreal; here are the driving times from surrounding airports to our facility:
Montreal (Quebec) (YUL) – 55 minutes
Burlington (Vermont) (BTV) – 80 minutes
Plattsburgh (New York) (PBG) – 90 minutes
Our address is:
33 Racine, Farnham, QC, Canada, J2N 3A3
Here are the hotel we recommend for your stay during the training:
The Hotel Alt Quartier DIX30, which is 35 minutes away from Flexpipe headquarters and 25 minutes away from the Montreal Airport (YUL).
Note:
that we offer free shuttle service from the hotel to the training center.
More information:
if you need help, please contact Esteban Solano: esolano@flexpipeinc.com
Design and build
better structures