Aerospace Requires Mobile, Scalable Material Handling
The aerospace industry relies upon a worldwide interconnected supply chain where time-critical and essential raw materials, machined parts, and integrated assemblies must be delivered on time and in good working order. Lean environments abound, and suppliers on multiple continents must focus on eliminating waste and reducing lead times while guaranteeing the highest quality of finished products.
Read on to learn more about how this critical industry requires mobile and scalable piping and tubing solutions to ensure lean environments operate smoothly and that a continuous mindset is always adopted.
An Interwoven, Intricate, and Complex Industry
Within the aerospace industry, adopting lean manufacturing principles encompasses more than just turning raw materials into finished goods. It isn't just about eliminating waste and reducing errors on shop floors. Lean manufacturing environments must adopt a product lifecycle management (PLM) approach by applying continuous improvement and lean methodologies until the finished good arrives at the OEM. So, what does this mean exactly?
Think about how complex aerospace parts, assemblies, integrated assemblies, electronics, guidance, and avionic systems are. Think about how fragile and susceptible to damage these parts and systems can be during transit, receipt, and unloading when not properly protected. Most importantly, consider how expensive some of these systems are and how much time is lost if one arrives defective.
A single damaged system or defective part can cascade throughout the supply chain. With some lead times for avionic, electronic, and guidance systems going up to three or four months, a defective component or system caused by poor transport, handling, and unloading can be catastrophic. This is why the Aerospace Industry relies upon defect-free parts and takes proactive safety measures to ensure their suppliers follow strict guidelines and comply with accreditations and certifications.
Success requires tools that support the entire process; material reception, QC inspection, machining, manufacturing and production, final QC, product packaging and protection, transport, receipt, and unloading must all be lean and synchronized.
Fortunately, there's one solution that addresses every stage of this journey: Steel tubes and joints.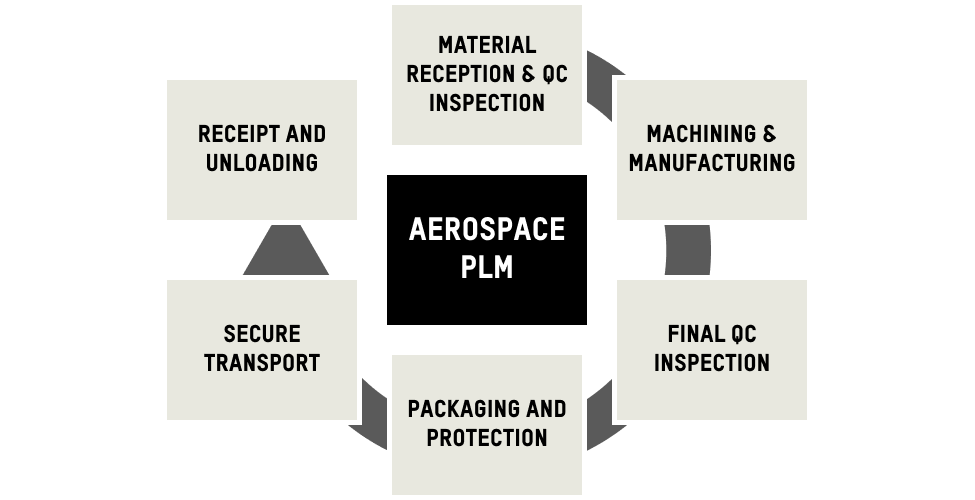 Modular, Scalable Tubes and Joints
Flexpipe is a modular, scalable, cut-to-length assembly system. It's akin to an erector set you can quickly assemble and disassemble to fit your needs. It is the ultimate lean manufacturing tool and can be used at every single step of an aerospace part or system's journey.
The Flexpipe snap-in-place system eliminates the need for welded material handling structures or hand-made or poorly constructed ones.
Welded material handling structures are fixed structures that can only be changed by incurring significant downtime and high costs. The other issue with welded structures is that they don't match bin sizes in manufacturing. This can be especially problematic when protecting parts within bins with a Poka Yoke on mobile carts.
Aside from the exorbitant costs of an original welded cart, trolly, or flow rack, the added costs and lead times for un-welding and re-welding existing structures make these material handling solutions unworkable in lean environments.
Requesting a customized welded solution also doesn't work. The non-recurring engineer (NRE) design charges are far too high, and most suppliers of welded systems won't entertain customized solutions. Some companies use their fabrication and welding departments to weld structures, removing valuable resources from more important manufacturing tasks.
That leaves Flexpipe.
Flexpipe Addresses Every PLM Stage
Aerospace manufacturers using tube and joint systems for lean manufacturing structures can use the solution when materials and parts arrive, all through unloading the finished product at a customer's location. Here is a breakdown of how that works.
Part Reception and Receiving and Final QC Inspection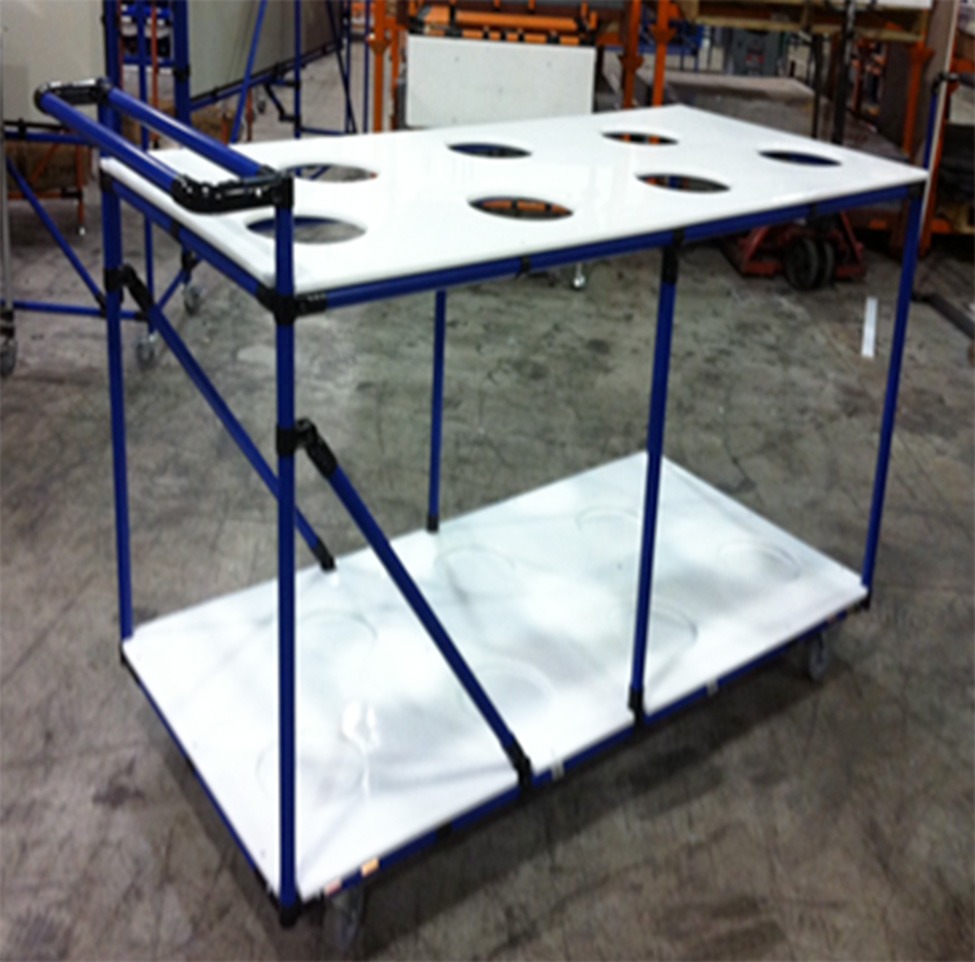 The cart to the left is a simple, easily assembled mobile tube and joint cart with customized circular holes and placement locations on the top and bottom of the cart.
The decking is an Electrostatic Discharge compliant material that protects newly-received aerospace parts while providing a Poka Yoke failsafe for operators.
A Poka Yoke is a simple solution that guards against human errors. Only the right-sized component will fit within the cart's upper and lower ESD slots.
This is a perfect example of a cart that can transport aerospace parts from incoming reception to QC inspection or the shop floor. This isn't doable with welded carts without incurring an extremely long lead time and high costs for engineering design.
Another example of a mobile, customized solution with foam backing at the top and designed slots for parts. The foam backing and material at the base of all three levels protect the bottom of all parts once placed inside the cart.
Yet another example of a Poka-Yoke system where only right-sized parts fit. These cart examples can easily be used when receiving incoming shipments or transporting parts from one workstation to the next.
Machining and Manufacturing (Material Handling)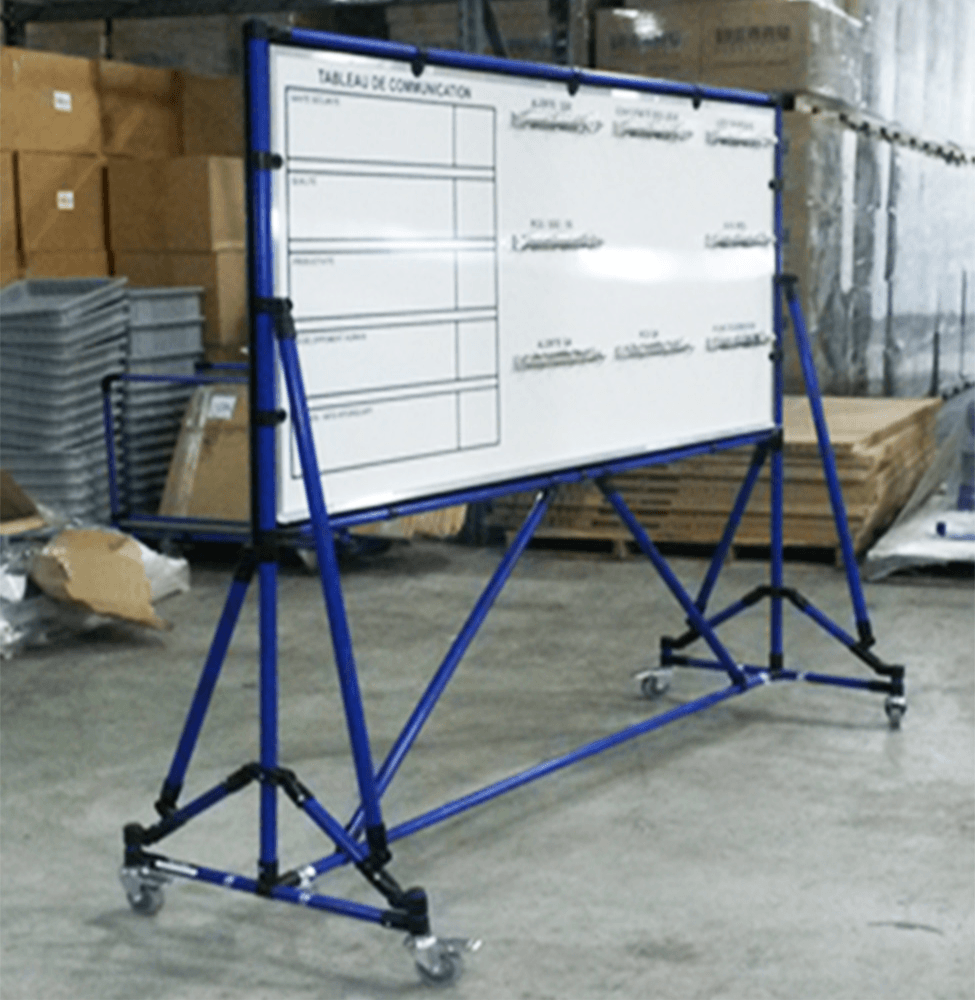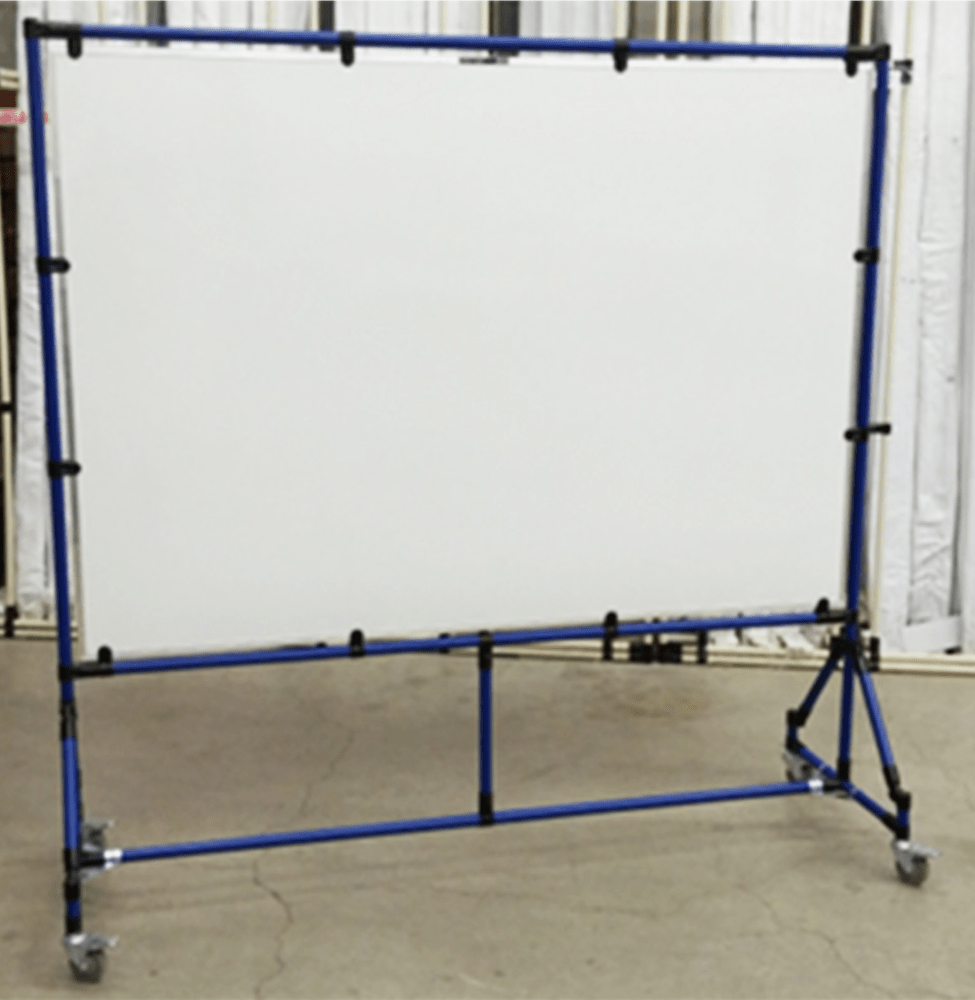 Adopting lean manufacturing is so much more than just streamlining the production process. It's about using tools like the above TAKT boards or Shadow Boards that are highly-visible repositories of existing work or tasks. These boards are an absolute requirement in lean environments as they allow managers, supervisors, line-side technicians, and operators easy access to vital information.
The ease of use of tubes and joints means these TAKT boards are always dynamic, never fixed. If changes need to be made to the structure, it can be done in a fraction of the time compared to fixed, welded TAKT boards. This is a sturdy solution that is both scalable and modular.
The adoption of 5S principles is an essential part of lean environments. The Sort, Straighten, Shine, Standardize, and Sustain ideals of 5S are easily adopted with tube and joint systems.
These principles must be present throughout the manufacturing process, and the structure to the left addresses all these requirements head-on.
First, every tool has its place with yet another simple Poka-Yoke. Second, ESD-compliant material is used throughout the platform. Third, the highest level provides all the consumables, screws, bolts, and nuts needed during assembly, and finally, the lower-level bin locations are customized to the customer's bin sizes.
A customized design of this magnitude isn't feasible with hand-made or welded structures.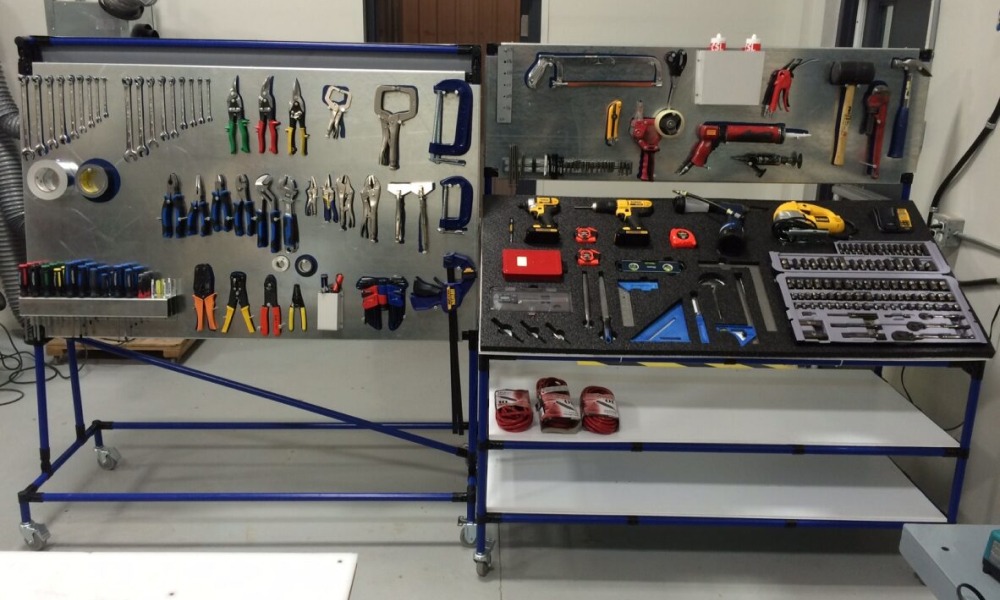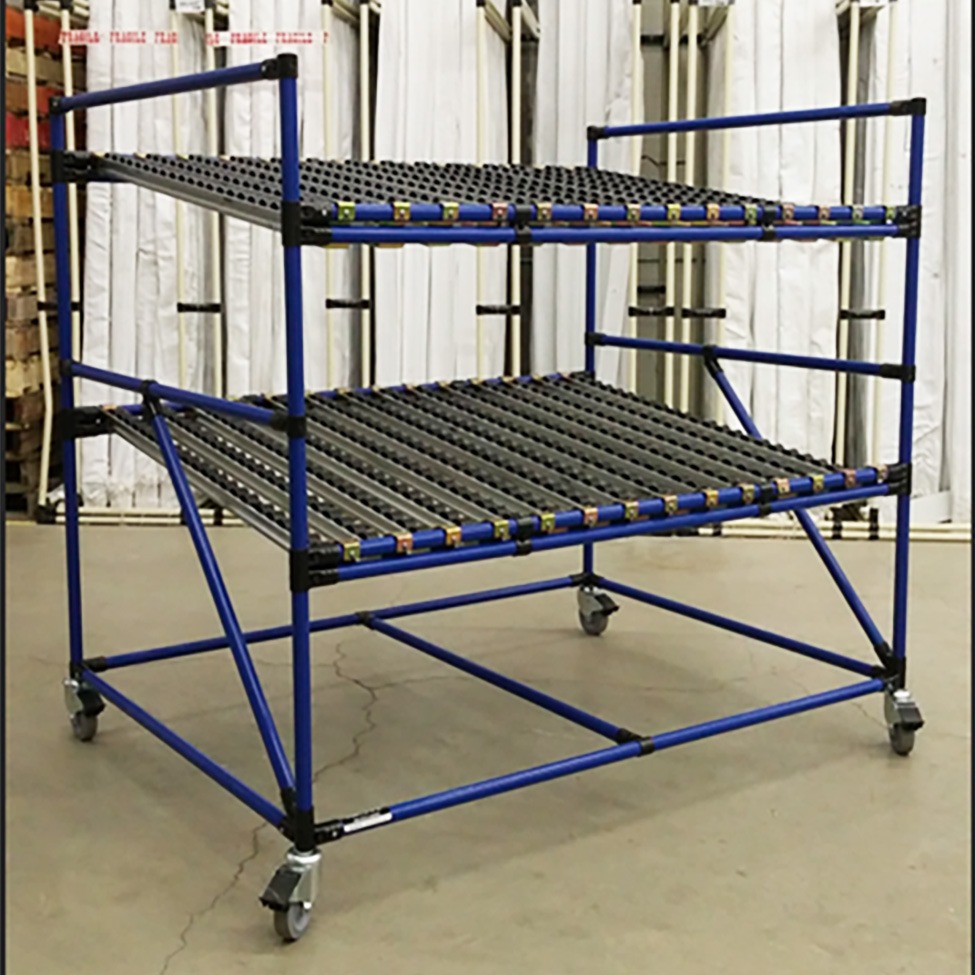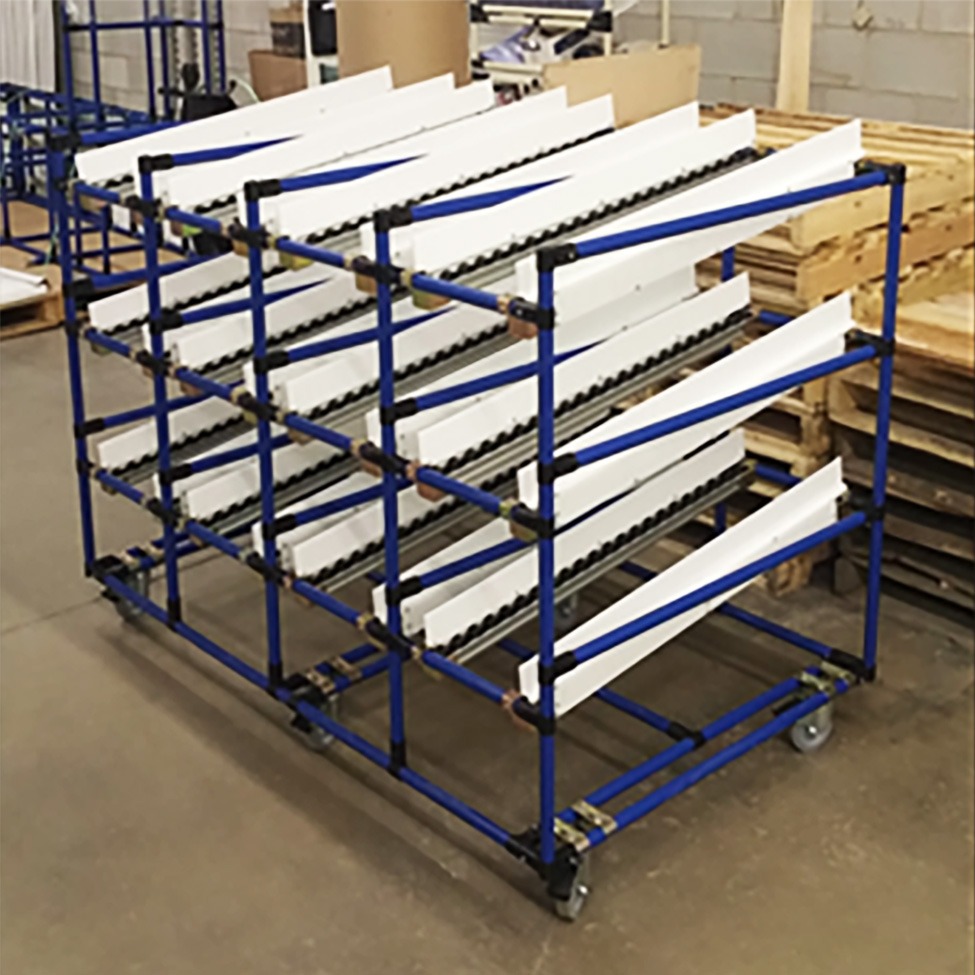 Flow racks can also be customized to secure specific bin sizes using ESD-compliant materials and mobile casters. Both racks above are portable units that can be positioned immediately in front or outside lean workstations.
Secured Packaging, Transport, and Unloading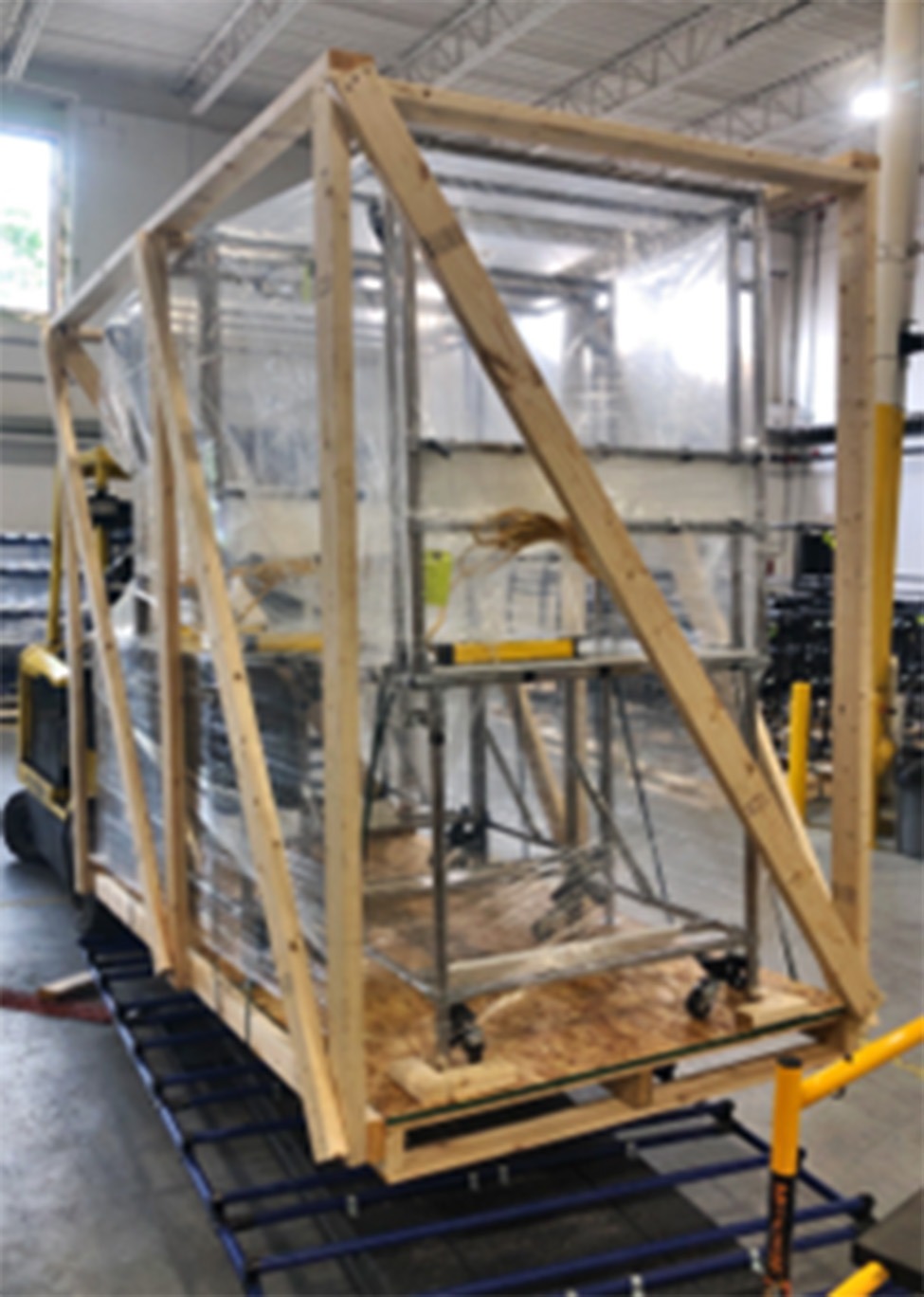 The ultimate goal is to deliver an integrated aerospace assembly or system that is secure, projected against damage during transport and handling, and that the received system is easy to unload.
Far too often, companies fail to secure their components during transport properly. They often rely upon crates that allow for too much movement. Parts are then bounced around inside the crate and get damaged.
Tube and joint systems are used throughout the manufacturing process. However, they're equally at home being used to safely secure structures, integrated assemblies, and systems.
The most proactive aerospace companies use the tube and joints to manage material, move critical parts on the shop floor, maximize available floor space, and reduce human errors through Poka Yoke structures.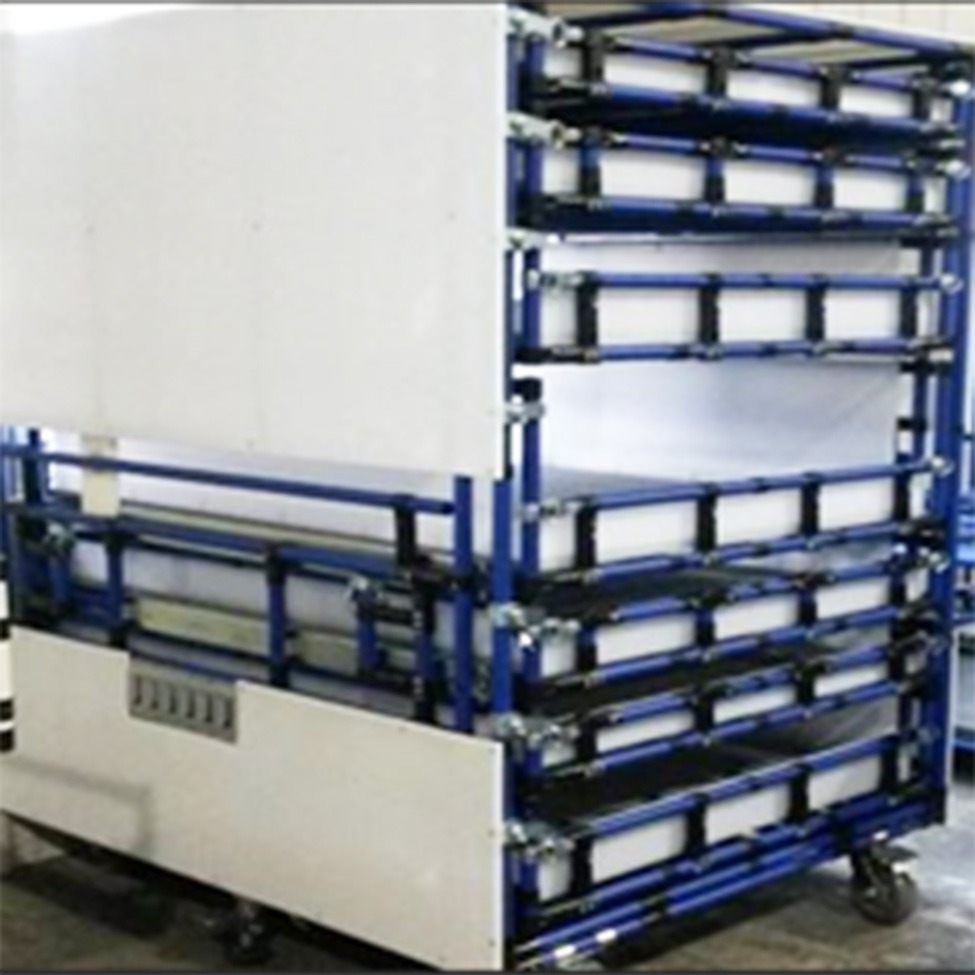 They then take it to the next level by custom designing and assembling secure packaging structures that ensure parts, assemblies, components, and systems arrive defect-free.
The "truck delivery cart" to the left is a perfect example. This unit has multiple layers for easy retrieval of parts. It also includes ESD-compliant material for decking.
Once these components and systems arrive at their destination, the unloading and transporting of parts are meticulously handled, and the tube and joint structure is moved to the appropriate assembly location. The process starts all over again as the tube and joint packaging structure are sent back to the supplier, and a new system or part is secured using the same structure.
🚀 Explore the skies with Flexpipe's aerospace solutions in our latest gallery!
Understanding the Aerospace Supply Chain
Like all supply chains, the aerospace supply chain has several layers. The first includes Aerospace Primes. These companies are essentially Original Equipment Manufacturers (OEMs). These include manufacturers like Boeing, Airbus, Bombardier, Embraer, and Lockheed Martin, as well as defence contractors like Northrop Grumman, General Dynamics, and Raytheon Company.
Once Aerospace Primes have all the parts from the rest of the supply chain, their assembly times are quite short, especially given how complex airplanes are. Regarding assembly time, the Boeing 737MAX Series takes 30 to 45 days, the Boeing 777 takes 45 to 65 days, the Airbus A380 takes 75 to 90 days, and the Airbus A350 Series takes 90-plus days.
Assembly Times:
Boeing 737MAX Series: 30 – 45 Days
Boeing 777: 45 – 65 Days
Airbus A380: 75 – 90 Days
Airbus A350 Series: 90-plus Days
While these assembly times may vary, they don't include the time it takes the rest of the supply chain to provide the parts these Aerospace Primes need. Depending upon the complexity of the airplane and Aerospace Prime, it can take six to eight months to get all the parts required.
After considering all the lead times, most planes take up to a year (12 months) and a little more to be completed. So, who makes up the rest of the supply chain?
Tier 1 Suppliers:
Tier 1 suppliers are often considered subcontractors. These companies include avionic systems providers like Honeywell and Rockwell Collins and engine systems manufacturers like GE, Pratt & Whitney, and Rolls Royce. Other members include airframe system manufacturers like Triumph, Mitsubishi, Stelia Aerospace, and Fuji.
Tier 2 Suppliers:
Tier 2 is divided up among machinery and equipment providers. These include companies like Safran, who supply fully-assembled landing gears. It includes fuel supply, steering, hydraulics, motors, navigation systems, telecom systems, and ignition system providers. Also included in this group are electrical equipment and other sub-component manufacturers.
Tier 3 Suppliers:
The third tier comprises build-to-print or make-to-print manufacturers, raw material suppliers, and companies that provide forgings, castings, piping, etc. The build-to-print enterprises include structural companies that anodize and paint paneling and provide interior cabinetry and electrical units.
Tier 3 is largely structural. These companies do not own the designs. The Aerospace Primes, Tier 1 and Tier 2 suppliers provide schematics, outlines, and layouts that Tier 3 suppliers must follow. This includes ensuring that Tier 3 members – and all tiers within the supply chain – only purchase OEM-approved materials and adopt production and manufacturing processes outlined by Aerospace Primes.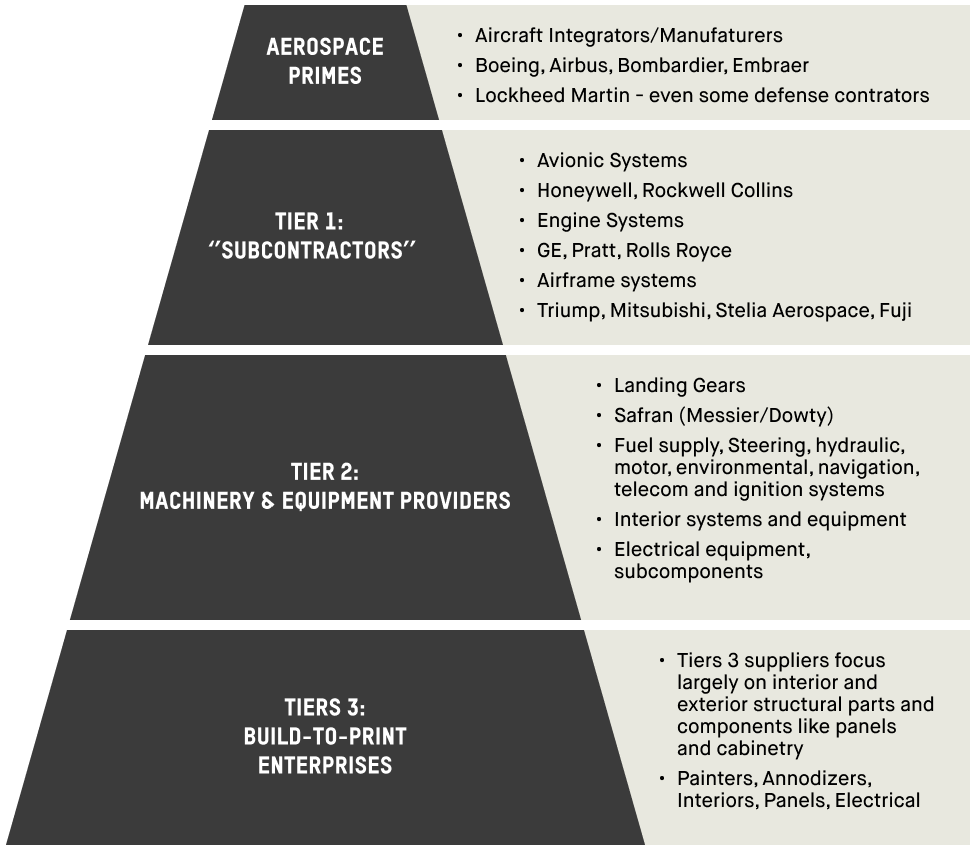 Addressing a Fully Integrated Supply Chain
Not all supply chains can claim to be fully integrated. Some are haphazardly organized. Some are, at best, considered disjointed. The aerospace industry can only afford to be fully integrated.
While there are missed and late deliveries, the supply chain itself is well managed, considering the sheer number of suppliers in each tier worldwide.
The simplicity, ease of use, and customization of steel tube and joint systems are ideal for ensuring that lean manufacturing environments operate as they should and that finished parts and systems are delivered defect-free.
The benefits to aerospace suppliers using steel tubes and joints cannot be ignored. Designing, cutting, and assembly times are drastically minimized. What is constructed in the afternoon can be up and running in the morning.
Mistakes in structures are immediately rectified. Cut a steel tube too short and replace it with another one. Use the wrong joint and replace it with the right one. Extending the length of the structure or expanding it is an in-house job where your structure never has to leave the facility.
Customized secured packaging solutions are easy to design, assemble, ship, and reuse. Should an Aerospace Prime change a given part's geometry, the tube, and joint system can easily be modified to accommodate the new dimensions.
Flexpipe Tube and Joints: An Ideal Aerospace Solution
Flexpipe Inc. is a Montreal-based innovator, designer, integrator, manufacturer, and supplier of steel tube and joint systems. The dedicated and committed team includes design engineers, craftsmen, technicians, operators, and lean manufacturing specialists that help aerospace companies reduce costs, streamline operations and maximize their square footage.
The company offers free downloadable design software to empower aerospace companies to design and assemble their structures.
For other companies, the fabrication team at Flexpipe Inc. can design any customized structure and then pre-cut all parts for easy assembly.
To learn more about how Flexpipe is ideal for lean environments, check out our case studies.