How to optimise material Flow with a Tugger Cart system?
When companies need to safely move loads, equipment, or machinery from one location to another, they often turn to tuggers. Some tuggers are simple hand-held carts or trolleys that allow operators and employees to drag, pull or tug raw materials, consumables, and finished goods. Other tuggers are heavy-industrial machines capable of pulling upwards of 100-plus metric tons.
A Simple Material Handling Solution
Tuggers are an ideal material handling solution for replacing forklifts. Whereas a forklift can only transport one load at a time, a tugger can transport several carts and, therefore, several loads. Instead of using a one-load-at-a-time forklift, companies can link multiple tow carts together and make a single trip instead of several.
A tugger is sometimes a generic term for equipment or machinery pulling or towing heavy loads. While there are thousands of industrial uses for tuggers, understanding how, when, and why these critical tools are used comes down to defining tuggers in terms of their load-bearing capacity.
We'll explain when heavy-industrial tuggers and towing equipment are used, what warehousing, distribution, and retail locations use, and what solutions are best suited for lean manufacturing environments. The goal is to understand why tuggers are the perfect material handling solution when needing to move multiple loads.
Heavy-Industrial Tuggers
Companies within the aerospace, automotive, construction, and rail industries rely upon battery-powered, motorized, and walk-behind tuggers to ensure the safety of operators and employees. These tuggers can move or pull anywhere from 1000 lbs to 100 metric tons.
So, where do you see these heavy-industrial tuggers? Any time you take a flight for a business trip or vacation, you'll see these commercial tuggers – often called tow tractors, aircraft caddies, aircraft walkies, or towers – moving loads from one location throughout the landing strip to the next.
These solutions move passenger luggage, shipments, and fuel to and from aircraft. They're also used to move aircraft themselves, provided the aircraft's load doesn't exceed the pulling or towing capacity of the tow tractor or tugger.
Photo credit: DJ Products Inc. AircraftCaddy and Railcar Mover
It's this type of towing capacity that is used within multiple industries. The rail industry relies upon heavy-industrial tuggers when needing to repair rail cars and locomotives. The construction and automotive industries also use these material handling solutions. However, these applications typically involve moving a single heavy load at a time, such as a rail car or plane. So, what about when needing to pull, tow, and carry multiple loads?
Tuggers for Warehousing and Distribution
Imagine what it takes to move finished goods inside an expansive warehouse and distribution location like Amazon. Think about the distance that needs to be covered to maintain and replenish inventory skews and how often those distances are traveled in an hour, day, week, month, and year. Now, think about how much it would cost companies to replenish that inventory using only a forklift.
Extensive warehousing and distribution facilities save money and time by keeping their forklifts for loading and unloading new shipments while relying upon tuggers to transport those loads throughout their facility.
Battery-powered and motorized tuggers are highly-engineered machines capable of pulling multiple heavy carts linked together. This allows distribution and warehousing facilities to transport large quantities of materials, semi-finished parts, tools, and finished goods long distances. Forklifts are used to remove incoming shipments from trucks while the tugger carries multiple loads throughout the warehouse.
Hand-Held Tuggers and Electronic Tuggers for Retail
Depending on the retailer's size, they may use small battery-powered tuggers such as DJ Product's WagonCaddy.
This simple cart can carry upwards of 3000 lbs, making it ideal for moving parcels and products to store shelves.
It's also an ideal solution for moving pallets and incoming shipments to and from the warehouse. These walk-behind solutions ensure operators and employees are positioned behind heavy loads so that any unforeseen spillage or fall won't injure warehouse and store employees.
Tugger Solutions for Manufacturers
Tuggers are a critical material handling solution for manufacturers. They help to transport multiple loads at a time, allowing tugger operators to drop off essential materials and tools at individual workstations while transporting finished goods back to the warehouse.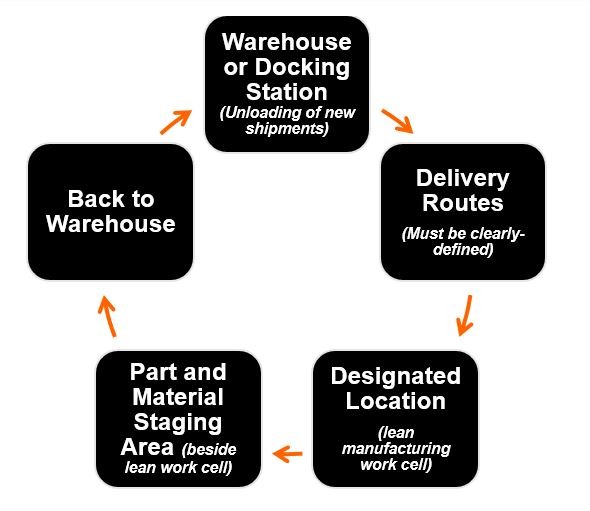 As is often the case with lean manufacturing, the emphasis must be on minimizing transit times. This means manufacturers must plan their transit and delivery routes well in advance.
The journey starts within the warehouse, where tuggers either take loads from stocking shelves or take them right from the warehouse docking station.
Next, clearly-defined delivery routes ensure the tugger can pull all carts safely to their destination.
The goal of the tugger is to transport the loads to the designated replenishment area, such as a kitting location or a lean manufacturing workstation.
A staging location must be identified outside these lean manufacturing work cells so that operators and technicians can quickly and safely unload the materials, consumables, and semi-finished goods.
Warehouse or Docking Station: Make sure your loading and unloading procedures and processes for incoming and outgoing shipments are clearly defined. You may choose to use the tugger and tow carts immediately after shipments are unloaded at the docking station. You may also be able to have your suppliers provide deliveries that can easily be broken down for separate locations within your warehouse or when moving parts out to lean manufacturing work cells.
Delivery / Transit Routes: Take time to properly lay out your transit routes. Be mindful of high-traffic areas where two or more tuggers may intersect during transit. Split your routes up. Ensure directions are clearly marked along each of the paths. Safety during this process is of paramount importance so use clear markers that operators and technicians can easily identify.
Designated Unloading Location / Part and Material Staging: You can easily combine both of these into one area. However, if you do, ensure you've identified how far tuggers can advance to unload the materials or semi-finished goods from the tow carts. Your unloading processes should be well explained. Again, it's about ensuring the safety of operators and technicians so that material and parts can quickly, easily, and safely be unloaded beside the lean manufacturing work cell.
Transit Route Back to Warehouse: This is why clearly outlining transit routes and directions is so important. It ensures minimal traffic jams and free passage for each tugger during transit. Ensure your delivery/transit route to and from the warehouse is free of obstructions or areas where the tugger and its carts might come into contact with equipment and machinery.
Tuggers and Flexpipe Tuggable Carts: Perfect Combination of High-Load Capacity and Flexibility
Any time a manufacturer pursues lean concepts, they must balance their need to increase production throughput with the importance of ensuring a safe work environment for employees. After all, there are no benefits to lean manufacturing if employees, operators, and technicians start missing time due to severe injuries.
While lean manufacturing aims to reduce the impact of idle time, minimize work stoppages, reduce cycle times, and increase production throughput, the ultimate goal for any company pursuing lean manufacturing is to accomplish all these benefits without putting operators at risk. This means optimizing your tugger and tow cart combination.
Choosing your tugger comes down to defining the loads and the weight they'll transport. You never want to go too low on your weight estimate. A good rule is to take the number of stops your tugger will make during transit from the warehouse to each unloading area. Next, you'll need to calculate the estimated weight of each drop-off of material and parts at a given lean work cell or kitting area.
Once you've chosen your tugger, you'll need to choose your tugger carts. You essentially have two options. The first involves choosing fixed carts that are either welded or manufactured to specific dimensions.
Your second option is to choose a tube and joint system like Flexpipe where you can make your own scalable and modular carts that can easily be adjusted or modified as you see fit.
Fixed Structure / Welded Carts:
At some point, the weight, size, and configuration of what your tow carts carry to and from the warehouse will change. That change can be an internal decision made by your company or one made by your customers. It can be as simple as changing the design of your finished product or winning a new contract or bid.
When that change occurs, you'll need to either change your tow carts and buy new ones or refurbish and repair your existing fixed carts. Either way, it's an expensive change. Repair and refurbishment can take weeks, if not months, and involve a substantial amount of money. Purchasing new tow carts is even more costly.
Refurbishment, repair, or reconditioning is expensive and can take weeks if not months
Purchasing new fixed tow carts is more expensive than repairing what you already have.
It's not uncommon for manufacturers to have multiple types of fixed tug carts, as depicted in the images above. This only increases a manufacturer's costs when needing to refurbish or replace their tow carts.
Modular and Scalable Flexpipe Carts:
On the one hand, you have expensive fixed tow cart structures you buy or repair. However, on the other hand, you can make your own cost-effective tow carts with Flexpipe's tube and joint system.
Modular and scalable Flexpipe tube and joint systems are not only less expensive, but changing or modifying a Flexpipe tow cart takes hours – not days, weeks, or months. With Flexpipe, manufacturers only pay for the tubes, joints, castors, and other miscellaneous parts needed to assemble their tow carts.
The flexibility afforded to manufacturers means the costs of a Flexpipe tow cart are less, and any changes or modifications can be done in a fraction of the time compared to fixed structures.
Manufacturers pay for materials
Manufacturers can assemble their own structures at a fraction of the cost compared to fixed structures.
Manufacturers can easily change their tow carts as needed.
Empower Your Operators with Flexpipe Inc.
Flexpipe Inc. is a Montreal-based designer of tube and joint solutions for material handling. The company's customer-centric approach and flexible piping solutions empower manufacturers to make their own material handling structures at a fraction of the cost and time it takes to get fixed structures.
The Flexpipe ergonomic solution is scalable, easily modified, and quick to assemble. To learn more about this simple system, contact us now.
About DJ Products:
DJ Products has been designing, manufacturing, and supplying electric-powered, battery-powered, and walk-behind heavy industrial tuggers and towing solutions for over 20 years. The company's product line includes warehouse tuggers, semi-trailer movers, small aircraft tugs, pull carts, caddies, and dumpster moving equipment.