Critical Steps to Choosing Material Handling Systems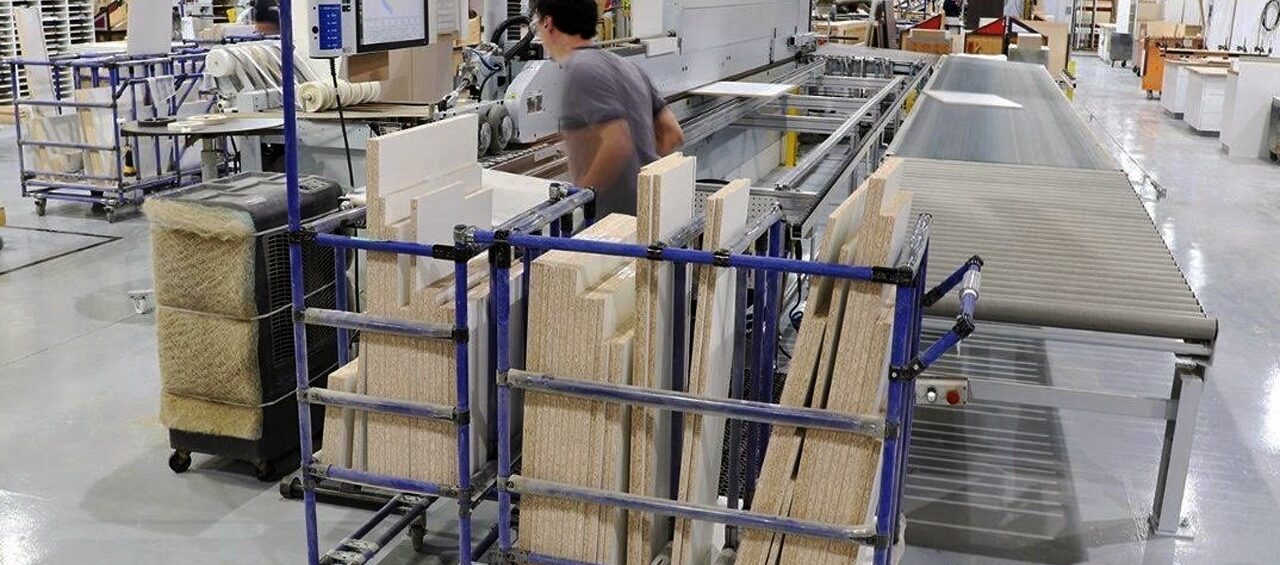 Different types of material handling solutions, equipment, and machinery are used within supply chains to move, store, protect, control, and handle materials. The goal is to ensure that materials are readily available and that parts and finished goods are properly protected during transit to and from warehouses. Material handling is a critical component for manufacturers, warehousing, wholesalers/distributors, resellers, and retailers.
What is a Material Handling System?
A material handling system includes any equipment, vehicle, standing structure, storage unit, rack, or trolley involved in storing, transporting, and protecting materials, consumables, and finished goods. For manufacturers, a material handling system should be designed with short-range movements in mind. This means that production employees should be able to easily access and move raw materials, consumables, and work-in-process parts.
Why Is Material Handling Important?
Material handling is a critical component of protecting against damage to parts, raw materials, and consumables. This not only saves companies money but also improves final product quality by reducing defects. Material handling solutions should be part of a larger company-wide program to improve a company's storage and handling practices. Only a proactive storage and handling process can protect against unforeseen and costly part damage.
Material Handling Systems Across a Supply Chain
Material handling solutions should simplify employee access to materials and parts so that the speed of work increases. Ideally, these systems should also be easy to modify and scalable to keep up with changing requirements. Across a given supply chain, material handling solutions are heavily relied upon as a means of meeting delivery requirements with minimal product defects.
1 . Production and Manufacturing
Material handling systems found in manufacturing include carts, flow racks, racks, tuggers, shelving, workbenches, workstations, boards, and other storage solutions. Each of these systems plays a critical role in supporting production employees by supplying them with the necessary tools, instruments, parts, instructions, and consumables to complete work orders.
2. Packaging and Transportation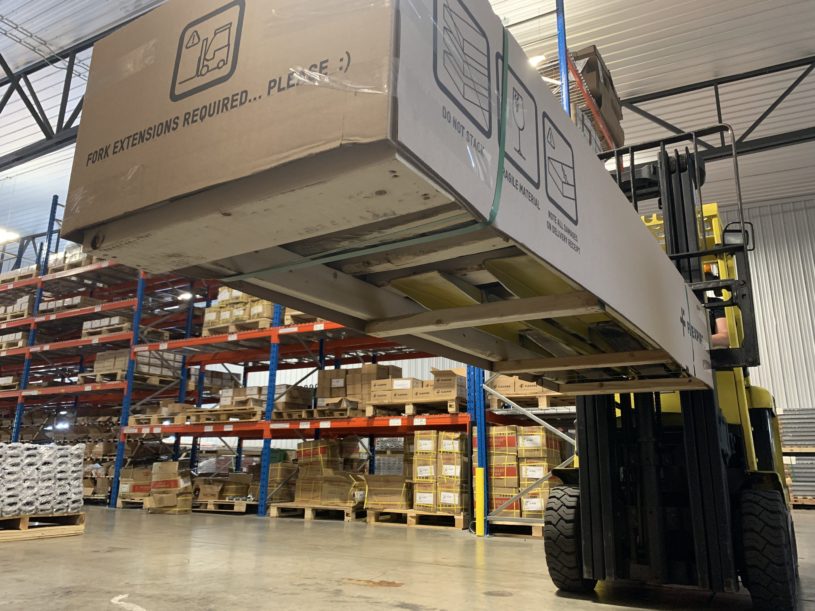 Manufacturers typically ship their industrial finished goods on strapped pallets of corrugated cardboard containers. Corrugated containers and customized packaging are often used as a means of protecting materials from damage during transportation. They are also the most cost-effective way of transporting industrial finished goods. Strapped corrugated pallets help keep raw materials, consumables, and parts safe during transit.
3. Storage and Warehousing
The most common types of warehouse material handling systems include forklifts, lift trucks, hoisting equipment, shelving, pallets, pallet jacks, automated guided vehicles (AVG), and even robotic handling systems. Forklifts are the all-important vehicle in warehouse management. These are heavily relied upon to move corrugated and strapped pallets, while lift trucks can position pallets on high vertical shelves.
4. Wholesalers and Distributors
Wholesalers, distributors, and bulk resellers rely upon a combination of material handling solutions. Distributors typically use forklifts, lift trucks, and hoisting equipment to handle and store shipments. These are then broken down into smaller shipments which are then sent out to retailers. The focus is to minimize costs so incoming bulk shipments are often used as a means of lowering per-unit freight costs.
5. Retailers
Large retailers with large warehouses typically rely upon forklifts and lift trucks in addition to large shelving and storage units as a means of controlling finished goods. Smaller retailers may simply require pallet jacks, commercial hand trucks, warehouse stock carts, or small utility carts.
Problems with a Fixed Structure Material Handling System
Most portions of the supply chain don't necessarily require customized modular material handling systems. There are instances where wholesalers, distributors, and large retail chains benefit from modular shelving and storage systems. However, manufacturers and fabricators are more heavily reliant on modular material handling systems if they want to adopt lean manufacturing, improve efficiencies, and control costs.
Unfortunately, for manufacturers, there are several inherent problems associated with a fixed material handling system like utility carts, trolleys, stock carts, or fixed shelving structures. The first issue relates to how several of these material handling solutions have welded joints or are designed and pre-manufactured to specific dimensions.
Making any kind of adjustment to their dimensions or structure is both labor-intensive and time-consuming. This means spending a considerable amount of time having maintenance make changes. These changes often involve cutting, machining, and welding. For companies without these in-house capabilities, it means sending these structures out to third-party subcontractors.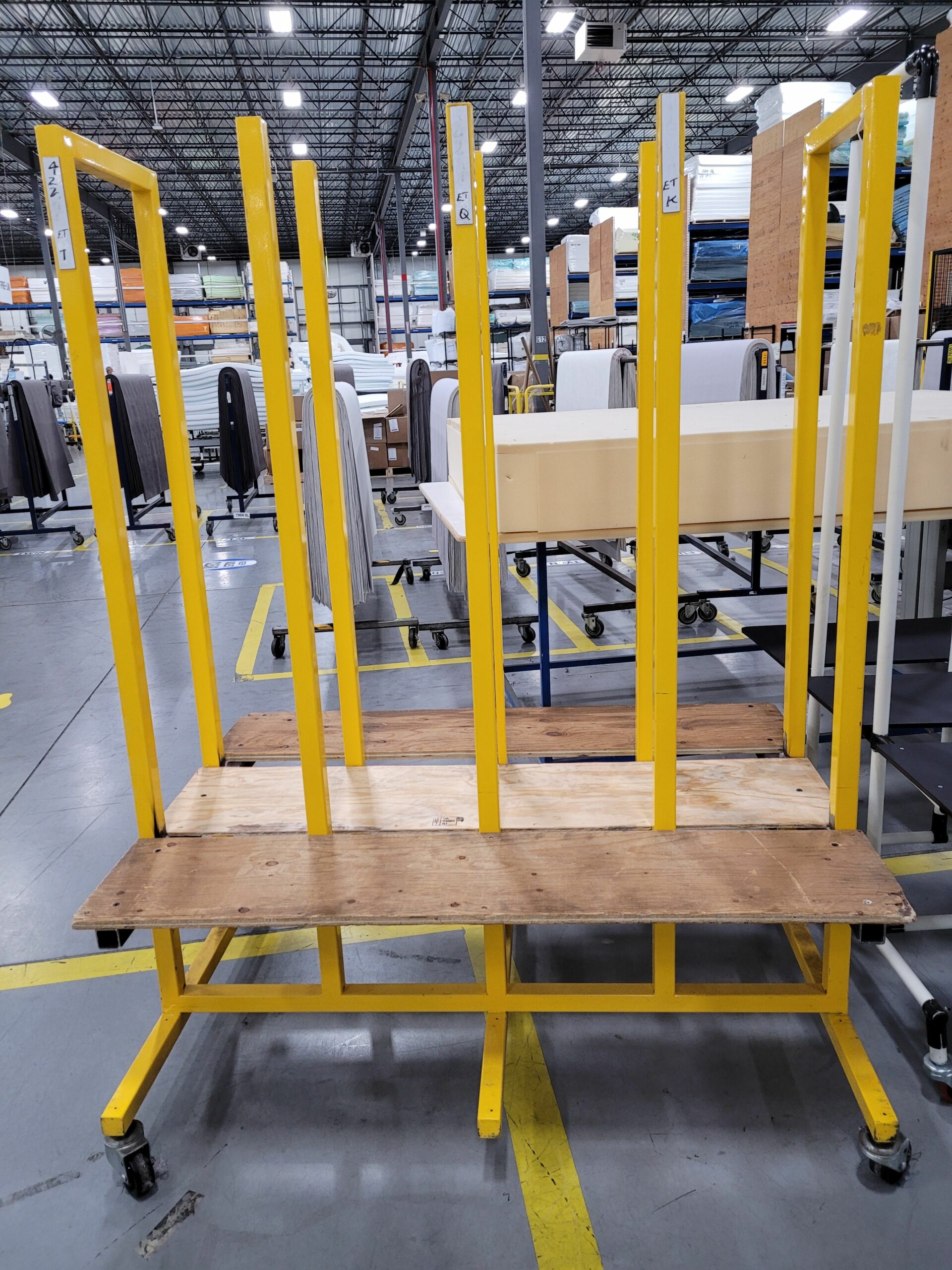 Not only are third-party subcontractors expensive, but they can have drastic consequences on a company's production throughput. It's not uncommon for subcontracting to add weeks or even months for modifications to fixed structure material handling systems.
Second, as part of any continuous improvement plan, it's common for companies to change their warehouse or shop floor layout. They may do this to reduce transit times between workstations and work cells, maximize available space, make room for a new piece of machinery or equipment, or increase their warehouse and production space to keep up with rising demand.
Once these changes are made, fixed structure systems that were pre-manufactured to specific dimensions quickly become obsolete. Companies must either cover the high costs of repair and refurbishment or purchase an entirely new material handling system.
Third, fixed structure material handling systems are by their very nature and design incapable of being flexible. They can't be adjusted without a costly overhaul, repair, and refurbishment. This makes fixed structure material handling systems extremely problematic for manufacturers, especially ones adopting a continuous improvement mindset.
What do Manufacturers Need?
Manufacturers who adopt lean manufacturing principles need to reduce manufacturing cycle times and reduce transit times to increase production throughput. Sometimes that requires the willingness and ability to customize material handling systems for new product lines or new projects. Unfortunately, that's not possible with fixed structure material handling.
Manufacturers must optimize their material handling systems throughout the entire production process. This means properly handing and storing incoming raw materials, while also improving the accessibility of those materials and consumables in lean work cells. Next, they need to reduce the transit times for semi-finished parts to adjacent work cells. When the entire material handling process is optimized, the company reduces waste, lowers manufacturing cycle times, and encounters fewer production delays.
The Benefit of a Modular Material Handling System
A modular material handling system is one where employees can make immediate changes to the structure's layout without encountering extensive delays. These solutions typically include modular piping and tube and joint systems that can quickly be cut, extended, and joined in a fraction of the time compared to a fixed/welded material handling structure. Sometimes these changes can take no more than a couple of minutes.
Unfortunately, adjusting fixed material handling systems typically involves a substantial amount of industrial cutting, machining, and welding which can take days and weeks to complete. Modular systems are cost-effective solutions that are easy to assemble and disassemble without having to worry about extended lost time.
Improving Material Handling for Manufacturers
There are two essential criteria for optimizing material handling across the entire shop floor. First, a material handling structure inside lean work cells should be designed for minimal worker movement. This means parts, tools, materials, consumables, and semi-finished parts are easily accessible to production employees from within their work cells.
Second, the material handling equipment outside the work cell should be just as functional and easy to use as those inside the work cell. This ensures that transit times to move work-in-process parts to the next lean work cell in the production process are minimized.
When both the inside and outside of all lean work cells have optimized material handling structures and material handling equipment, it has the cascading effect of lowering production cycle times across the entire shop floor. After all, a single delay from a production work cell causes the next cell in the chain to experience delays until eventually, every chain in the process is behind schedule.
What can we build with a Modular Material Handling System?
There is simply no shortage of modular material handling systems that companies can make on their own using pipe and tubing systems. These products are perfect complements to a company's constantly changing manufacturing environment. Without these modular piping solutions, companies would be faced with the high costs and delays of fixing, repairing, refurbishing, and re-welding older material handling equipment, or worse, having to purchase new ones.
Modular and Scalable Flow Racks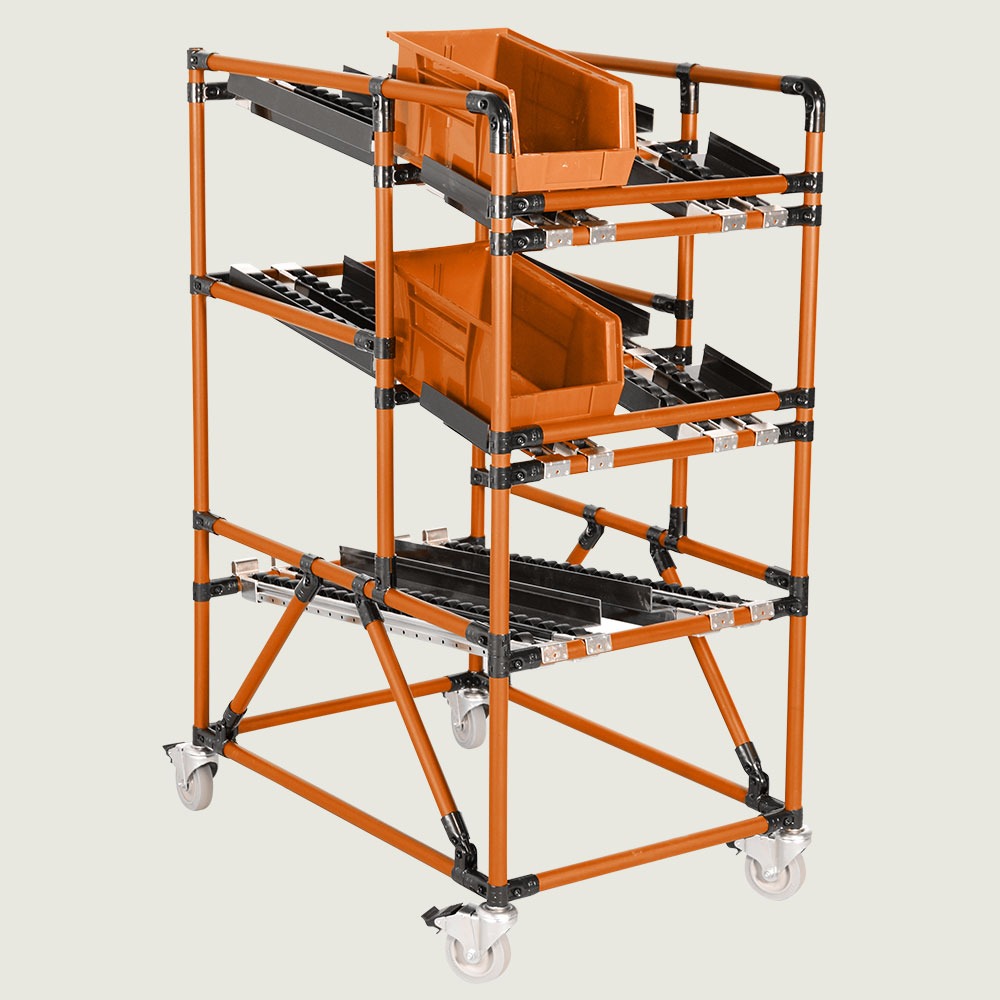 Most often associated with inventory and warehousing, material handling flow racks can also be placed in, or immediately outside of, lean manufacturing work cells. Having materials, parts, and consumables stationed in flow racks adjacent to work cells eliminates wasted transit times for employees from the work cell to the warehouse and back again. In essence, these material handling flow racks can sometimes act as small inventory retainers so that employees don't waste time walking long distances for the materials they need to finish a work order.
Flow racks have an inclined design which makes it easy for employees to access the materials and parts inside production bins. Modular material handling flow racks empowers manufacturers to make relatively quick adjustments to the flow rack to account for a larger bill of materials. This could involve disassembling a portion of the flow rack to add more levels to handle more bins, or widening the length of each rack.
Modular and Scalable Carts
Carts have a multi-purpose function as material handling equipment. First, they help warehouse employees manage, move and store incoming shipments while also helping to prepare outgoing shipments.
Second, they are often essential for moving semi-finished parts and assemblies to and from separate work cells on the shop floor. Sometimes those semi-finished parts can be quite large, wide, or long. Third, they are ideal solutions for moving multiple production bins, parts, and materials for different work orders to different shop floor locations.
While carts have multiple uses, a modular and scalable cart built with tube and joint systems expands those uses and benefits ten-fold. Manufacturers know that nothing is static or stationary on the shop floor for long. Being able to adjust a cart's size, height and width isn't a luxury – it's a necessity. Modular piping solutions empower manufacturers to adjust to any change in requirement.
Modular and Scalable WorkStations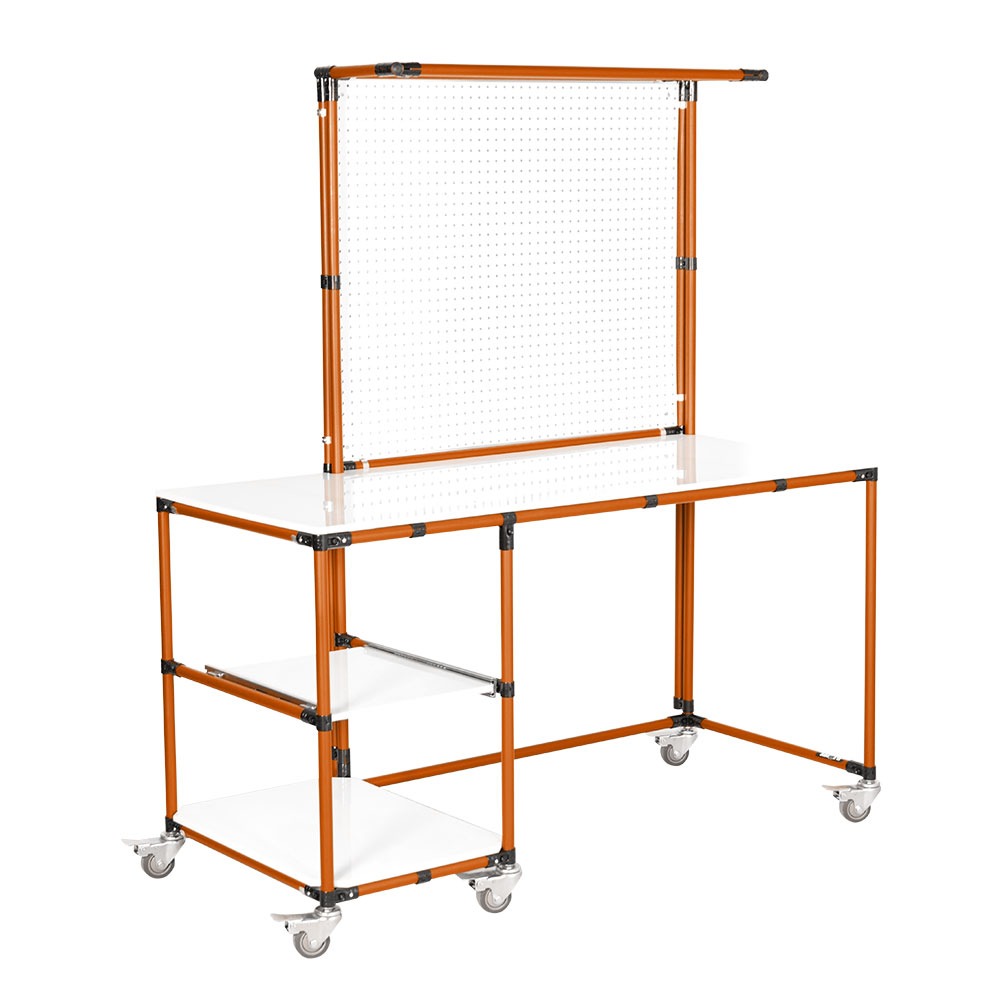 Workstations are the all-important building block of any lean manufacturing work cell. A poorly-made or badly-designed workstation leads to endless wasted time as employees search in vain for poorly-placed parts, tools, instructions, bins, materials, or work orders. All this wasted time reduces operational efficiency.
If the workstation isn't designed or structured around 5S principles (Sort, Set in Order, Shine, Standardize, Sustain) or worse, is not movement-friendly, then it's no longer a lean workstation.
As important as a clean workstation is, it's nowhere near as important as being able to adjust the workstation with modular piping solutions. Invariably, the workstation's design will need to be changed, or modified at some point, and a fixed structure workstation is extremely difficult to adjust without encountering wasted time and high costs.
Modular and Scalable Racks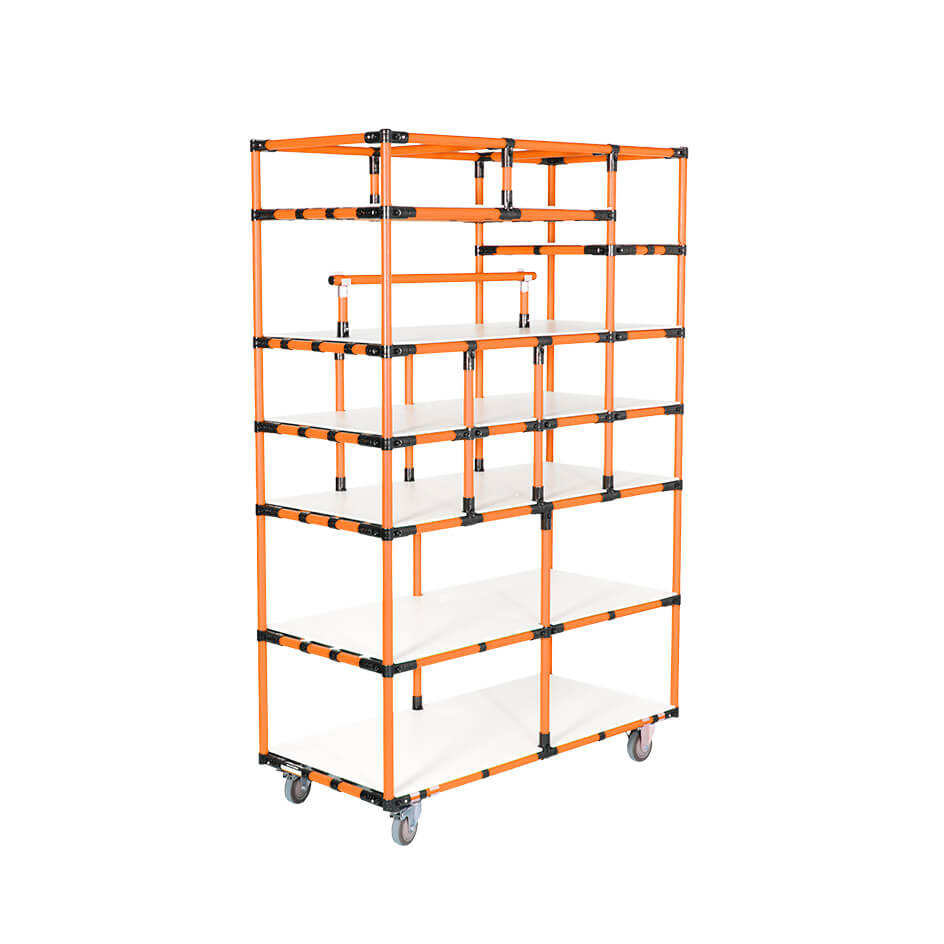 Racks are critical for holding inventory within warehouses. Not only do racks help to protect inventory, but their loading capacity means they can hold inventory for long periods. A higher loading capacity means each level protects the inventory on that level and each subsequent level beneath it.
It would be great if you only needed one type of rack with perfectly spaced levels that never need to change, but that is rarely the case. This is why a modular and scalable rack is so important.
Tube and joint systems allow you to create a tailor-made rack with individual levels you can adjust. Since inventory costs are typically based on warehouse square footage, a modular rack system allows you to free up valuable warehouse space, thereby reducing warehousing and inventory costs.
There is nothing more costly or time-consuming than having to change a fixed warehouse racking system. Modular racking can be made to fit the exact size and space you need to store materials, parts, and finished goods and are scalable and adaptable to support any change.
Types of Materials used to build a handling system
There are material handling systems that are pre-manufactured to specific dimensions and made with different types of materials. Ultimately, understanding the pros and cons of these materials is needed to better understand if they are viable solutions for your handling needs.
Aluminum is a lightweight, high-strength, and durable material that often has strong corrosion resistance. It is often used in manufacturing material handling equipment provided the aluminum is properly taken care of. Unfortunately, that is often the problem with a material handling structure manufactured from aluminum. Should that aluminum get stretched – which will eventually happen – then the aluminum's surface layer will oxidize and corrode.
It's also not uncommon for aluminum to experience water staining with high magnesium-aluminum alloys staining the most. While this doesn't necessarily degrade the material's properties, it is an obvious eye-sore that is less than appealing. Just imagine customers seeing water stains on every single aluminum material handling system you have.
There are plenty of material handling systems that are welded. Unfortunately, these welded structures make the structure's physical dimensions permanent. Any pre-manufactured or fixed material handling equipment is not easy to adjust or change. In fact, they aren't designed or supposed to change.
These structures have a role to play for companies like distributors, retailers, or resellers who offer high volumes through a small number of product lines. If these product lines rarely change, then welded structures might work. Unfortunately, business change is commonplace, and welded structures aren't just expensive to purchase – they're expensive to fix and replace.
Standard Hardware Store Structures/Shelving:
An argument can be made for hardware store storage and shelving systems. They do play a role in inventory management. However, that role is extremely limited. It's not uncommon for warehouses to have small shelves that hold small consumables like tape, hammers, nails, scissors, labels, etc. Unfortunately, that's about it. These systems do not have sufficient load capacity on each shelf which means weight distribution across that shelf is very limited and extremely problematic.
While rarely used, some companies create material handling equipment, workbenches, and workstations out of wood. Unfortunately, this is neither a good material nor a stable material to withstand the heavy loads and repeated use so common in warehouses and production shop floors. Gradually, over time, wood rots, especially when it's exposed to humidity. As the rot propagates, the wood degrades even further and becomes weaker until eventually, it cracks or breaks. Even in a temperature-controlled warehouse, wood shelving is not a long-term viable solution.
Modular Material Handling Solutions Check all the Boxes
Companies nowadays have multiple concerns. It's not just about making a good product, building a brand, and keeping customers. While each of these is important, there are other issues today's companies are starting to take more seriously. Fortunately, a modular material handling system can address all these issues and more.
Ergonomic and Safe Solution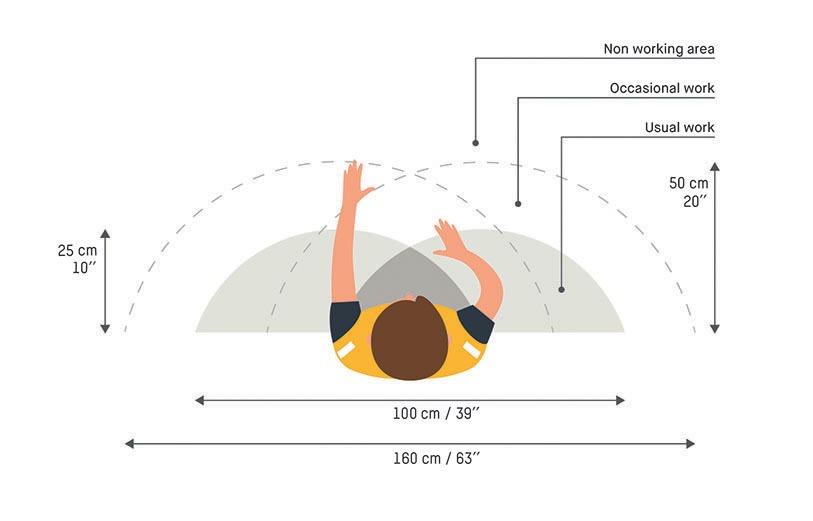 Employee absences due to work injuries are extremely expensive. The typical manufacturer covers $1,000.00 of additional costs every day an employee is injured. When employers adopt ergonomic principles, it immediately has an impact on employee engagement. Their efficiency, productivity, and attendance all improve. In return, companies don't have to cover as many costs for absences due to injury.
For many industries, a modular material handling system is part of their overall ergonomic strategy. These are the companies that will incorporate anti-fatigue matting solutions inside work cells to provide improved impact resistance for employees. When tube and joint solutions are used alongside anti-fatigue matting solutions, then companies can easily adjust and cut both to accommodate the other.
Modular material handling systems are relied upon because their surfaces, corners and the entire structure is clean, free of burs, and void of any sharp edges. This means modular handling systems are not only ergonomic but safe for use.
Inexpensive Solution Compared to Fixed Structures
Companies faced with modifying fixed structure material handling equipment incur substantial costs and delays. Changing or adjusting fixed material handling systems often involves a tremendous amount of labor-intensive and expensive work.
Simply put, modular piping solutions are easier and faster to assemble, require less expertise, and are nowhere near as expensive or take anywhere near as long as having to send fixed structures to subcontractors. These systems can easily be assembled in-house and adjusted in a fraction of the time compared to a fixed structure material handling system.
Easily Recycled – If needed
Modular handling systems aren't just easier to work with. While having a system that's easily customized and adaptable is a definite plus, another benefit includes the ease with which modular systems can be recycled. This is but another way for companies to showcase their environmental stewardship.
The piping and square piping is typically made from steel with a polyethylene coating or a highly-scratch-resistant paint coating. Roller tracks are made from steel or Polyvinyl chloride (PVC) plastic. Joints are also made of steel. Finally, the end caps, pipe connectors, and hinge brackets are either made of PVC or other highly-durable plastic. Ultimately, the result is a material handling solution that is scalable, adaptable, affordable, and recyclable.
Designed with Efficiency in Mind
Modular material handling solutions are designed with efficiency and lean concepts in mind. Companies providing these tube and joint systems are well-aware of how businesses need a scalable and modular solution. These structures can be assembled and disassembled in a fraction of the time when compared to other material handling solutions made from other materials. Ultimately, it's about enabling companies to make their own changes and structures as they see fit.
Choosing the Right Solution
Choosing a material handling system comes down to defining the type of business you run, the customers you serve, and the market or industry you operate in. Manufacturers have an obvious benefit from using modular material handling systems. However, if you are a small retailer, then modular systems aren't likely to add any benefits or efficiencies. If you're a business that sells a few product lines and those product lines never change, then fixed structures might be a solution. However, if your business is constantly changing and continuously growing – and if you know first-hand that fixed structure material handling has not worked for you – then modular systems may just be what you need.