A donation of protective panels to enable Le Chaînon to pursue its mission
Le Chaînon has seen its reception capacity reduced to 50% due to the pandemic linked to Covid-19. A donation of divider panels made it possible to continue to welcome and support women in difficulty in a safe environment for all.
Le Chaînon is a Montreal-based organization that has been helping women in transition since 1932. In addition to its helpline and support services available at all times, it offers short and long-term accommodation to more than 500 women annually.
One of its most-used services is emergency accommodation, which houses 12 women every day. They spend the night in a secure dormitory, can eat supper and breakfast, and receive many services, such as healthcare and clothing care.
Unfortunately, with the arrival of the COVID-19 pandemic, the shelter had to reduce its lodging capacity by almost 50%. In fact, due to the physical distancing measures decreed by Public Health, only seven women could sleep there.
Since the occupancy rate was 100% before the health crisis, the organization did not want to penalize those needing its services by accommodating fewer women.
Helping Le Chaînon pursue its mission
Le Chaînon's management came up with the idea of installing protective panels. After doing some research, they learned that Flexpipe made sneeze guards to limit the spread of the coronavirus. Excited by this great project, we donated several panels to them and made the trip to Montreal to come and install them.
In the picture, Julia Sourbé, Patrice Mongeau, Richard Forgues, Katia Poulin and part of the Flexpipe team
Flexpipe sneeze guards are made with steel tubing and connectors that form the frame of the structure. Mika fabric, which helps block droplets, forms the wall and is attached to the frame with self-locking tie wraps.
There are several models, some of which are installed directly on the floor, and others on counters or furniture. Regardless of the model, assembly time is generally only 15 to 20 minutes per panel.
Panel installation
At Le Chaînon, we installed protective panels in the dormitory, as well as in the common dining room. In the first case, we installed partition walls between each of the 12 beds, starting at the height of the pillows. 
Since the fabric used for the panels is transparent, the organization's officials can easily see each of their residents and chat with them, while respecting the hygiene rules related to COVID-19. Solid panels, for example those made of plywood, would not have provided the same advantage.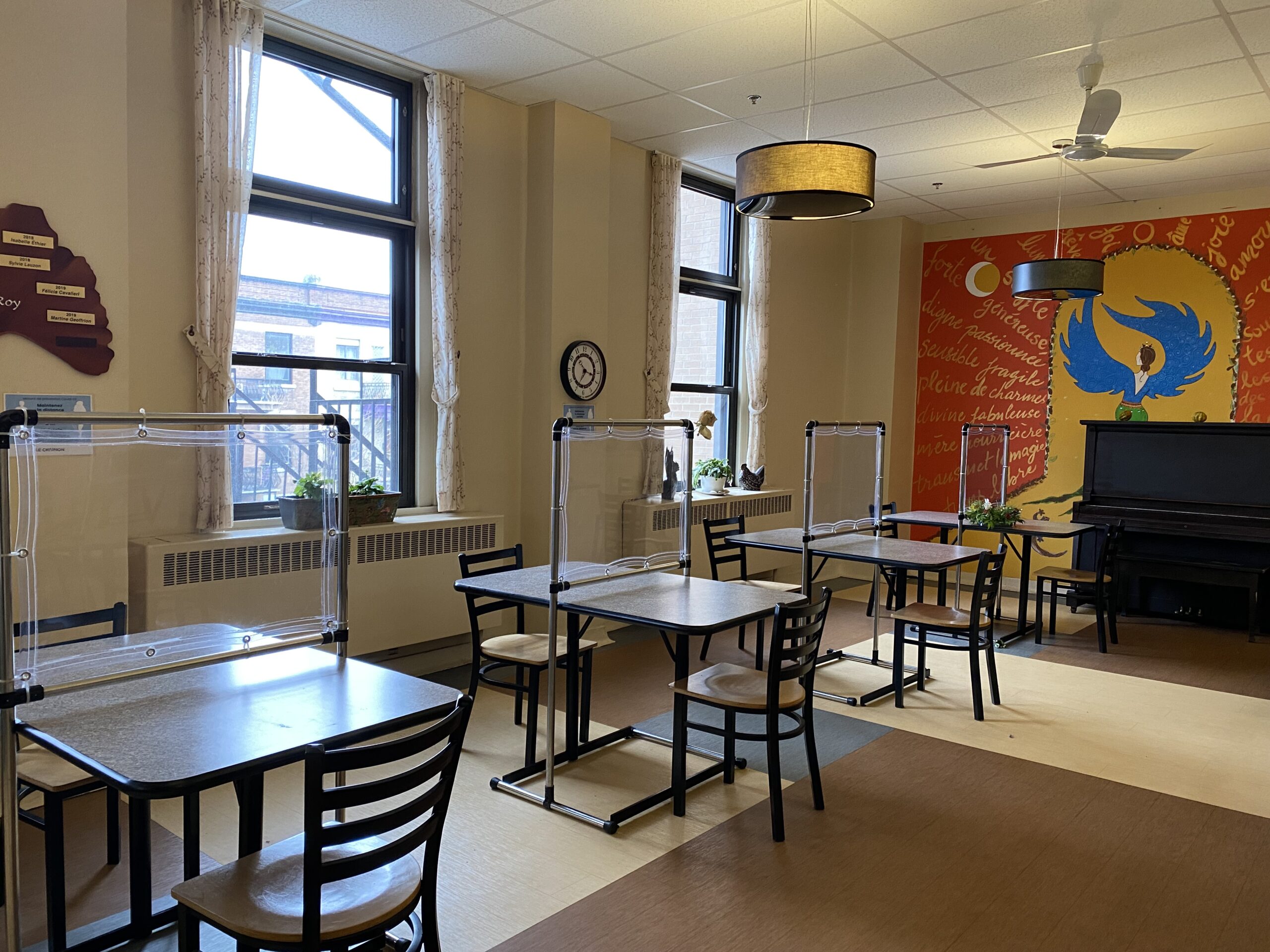 In the dining room, we installed smaller sneeze guards the middle of each of the tables. Thus, the organization can serve as many meals as it wishes, without having to reduce its capacity. Additionally, women can sit across from each other to eat and chat, which helps to overcome isolation.
Mika fabrics not only improve communication, they also increase the lifespan of the panels. If the fabric ever got damaged, the organization would not need to get a new structure, it would only need to replace the damaged fabric, a process that only takes a few minutes. Tubes and connectors are strong and built to last for years.
Multi-purpose equipment
Once the pandemic is over, Le Chaînon can easily use the protective panels to meet new needs. Like the other Flexpipe products, these are fully modular and easily convert into a shelf or support for an electronic tablet or laptop.
In this picture, Sonia Côté, president and general manager at Le Chaînon, surrounded by Eric Collard and Sylvain Lejour of tinktube and Flexpipe.
We are very happy to have helped this wonderful community organization continue to operate during this time of uncertainty. Thanks to our sneeze guards and partition walls, Le Chaînon was able to install sneeze guard separator panels in the dormitory, in the cafeteria and in the Le Chaînon store.