Pipes and joints systems vs. T-slot aluminium profiles: Comparing modular systems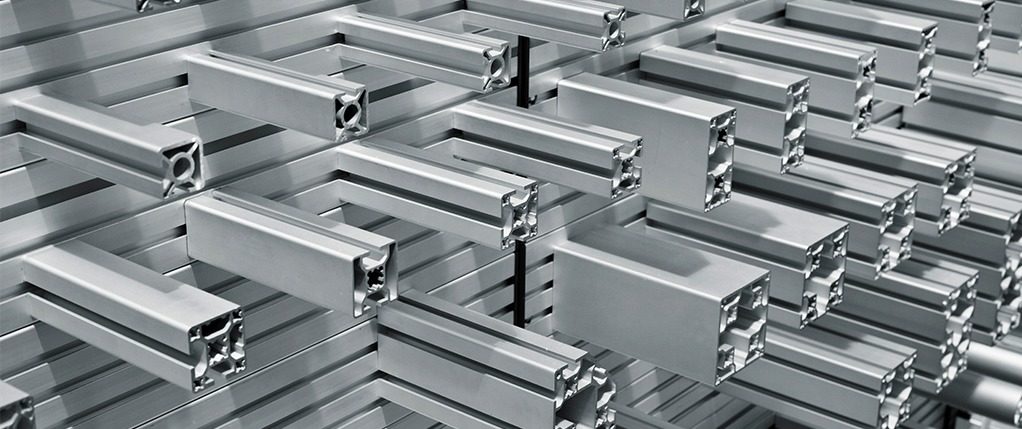 Many engineers are making the mistake of using T-slot aluminum extrusions everywhere on their production line. Here's how to avoid creating overkill, overbuilt, and overpaid structures.
This guide will cover the following:

Determine the loading capacity of a structure using our

CAPACITY CHARGE CALCULATOR.
What Are the Advantages of Each System?
These modular systems should not be considered competitors because they have their unique advantages and should be used in deferent situations. Because T-slot aluminum constructions are sturdier and more precise, they are an obvious choice for production systems involving robotics and automation. On the other hand, the pipe and joints system, perfectly embody the Lean Manufacturing concept. It's simple to assemble and customize while also been more affordable.
Pipes and Joints
Much lower pricing

Structures can be assembled faster

Easy to design and assemble

Order online

Structures can be easily tested, improved and adapted for lean purposes
T-slot Aluminum Extrusions
Heavier load/charging capacity

Make sturdier structures that can take rapid and repetitive movements

Modern and sleek style 

More precision

Ideal for jigs and robotics

More components and parts to integrate robotics and automation systems
---
How to Choose a Modular Systems?
When analyzing different modular system options to implement or adapt a production line, a lot must be considered. Maximizing a production floor's efficiency, ensuring employees are working in a safe, ergonomic manner, and ensuring the production blueprint can be adapted over time are key points to keep in mind throughout the conceptualization process.
While both T-slot aluminum profiles such as 80/20's or Vention's and tubular systems like Flexpipe's offer great solutions to manufacturers and design engineers. The products have unique characteristics that will influence how they will be of better use in a production context.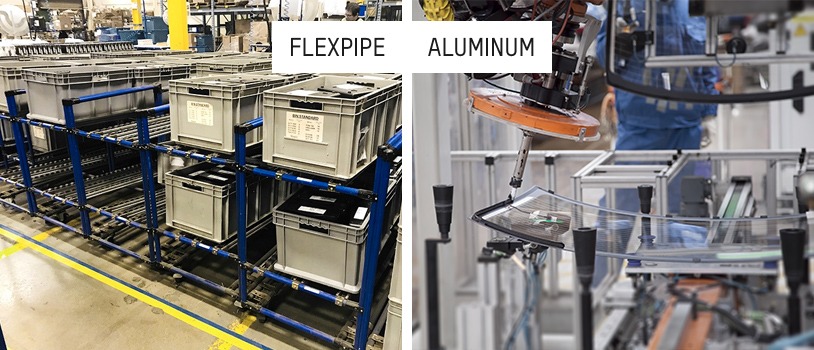 What Type of Structure do You Want to Build?
Because T-slot aluminum constructions are sturdier, they are an obvious choice for production systems involving robotics and automation. 
They are made with refined equipment that can offer very tight tolerances. Their durable and resistant nature can also support a variety of robotic applications facing rapid and repetitive movement, such as:
Framing for robotic mounting structures

Jigs and fixtures

Automation systems

High precision conveyor systems or assembly station
It's A Matter of High Precision
There is an intubation space of 1 inch in the tubular system when you insert the pipes into the fittings -even if the tubes should be fully inserted. This remaining space makes the assembly process easier by giving a margin of error for small cutting or design mistakes. 
While this detail might come in handy in some contexts, the facts remain: tubular structures are not as precise as aluminum framing systems. 
The tubes and fittings structures are more adapted to other types of use. 
Here are a few examples of various material handling systems that would be more efficiently built with pipes and joints than aluminum extrusions.  
It would be considered "overkill, overbuilt and overpaid" if you consider building the following structure with aluminum extrusions:
Flow racks 
Return lines for empty containers to ensure continuous production. 

Supermarket racks to have stock nearby.

L-shaped flow racks for the proximity of parts.

One-piece flow conveyor stations for lean manufacturing.

Gravity-fed workstations to free up floor space.
Racks
Adaptable racks.

Shelving with added value. 

WIP racks to reduce defects.

Storage racks are intended as a poka-yoke.
Workstations and workbenches 
U-Cell stations will improve your lead time. 

Ergonomic stand-up stations and work centers are great to have task-relevant information nearby. 

Personalized adjustable working tables are perfect to meet your worker's needs. 

ESD workstations to reduce defects.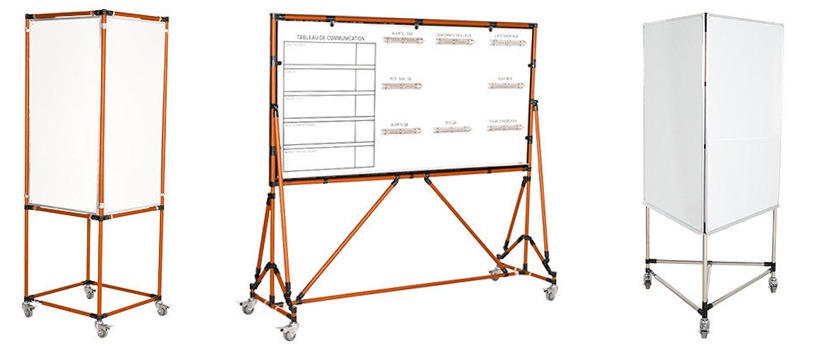 Modular boards
Point-of-use or shadow boards.

Rotating cube and 8-faced boards.

Meeting space.

1, 2, 3, or 4 sided boards.

Carts
Kitting carts.

Tuggable carts.

WIP carts

Warehouse picking carts.

Truck carts.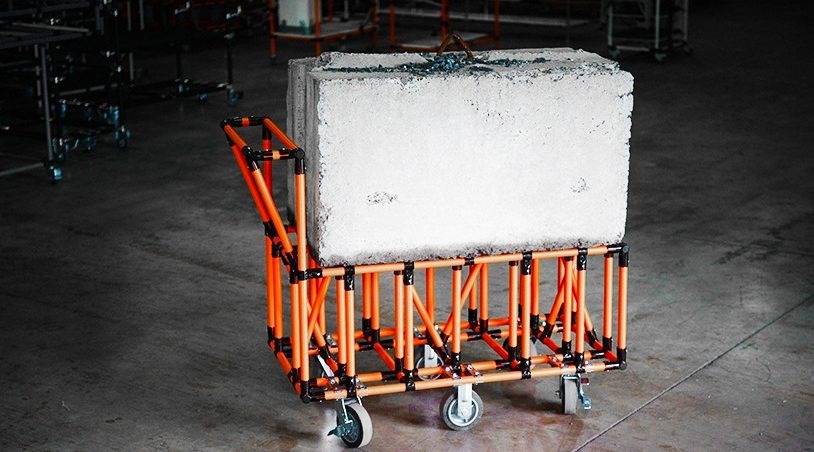 What Loading Capacity Do You Need?
The most robust structures made with the pipe and joint systems can support a maximum charge of 2000 pounds!
Pipe and joint systems like Flexpipe mostly use 28 mm OD pipes, with or without plastic coatings. The thickness of the pipes generally varies between 1 and 2 mm, providing various solidity levels which can be adapted to the project's specifications. But since the tube's diameter stays the same, Flexpipe structures will never be as strong as aluminum extrusions structures. The metal joints and various fasteners also contribute to the strength of the frame.

Determine the loading capacity of a structure using our

CAPACITY CHARGE CALCULATOR.
Being able to choose between different sizes of profiles ranging from 20 millimeters square to as large as 180 by 360 millimeters makes t-slot profiles a perfect option for projects involving very heavy loads.
T-slotted aluminum profiles are offered in different types and sizes, the most popular being the 6063-T5, often ranging from 1 X 1″ to 1,5 X 1,5″ inches. The choices in inch or millimeter square make it an excellent choice for light to heavy-duty framing projects.
According to this article on Formaspace, the biggest aluminum profiles used to make 80/20 extruded frames carry very heavy charges: 6105-T5 aluminum alloy has a tensile strength of 35,000 lbs. per square inch!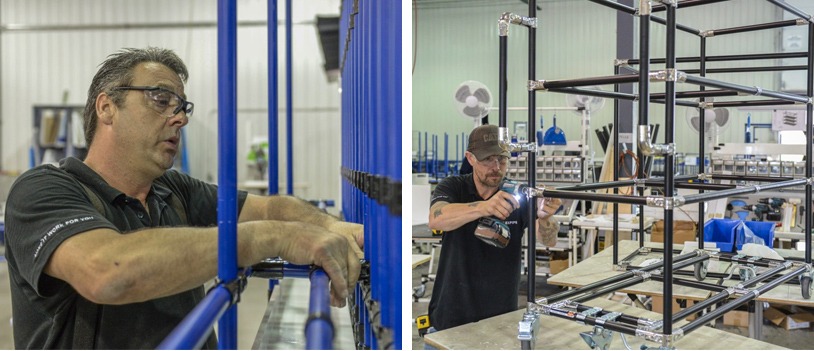 Does Your Structure Will Evolve Over Time?
Because of the lower costs of pipes and fittings "modular systems" and the simplicity of the tubular approach, tests can be carried out more easily before implementing new structures. Manufacturers can, therefore, quickly reconfigure a wide range of assembly line components based on feedback, with minimal capital outlay. 
Engineers can spend more time brainstorming and continually optimizing assembly processes. Rather than designing each structure from scratch, resulting in higher employee satisfaction and optimization of the production process!
Because pipes and fittings systems are more straightforward and involve fewer components, it's easier for engineers to shop online, figure out how they can use the product for their specific needs, and become creative more quickly! 
It's also easier for employees working on the assembly lines to get involved in the optimization process, stay proactive, and improve their work tools. Which is excellent for professional satisfaction and motivation!
Since the cost is higher, the testing part becomes more expensive and financially risky with the aluminum extrusion profiles. Making the whole testing and trying process more complicated than it is with the tubular system. This constraint tends to result in a longer, more complex planning process when creating new modular structures. 
Adapting and Evolving: a Constant Concept
Perfectly embodying the Lean Manufacturing concept, the Flexpipe production systems can easily be adapted to follow the production's new needs and reality. The simplicity of the structures ensures that any changes can be applied quickly and tested right away, thus leaving room for errors and constant improvement along the way.
Modifying already existing T-slot frames is a little more complex since they're also more complicated to assemble in the first place. Because of the various components involved in the system, the modular aspect of the structures is not as easily adaptable to feedback and testing. On the other hand, the multiple parts open up more options and possibilities for robotic integration and automation of specialized types of systems.
What's Your Budget?
Although the products' cost varies depending on the specifications of the project, aluminum tends to be about 30% more expensive than Flexpipe. 
For some manufacturing companies designing and working with an important number of workstations and production systems, the choice of material becomes very important. General application has a significant importance when it comes to choosing the best option. 
However, when it comes to intra-logistic applications where push-carts and flow racks are required, the cost and flexibility of pipe and joints systems trump T-slot aluminum extrusion profiles.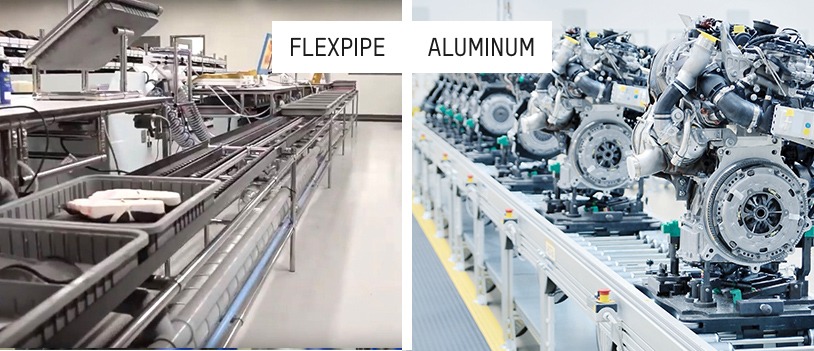 Is the Aesthetics a Priority?
Some professionals like the sober, straight lines, and modern looks of the T-slot aluminum profiles. Therefore, it could be considered a better choice for the aesthetics of their framing system. 
While it is possible to buy colored aluminum extrusions, it is more common to see clear aluminum finish or the typical blueish color of anodized aluminum often seen on Vention's extrusions for example, because of the considerable costs involving the powder coating process for coloration. 
On top of the traditional black and stainless colors, tubular systems like Flexpipe offer blue, yellow, green, white, red, orange, gray, and ivory colored tubes. The choices in colors mostly aim to make it easier to use color-coding systems on a production floor. Still, they can also bring a lighter atmosphere to a work environment! 
If you're looking for a sleeker, sober look, Flexpipe's stainless tubes matched with chrome-plated joints could very well match your taste. 
---
Takeaway
While both products offer customized, creative and efficient solutions in various production structures, their technical particularities make their use complementary. 
Each of them is more appropriate in different contexts of the production system. On your typical assembly line, any robotics or automation-related construction system will likely be more productive and precise if built with t-slotted aluminum profiles. On the other hand, pipes and fittings systems will be the obvious choice when building flow racks, workstations, modular boards, or carts!
Temie Fessa, a project manager for Flexpipe who has been working in the field for over ten years, says many of his clients will use both systems in different contexts. He points out that when engineers or consultants have been using aluminum extrusions on their production line for a long time, they'll tend to keep the same habits when designing new structures, as a professional legacy. Because they are so used to the t-slot aluminum framings, they won't question their choices or look for other options unless they are given a specific assignment related to budget cuts, for example.
And since the price of steel tubes and fittings is much lower than aluminum extrusions, once they've discovered the tubular systems and how easy it is to use, many companies will start integrating the tubular products as much as they can in the production environment. Especially when they don't need the heavy-duty aspect or the precision provided by the strut profiles. Using steel pipes tubular systems, therefore, allows them to cut the costs without any downside.
With our starter kit you can
easily start with flexpipe