Flexpipe Blog
Learn more about the Flexpipe system and its applications with Continous improvement, Kaizen Blitz, Lean Six Sigma, 5S and more.
---
How shadow boards help you be more competitive
As a manufacturer, one of your main advantages is to eliminate wastes, in other words, actions that are unnecessary and provide no added value. Shadow boards are an excellent means of implementing continuous improvement principles because their purpose is to eliminate the 8 manufacturing wastes. This article will give you tips on how to sort your tools and create order so you can efficiently carry out daily tasks, regardless of the nature of your work.
According to the 5 S method
According to the 5S method, shadow boards are commonly used to visually manage tools that are frequently utilized during the day. It's a very appealing approach as you can apply it to almost any environment!
A shadow board is a visual method of stocking items by means of a filled-in contour of every one of them in a colored backdrop to show where the tool should be put back after each use.
It's in the second S: SET IN ORDER or "Seiton" in Japanese, that the shadow boards come in. The exact meaning of this term is to lay out all objects and put each one in its place. Establishing a designated location for every tool or piece of equipment will help you find what you need when you need it.
Image from 5S Supply, Tool Tracer™ Tool Shadow's expert to stay organized.

Download the PDF version of our 5S method chart.
A place for everything and everything in its place
You can increase efficiency by significantly reducing wastes that provide no added value, such as time lost looking for a screwdriver a broom or a pair of scissors.
Good to know - For optimal visual management of your tools and parts, here are the 3 essential elements of a shadow board:
ID tag
Color code
Tool's shadow
Typically, a pegboard is the shadow board's foundation on which is painted the contour or shadow of the item to be hooked on the board. Shadow boards are an efficient way to create a visual impact thanks to the colored background. You can put tools or production items on them, such as dies or prototypes, for example.

The shadow board above is a kitting cart that one of our customers uses with its supplier to avoid overpackaging and waste materials on the production line.
By sending these boxes back to the supplier, the latter can simply insert all the items ordered by the customer in them again without having to restock packaging materials himself.
In addition to being environmentally friendly, this method prevents the supplier from forgetting any items and makes order prep easier. The color coding calls attention to missing parts.

Make your own shadow board
3 simple steps to build a shadow board to meet your needs
This section of the article will provide you with tips as well as steps involved in building the type of shadow board that will be most effective and profitable for your business needs.
Step 1 - decide which tools you need
First, gather all your tools to decide which ones will go on the shadow board. To help you choose those needed to carry out your tasks, think of the setting in a hospital's operating room. A surgeon should never have more than what is required to operate on the patient nor have to hunt around for a specific scalpel!
Tip : If you have trouble figuring out what you use in a typical workday, put in a box all the tools and parts that you utilize as the day progresses. As such, you'll have a better idea of what's essential in your workstation.
To avoid unnecessary steps, you should always position your tools as close as possible in your workstation. Normally, these would correspond to those which you use within the hour or during the workday. In an office setting, the same principle applies: Items that are regularly utilized should be placed on the desk.
Use this chart to decide if the tool in question should go on a shadow board or not.
Step 2 - Decide on the type of panel and its location
Once you've decided on the tools that should be within reach, now it's time to choose the material. The number of items and the shadow board's location is two determining factors at this step in the process.
Here are some examples of our customer's shadow boards as a source of inspiration. Some chose to use materials they already had on hand, while others opted for laser cut-outs in foam panels.
Photo credit: Trilogiq
Photo credit: Trilogiq
If this type of shadow board interests you, we highly recommend its manufacturer - who also happens to be one of our suppliers: OSAAP AMERICA.
This Maine-based company, in the US, produce boards made of various types of foam, most with laser cut-outs for added precision. Curious to see how they do it? Take a look.

Types of pegboard
HIGH DENSITY POLYETHYLENE (HDPE)
High density polyethylene is a 1/4 inch thick white plastic surface. This type of material is rigid, the high density of this product makes it shatterproof and ultra durable. This surface is easily cut with a decent saw. For more information, refer to product D-PEGW-481/4 on the online store.
MASONITE
Masonite pegboards are the most common on the market. They can generally be found in hardware stores or home improvement big-box stores. The panels are available at low cost and have either 1/8-inch holes or 1/4-inch holes for more robust use.
Masonite panels are not intended to hold heavy tools, such as drills. Doing so would cause the panel to warp and eventually rip. Also, with time, the holes in the panels can sustain damage from frequent hook changes.
The image below shows various types of hooks that you can use to hang your tools
Photo credit: Triton Products
Tip: At Flexpipe, we simply use screws with bolts for added strength.

METAL
Long-lasting, metal is easy to clean and is one of the most solid materials on the market. It also gives the pegboard a stylish look. It's worth keeping in mind that metal boards are the most expensive option and their weight makes them difficult to buy in larger sizes.
Additionally, if the air is humid, be sure to use stainless steel to avoid rust issues. Finally, remember that metal conducts electricity, so take precautionary measures to provide your employees with a safe work environment.
ACRYLIC
Plastic or polymer acrylic pegboards offer unparalleled versatility and reliability. They are much lighter than their Masonite and metal counterparts.
Their durability is unbeatable, given that they are rustproof, will not crack or warp. This type of board can withstand heavy loads.
Each type of material has its advantages and drawbacks; evaluate them all to find the best for your needs.
You can also make your shadow boards out of foam if, for example, you need to store or handle fragile parts a production line. You'll notice that most of these shadow boards are placed on a wheel-mounted cart or rack.
If you decide to build a foam shadow board, there are several grades of foam from which to choose. On the other hand, the more the foam is porous, the more difficult it will be to cut, as Ethafoam for example. There are greater risks of it disintegrating where the knife penetrated it, consequently shortening its life span.
Type-A foam panels, such as Crosslink, are of better quality thanks to their high density. This type of foam will protect fragile parts more effectively.
You can also use materials you already have on hand in your plant to build your shadow board. Some of our customers used MDF panels, whereas others decided on steel panels. A little creativity mixed with a desire to reuse existing materials can give pretty impressive results!
Tip: Regardless of the type of material you choose for the shadow board, we suggest dividing it into sections. It will be much easier to alter only a portion of the entire board, instead of the whole thing, should you have to move tools around.

Step 3 - draw the outline of your tools
To begin, set your tools on the panel to use up space in the most optimal way. This task may be painstaking as you'll have to try a few configurations before finding the ideal one.
Be sure to properly align all tools. We recommend grouping them by families: adjustable wrenches, hammers, screwdrivers, drill bits, etc. After, draw the tools' outlines at their designated location on the panel.
To conclude, all that's left to do is to place the hooks and hang your tools. Take a picture of the final product and show your project to the rest of the team so everyone can use this work method!

Benefits of using a shadow board
In short, implementing the 5S system will have a positive effect on your operations, such as:
Reduced costs as you'll only use the tools and material that are necessary
Improved quality
A more secure work environment
Increased productivity
Increased employee satisfaction regarding their designated tasks
Whether the shadow board is in an office setting or for workstations in the production line, everyone will come out a winner. Don't wait another second before trying one!
10 tips to reduce change resistance when introducing lean manufacturing
If you're thinking of introducing lean manufacturing on the shop floor, you may have noticed that some production employees are hesitant to shift their habits. For example, they may say that their way of doing things has always generated good results or that the proposed modifications don't apply to their current situation. Rest assured, your predicament is common. Most businesses in the manufacturing sector have faced this problem at one time or another. Thankfully, there are many methods to overcome resistance to change.
Estimated reading time: 8 minutes
1 – Explain the reasons behind the change
Begin by stating the motive(s) for the transition to your team. Some ideas could be to be more competitive, to face growing demand, or to serve your customers better. However, avoid basing your explanations solely on profitability. If the proposed changes are purely for financial reasons, you risk not getting everyone on board.
2 – Call upon an external training facilitator
Before beginning the Lean training process, plan to have the appropriate resources. Smaller businesses often retain the services of an external instructor. In the eyes of the staff, he can lend credibility to the process thanks to his professional expertise.
If you do use an external consultant, be sure the person overseeing the Lean process within your organization (the Lean sensei) works with the trainer to provide insight into the company's situation. The sensei can also guide the consultant's presentation and play a part in the discussions.
3 – Provide Basic Lean training to all personnel
[caption id="attachment_17846" align="alignnone" width="814"] Flexpipe assists in training while visiting an Adidas Plant in China.[/caption]
Before engaging in Lean practices, your employees will need to receive basic training on the Lean culture to understand it and speak its unique language. At the end of the process, they should be familiar with founding principles such as 5S and various types of wastes, and knowing what added value does and doesn't consist of.
To win over those who are most reticent, trainers can show testimonials, pictures, and videos of companies who have gone through Lean improvements. Doing so is a lighter and more user-friendly means of convincing instead of text-heavy presentations that don't always engage those in attendance.
4 – Visit other plants and speak with their employees
[caption id="attachment_17840" align="alignnone" width="814"] Flexpipe visited Lumenpulse in Longueuil, Québec.[/caption]
[caption id="attachment_17843" align="alignnone" width="814"] Flexpipe visited Lumenpulse in Longueuil, Québec.[/caption]
To convince employees of the benefits of the upcoming changes, suggest that they visit non-competitive plants, which recently undertook the same process as yours. If there is no one you can contact, search on LinkedIn or call organizations that do tours in Lean facilities, such as the Association for Manufacturing Excellence, the Gemba Academy, the Lean Enterprise Institute, or the Mouvement Québécois de la qualité.
While it may be challenging to get employees on-site, those who do go will become your most valued spokespeople. Why? Because they will have seen the transformation for themselves and, most importantly, talked with employees who carry out similar tasks. The latter will be able to explain how they experienced the change and the advantages of working in a Lean environment. Such discussions can reassure those who are particularly hesitant regarding the proposed adjustments.
Our team at Flexpipe recently toured the BRP snowmobile plant. After the visit, our five production team leaders exclaimed, "Wow, the production floor is open, airy, and clean. We would love to work in an environment like this."
5 – Start with small, simple changes
[caption id="attachment_17858" align="alignnone" width="814"] Employees are showing their simple and resourceful self-constructed Shadow Board[/caption]
To display the physical benefits of the ongoing change, choose a high-visibility work cell which will serve as a model. This space will be the designated location to implement your first projects.
Avoid beginning with lengthy, costly, and complicated undertakings. Instead, make small tweaks with a big payoff, such as improving a substandard workstation. Once you've finished your first project, ask your employees to examine the issue that has been solved—they'll have the proof right before their eyes.
Starting small means, you'll be able to show the results to your team quickly and reduce the risk of failure.
6 – Ask employees to pitch ideas
[caption id="attachment_17834" align="alignnone" width="814"] Improvement Submission Board at Flexpipe.[/caption]
[caption id="attachment_18007" align="alignnone" width="814"] Improvement Submissions with a visual explanation.[/caption]
Getting employees involved is the surest way to overcome resistance to change—even if you provide Lean training. You will need to make them understand that the ownership of the transformations doesn't solely rely on 1 or 2 people; instead, it's company-wide ownership. That way, a Lean culture will permeate all echelons of the business.
One of the best ways to have team members participate in the transition is to gather their ideas by using a suggestion box or board. Your supervisors and those spearheading the improvement process can also help employees make recommendations on an ongoing basis.
Responding to all suggestions quickly is a robust approach to show that you open to change and innovation.
7 – Encourage employees to plan the entire project
While having ideas is undoubtedly a good thing, it's even better to explore them. Encourage employees to lend a hand in crafting the solution by having them sketch out a problematic element in their environment and what could correct it.
If needed, the person leading the improvement process can help the staff realize and refine their ideas. Additionally, he could suggest a brainstorming session among team members to generate further options.
8 – Ask employees to help implement an idea
Once you've collected the various concepts and encouraged employees to play a role in devising the solution, why not ask them to continue the creation process by, for example, having them design their new lean manufacturing workstation? Besides feeling proud of his accomplishment, an employee can improve upon his workstation again in the future according to the company's unique requirements, when need be.
One way to make ideas come to life more efficiently is to have tools and necessary materials on hand. A moonshine shop can be an exciting option to provide a creative setting.
9 – Celebrate the victories—and the defeats—resulting from the change
[caption id="attachment_17864" align="alignnone" width="814"] All the Flexpipe employees at the MPA Trade Show in Montreal.[/caption]
Your organization should celebrate both the highs and lows related to the change process. Some businesses offer a reward such as t-shirts, corporate items, or gift cards to participants. The gifts need not be expensive; they're meant to recognize the employees' efforts and encourage them to continue the Lean transformation endeavor.
10 – Keeping flexibility and agility in mind while recruiting
Even with the best intentions, sometimes it's difficult to overcome resistance to change in some employees. When recruiting, make sure to emphasize flexibility and agility. Ask candidates to give you examples of changes they've gone through in past jobs and how they reacted to it—beware of those with a hardline stance or who seem insincere.
____________________________________________________________________________
WHAT CAN FLEXPIPE DO TO OPTIMIZE YOUR PLANT EFFICIENCY?
Flexpipe modular industrial pipe racking system can help you with implementing continuous improvement principles. Your team's creativity can result in a 10% increase in productivity per year. It has been a proven system for more than 50 years now, which allows to reduce the 8 manufacturing wastes.
9 tips for a lean and secure plant after the COVID-19-imposed shutdown
The time has come for many North American manufacturers to get back to work. The situation will obviously not be the same as it was before. Ways of doing things will have to be adjusted. In the coming weeks, plants will be implementing a host of new measures to comply with new government rules, particularly in terms of health and safety. If this is the case for your company, here are nine tips, based on the principles of continuous improvement (lean manufacturing) that will help you prepare for a safe return to work.
1– Distancing your employees from each other
It's not always easy to maintain the physical distance of 2-meter on an assembly line. Employees often work very close to each other and have little room to maneuver.
By using modular aluminum panels or those manufactured by Flexpipe, these new physical constraints can be more easily met. For example, you can add acrylic panels between employees working opposite each other or a tubular panel, with an acrylic interior, for employees working side by side. Acrylic is currently hard to find; you can therefore also hang mica canvases with eyelets on your structure or workstation that are attached to a steel or tubular frame.
In the event that you cannot modify your existing workstation, install large panels, either wheeled or fixed, between employees instead. Flexpipe offers several such modular panels. Why should you choose Flexpipe? You can take them down and reuse them to make a cart, for example, when the pandemic subsides.
[caption id="attachment_18908" align="alignnone" width="814"] Here are dividing panels for working side by side[/caption]
[caption id="attachment_18938" align="alignnone" width="814"] Here are dividing panels for face to face work.[/caption]
[caption id="attachment_18887" align="alignnone" width="814"] Here is a separator panel that will help create a distance between employees.[/caption]

2– Transforming your equipment into mobile units
Are your workstations and equipment on wheels? If they are not, take advantage of the current context to install them. It is an inexpensive investment that helps you increase the mobility of your work environment so that you can more easily comply with the rules of physical distancing. There are also various braking systems, such as foot brakes or total locks, to stabilize workstations.
For example, at Flexpipe, we have relocated part of the staff in our building reserved for assembly to our warehouse. This operation, aimed at reducing contact between employees, was simple to carry out since all our workstations are equipped with four- to six-swivel wheels.
[caption id="attachment_19443" align="alignnone" width="814"] Point of use tooling (POUT) with 4 swivels caster with total lock brake[/caption]
[caption id="attachment_19449" align="alignnone" width="814"] Steel Tool cabinet that was put on caster[/caption]
3– Strengthening your 5S program
Even though 5S can increase productivity and reduce the risk of accidents, it will also be very useful when disinfecting work tools.
By using the 5S program, you will clean up your workstations to leave only the tools your workforce uses regularly. For example, at Flexpipe, an employee disinfects work tools, but also door handles and kitchen equipment three times a day. Thanks to the 5S program, our disinfection manager is much more efficient because he does not waste time disinfecting unused tools.
Already have a 5S program in place? Remind your staff about the importance of being rigorous, especially during a pandemic.
[caption id="attachment_19453" align="alignnone" width="814"] The 5S system facilitates the disinfection of workstations.[/caption]
See how the facilitators of hygiene measures apply in the medical sector.
4– Reviewing your work procedures and standards
While your plant is reopening, why not take advantage to review your work procedures and standards in order to avoid, as much as possible, the sharing of tools and equipment? In addition to improving your processes, you will provide a safer environment for your employees.
Over the next few weeks, you may have to operate with limited staff. If you have never done so, don't hesitate to reassign one of your temporarily laid-off employees to update your work procedures and standards, especially if you are eligible for government assistance for businesses.
5– Using visual cues
Visual cues are quick and easy to set up. Using different coloured tape, draw lines on the ground to clearly delineate the corridors and different work areas in your plant. For example, at Flexpipe, we have created one-way corridors to prevent people from crossing each other.
Don't hesitate to use vinyl that sticks to the floor to clearly mark the 2-meter distance your staff must respect, especially in busy areas such as the cafeteria.
6– Managing the flow of materials to work cells
Consider identifying the materials, raw materials, work in process, and finished products within each work cell in your plant to limit contact between your employees and other stakeholders.
For example, use flow racks for your hardware parts. With this system, the inventory handler brings the parts to the back and the assembler takes them from the front, without any contact between the two.
Apply the same principle to your shipments. Clearly define the area in which the products are to be picked up, at a certain distance from your workspace.
7– Limiting unnecessary travel
The pandemic is one of the best reasons to encourage your employees to stay at their workstations. Indeed, unnecessary movement and travel is one of the most important wastes in value-added production because it does not add value.
At Flexpipe, we have put in place a policy to reduce the number of people walking around the plant.
Our assemblers receive their parts from a single employee who goes around the workstations with a trolley. If, for any reason (defective part, lost part, etc.), one of our assemblers needs new parts, they must stay at their station and notify their supervisor. To avoid a recurrence, the employee is asked to describe as accurately as possible the problem they just encountered while waiting for the new parts. Once the problem has been described, another employee will take over the task of finding a solution to the problem.

8– Setting up POUTs for sanitary facilities
Like most factories, you have probably purchased sanitary equipment (gloves, masks, disinfectants, etc.). To improve efficiency, set up Points of Use Tooling (POUTs), which are small workstations in which sanitary equipment is neatly stored and easily accessible, at strategic points in your plant.
Use this opportunity to post the company's policies on COVID-19 at each POUT.
9– Deliver elevated quality standards right from the beginning
Production defects are one of the most common wastes in value-added production. Especially in the context of coronavirus, positively encourage your employees to do quality work right from the beginning.
Why should you do this? Because a poorly assembled part is manipulated by many employees who will try to discover the problem and fix it. In contrast, impeccable work involves fewer people and less travel. You will limit the risks of propagation while increasing your productivity.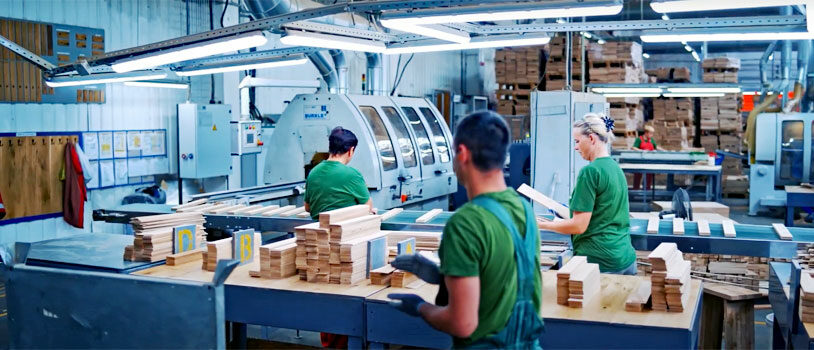 Circular manufacturing: The rules of the circle
Circular manufacturing is a system for maximizing efficiency and reducing waste in a manufacturing site.
In this video, Robert Simonis, principal consultant at KCE Consulting, explains the four rules of this lean technique and how they can improve the flow of any work process.
Rule No. 1: The process should begin and end in the same location
For optimal flow, the work process should always end near the spot where it began. This ensures that as soon as an employee finishes a task, they can start the next one without wasting any time traveling from one end of the warehouse to the other. This usually means that the process will be laid out in a U shape.
[caption id="attachment_26415" align="alignnone" width="615"] People on the production line, the workstations, and the equipment should be organized to optimize the flow and minimize waste so that productivity can be maximized. Source: Assembly Mag and Bosch Rexroth Corp[/caption]
By contrast, a process that follows a straight line—while it might seem logical for the flow of materials—forces operators and material handlers to make a return trip to their starting point at the end of each cycle, which is a form of waste.
Rule No. 2: The process should not intersect
When a process starts and ends in the same location, there's a risk that people or materials will cross paths somewhere along the line. It's important to make sure that doesn't happen, as much for efficiency as for safety reasons.
[caption id="attachment_26397" align="alignnone" width="1875"] Material handlers travel the width of the building, then return empty. Source: Robert Simonis[/caption]
[caption id="attachment_26394" align="alignnone" width="1897"] Empowered teams focused on optimizing their value stream. Source: Robert Simonis[/caption]
Wherever people or objects cross each other, slowdowns, bottlenecks, and accidents can happen—just like at an intersection. An intersecting production line also creates confusion about which direction to take, resulting in lost time and misplaced materials.
Creating a clear, unobstructed path forward is a key part of optimizing flow.
Rule No. 3: Make the circle smaller
Whereas the first two rules of circular manufacturing create a more logical process for operators, the third rule helps cut motion waste and transportation waste.
Imagine the production process as a circle; the larger the circle, the greater the distance employees have to travel from one point to another.
When work cells are placed close together and frequently used tools and parts are within reach, employees will spend less time walking and more time performing the tasks that add value to the end product.
Rule No. 4: The process should be circular, but not circle-shaped
Once the first three rules of circular manufacturing are implemented, the production line will not be shaped like a circle. Rather, the process will be U-shaped or resemble some variation of this form (for instance, a serpentine or Christmas tree pattern).
[caption id="attachment_26403" align="alignnone" width="2101"] The new process offers a closer option from beginning to end.[/caption]
Unlike a circle, these shapes create a short distance from one side of the path to the other, reducing total travel time.
How does circular manufacturing help with line balancing?
One of the main advantages of a circular configuration over a straight line is that it allows for greater flexibility when it comes to line balancing (leveling the workload across different stations on a production line to prevent bottlenecks).
A straight production line can be balanced only by redistributing tasks to stations to the right or left. But with a circular line, process steps can be redistributed to cells behind as well as to the right or left, providing more options for improving flow.
How does circular manufacturing benefit employees?
Employees who are accustomed to the straight-line model might be reluctant to try a circular workflow because it appears to be more demanding.
Rather than remaining at one station where they repeat the same task over and over, employees on a circular line switch between different tasks and operate more than one machine.
While this does require operators to learn new skills, the benefits are clear. Moving around and using different muscles is more ergonomically sound than repeating the same motion all day long, so operators tend to experience less fatigue and fewer injuries. Being involved with different stages of production also helps operators feel more engaged with their work.
Looking for evidence of the four rules of circular manufacturing—a workflow that starts and ends close together, does not intersect, reduces travel distances, and is circular but not a circle—is an excellent way to quickly assess whether any manufacturing site is set up efficiently and safely.
KCE Consulting LLC helps companies around the world improve their manufacturing, logistics, and business operations. Using a learn-by-doing model, KCE's consultants train future leaders throughout the supply chain and provide solutions based on Kaizen, Kaikaku, lean process design, operational excellence, and more.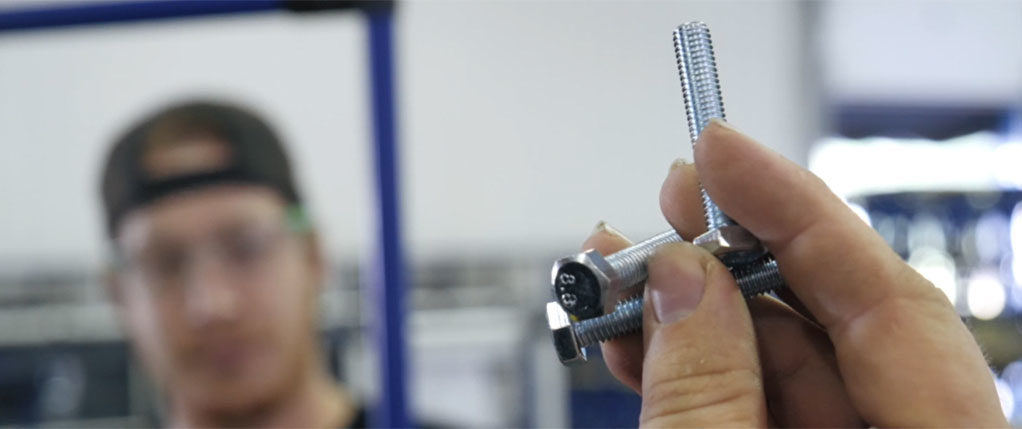 What is the role of the Waterspider in a lean manufacturing structure
Water spider is a term that refers to a specific person whose main job is to take care of intermittent tasks such as supplying material at workstations.
Like during surgery the assisting person is like a Water Spider, they allow the surgeon to perform the added value task with no distraction.
[caption id="attachment_21927" align="alignnone" width="814"] The key to adding value tasks without distractions[/caption]
The rationale behind the water spider in the factory is similar where it allows the rest of the personnel to devote their full attention to added value tasks.
The Water Spider position is often confused with a simple material handler but in a lean manufacturing layout, a Water Spider must be intimate with the process or work cell they support, not just a pick-up-and-drop-off handler.
The tasks of a water Spider
Water Spider is the go-to person when there is an out-of-cycle task, for example:
supply raw materials and parts,
transport finished goods away from the work area,
remove waste,
move Kanban cards,
update status boards,
pack materials to be taken away,
replace tools
help with changeovers,
keep an eye on less experienced personnel.
[caption id="attachment_21939" align="alignnone" width="2260"] Water Spider is the go-to person in a well organized area[/caption]
[caption id="attachment_21933" align="alignnone" width="2260"] A water Spider must be intimate with the process or work cell they support[/caption]
Water Spider needs to make sure that the production flow is uninterrupted, and workers are only devote added value tasks.
When a particular worker doesn't have to take care of auxiliary tasks, they can concentrate on their own productivity. They can become more efficient at adding value.
They should visit the workstations and operators in the same order and at similar intervals. The speed and frequency of their rounds should be dictated by the needs of the process.
The analogy with the insect
Water Spider is mizusumashi in Japanese and is often used even in English meaning "make water cleaner" or "purify water".
[caption id="attachment_21930" align="alignnone" width="2560"] Water spiders are representing by Water beetle, notable for their divided eyes.[/caption]
Water spiders are representing by Water beetle, notable for their divided eyes and that dives into freshwater but does not stay into water. The water spider dives into the process to get close to the cell, even goes into the cell to do occasional relief work for operators. Specifically, the whirligig beetle is known for their habit of swimming rapidly in circles… and for their gregarious behaviour…and are also notable for their divided eyes which are believed to enable them to see both above and below water".
And If employees don't like the name why not using Point of use Provider.
How to boost productivity
While some floor managers might feel the urge to put a not-so-skilled worker in this position, this is not a good idea:
In order for a water spider to really boost productivity, they need to have a great working understanding of the whole process and need to be able to read the whole workspace.
Here are some important requirements for the job
They should be helpful at every workstation they service, and this requires knowledge of all processes and great work experience.
They should be first to notice when problems arise, and this requires good working relationships with management, to raise the issue.
They should help with the unexpected and know about the challenges faced in the day-to-day work at stations and this require to communicate well, gets along with everyone to help
They should move, lift, transport and do a lot of walking required for the water spider to be in good shape to walk, lift, and move material.
Learn more on how to maximize productivity with the Andon system. A great way to quickly pinpoint issues at manually operated workstations, improve response time, and reduce downtime is through an Andon system.
The Japanese Influence
[caption id="attachment_21921" align="alignnone" width="900"] Taiichi Ohno, the founder of the Lean Approach[/caption]
Some Senseis say that Water Spider role is a "rite of passage" to becoming a supervisor.
This is why it makes a lot of sense, to treat the position as a way to groom a future team leader, supervisor or manager, instead of a "go-fer" or "catch-all" job.
Elements of success
Both the water spider and the other workers' Everyone should have a clear idea of what the water spider is there to do and not to do. : Managers might view water spiders as auxiliary, and therefore secondary in priority.
This might lead to assigning them fill-in tasks, which might end up hurting the productivity of the whole facility. Don't treat the water strider as a floater, or as an excess person.
Depending on the size of the work area and the material demands, a water spider may not perform that role full time but their rounds should still be made at regular intervals, though, to keep operators from running out of parts.
A clear process flow and defined work sequence (clear flowing water) is required to design the workload of the Water Spider position.
To begin, the role should be tested out on a small scale to get a feel for how to use this position. The key is structure. They must make the rounds in sync with the pace of production.
You might find that Water Spider might do too many empty rounds at first and feel that there is the inefficiency to work on. However, you should try to optimize the system first not the water spider time. It can be deemed acceptable as long as the water spider manages to help boost the efficiency of the whole operation.
Read on to learn how a modular pipe handling system helped Hologic increase its productivity by 25%.
Extra recommendations!
[caption id="attachment_22003" align="alignnone" width="2560"] Spaghetti diagram[/caption]
For every workstation on the assembly line create a spaghetti diagram of the stock replenishment path
Work on small and regular milk runs
Clock the water spider with a pedometer to log the typical distance travel and ask how this could be improved
Supermarket should be not too far from the assembly line. There may be more than one supermarket for longer lines.
An exhausted water spider is a good sign that something is wrong. And at this point, he might now be able to see clearly.
You should be able to see how having a well-functioning water spider can boost overall efficiency and potentially calculate an ROI to present to management. Furthermore, isolating the auxiliary tasks mostly transportation and movement waste in a single place will help to examine them and possibly reduce or eliminate them.
____________________________________________________________________________
WHAT CAN FLEXPIPE DO TO OPTIMIZE YOUR PLANT EFFICIENCY?
Flexpipe Modular industrial pipe racking system can help you with implementing continuous improvement principles. Your team's creativity can result in a 10% increase in productivity per year. It has been a proven system for more than 50 years now.
See how the modular system improve operational efficiency while saving time in manufacturing processes at Waterax.
How to deal with motion waste
One of the eight types of waste identified in lean methodology, motion waste is any movement during a work process that does not add value to the customer. This includes actions such as walking, bending, lifting, and reaching that slow down the process and make the task more difficult for the operator.
As Shoplogix's Martin Boersema explains in this video, motion waste tends to be the most common type of waste in a work cell—but it is relatively easy to correct through continuous improvement initiatives such as kaizen events.
How to identify motion waste
To identify motion waste, observe the work process and take note of any movement that seems to be slowing things down. Maybe the operator has to walk across the shop to read a set of instructions, or they spend several seconds fiddling with a part.
[caption id="attachment_26243" align="alignnone" width="2560"] One of the eight types of waste identified in lean methodology, motion waste is any movement during a work process that does not add value to the customer.[/caption]
Ask questions to find out why these extra movements are taking place. Once you determine the cause of the waste, you'll be able to come up with solutions.It's helpful to conduct a time study on the work process to find out exactly how long it takes to execute each step. If there is fluctuation in the time it takes to perform a particular task—maybe sometimes it takes 30 seconds, but other times it takes 60 seconds—motion waste might be the culprit.
Common types of motion waste
Types of motion waste vary depending on the work process. In an injection molding cell, for example, the operator may have trouble keeping up with the machine's production cycle if they have to walk several feet away from their workstation to retrieve the parts they need.
Or perhaps they can still keep pace with the machine, but the seconds they spend walking could be better spent on a task that adds value, such as performing an inspection.
In an assembly cell, where the work is performed manually, the efficiency of the process depends on how easily the operator can carry out each step. Small issues might slow down the work—maybe they have to fiddle with a part to get it to fit inside its nest, or they have to rotate their body to reach the tools they need.
If the workspace isn't organized efficiently, employees will wind up moving around as they search for missing parts, tools, or information.
[caption id="attachment_26252" align="alignnone" width="1920"] If the workspace isn't organized efficiently, employees will wind up moving around as they search for missing parts, tools, or information.[/caption]
How to reduce motion waste
In many cases, motion waste can be reduced by making necessary equipment more accessible to the operator. This might mean replacing a large cabinet with a tool cart that can be wheeled closer to the operator's workstation, or perhaps substituting a large bin with several smaller bins so that the operator doesn't have to reach far inside to retrieve the part they need.
To eliminate motion waste related to searching, it's important to ensure that all equipment is stored in the right place and properly labeled; there should also be an effective communication system in place. Visual management is a lean technique that can help with this.
Other types of bottlenecks will require their own targeted solution. If an operator is struggling to fit a part inside its nest, the nest might need to be redesigned for a better fit. If an operator has to manually insert a part at one end of a machine and then eject it at the other end, it might be worth examining whether one of those tasks can be automated.
[caption id="attachment_26258" align="alignnone" width="815"] In many cases, motion waste can be reduced by making necessary equipment more accessible to the operator.[/caption]
How motion waste impacts employees
Employees who have to make a lot of unnecessary movements while performing a task often experience fatigue, sore muscles, and sometimes even injury. Some people may not realize the extent to which excessive movement affects them; they might think that a second or two of bending or lifting isn't a big deal.
However, when solutions are implemented to reduce motion waste, most employees notice that they are less tired, especially at the end of the work week.
[caption id="attachment_26249" align="alignnone" width="815"] To eliminate motion waste related to searching, it's important to ensure that all equipment is stored in the right place and properly labeled[/caption]
Part of continuous improvement is training employees to spot motion waste and working together to find the right solutions, but it's also essential to educate managers about the problem.
Ultimately, they will be the ones implementing the improvements that will make a significant difference in their employees' quality of life.
About Shoplogix
With its industry-leading smart factory platform, Shoplogix helps manufacturers reduce operating costs and maximize profitability by unlocking hidden production performance improvements. Headquartered in Oakville, Ontario, the company has an international presence, with offices around the globe.
Tips for a successful kaizen event
Kaizen is a Japanese word meaning "continuous improvement," and it refers to the incremental steps taken to create a more efficient, optimized workplace. As the concept of kaizen has gained popularity in North America, many companies have started holding kaizen events to improve specific areas or processes, as Shoplogix's Martin Boersema explains in this video.
What is a kaizen event?
The goal of a kaizen event is to make improvements to a particular area or process within a business. In the manufacturing sector, this involves a kaizen facilitator meeting with operators and supervisors, usually over a few days. The aim is to analyze the current process and identify potential improvements.
How to lead a successful kaizen event
If you're facilitating a kaizen event, here are a few things to keep in mind.
Don't try to solve the problem yourself.
To understand the problem and identify the right solutions, speak with the people most familiar with the process you're analyzing: the operators. Ask them what problems they deal with on the job every day. Their answers will help you determine the appropriate improvements.
Choose your team carefully.
Most participants in your kaizen event should be directly involved in the process you're reviewing. Include the operators, but also the supervisor, as they will be the one overseeing any changes you decide to make. It's also a good idea to invite an employee who is not involved in the process—they can often provide a fresh perspective on the problem at hand.
Understand the company's goals.
As leader, you're responsible for ensuring that any proposed changes are in line with the company's strategic objectives. This means finding a balance between optimization and what the company needs. For instance, you might find a way for an assembly line to produce 300 parts per hour, but if only 200 parts per hour are required, this "improvement" may not be necessary.
How to handle reluctant participants
Some employees may be reluctant to participate in a kaizen event. They may feel that their work process is fine the way it is. Or, they may have reported problems with their work process in the past and feel frustrated that no one listened to them. They may think the kaizen event isn't going to solve anything.
The best way to deal with reluctant employees is to talk with them on the shop floor. Ask them to walk you through their work process and what problems they have with it. If there's room for improvement, it will most likely come to light during your discussion.
The key is to have these conversations at the worksite, not in a classroom. The kaizen event participants will be able to show you the challenges they struggle with, and you'll get a more complete picture of the situation.
A common pitfall of kaizen events
Let's say you lead a successful kaizen event that yields a list of useful improvements to be made and a plan for how to implement them. But then, weeks later, you discover that the work process has reverted to its former inefficient state. Why? It turns out that the manager wasn't on board with the changes.
When leading a kaizen event, you must make sure the people in charge approve of the proposed changes. They will be the ones deciding whether to follow through on your recommendations, so be sure to take the time to explain how the changes will benefit them, their team, and the company as a whole.
The impact of a successful kaizen event
The improvements that come out of a kaizen event will ultimately lead to a better return on investment for the company. Small improvements (5S activities, for example) may not have a major impact on the bottom line in and of themselves, but over time, they add up.
For the employees, however, even small changes tend to have an immediate impact: suddenly, they have a solution to a problem they've been struggling with, in some cases for a long time. In this way, kaizen events often lead to happier, more engaged employees.

About Shoplogix
With its industry-leading smart factory platform, Shoplogix helps manufacturers reduce operating costs and maximize profitability by unlocking hidden production performance improvements. Headquartered in Oakville, Ontario, the company has an international presence, with offices around the globe.
____________________________________________________________________________
WHAT CAN FLEXPIPE DO TO OPTIMIZE YOUR PLANT EFFICIENCY?
Flexpipe Modular industrial pipe racking system can help you with implementing continuous improvement principles. Your team's creativity can result in a 10% increase in productivity per year. It has been a proven system for more than 50 years now.
See how the modular system can increase production efficiency by 25% in manufacturing processes at Hologic.
Easy Steps to successful Value Stream Mapping
Value stream mapping involves creating a detailed visualization of all the steps in your manufacturing process, allowing you to identify problems and potential improvements. It's one of the fundamental tools of lean management, as TXM's Normand Sawyer explains in this video.

What is a value stream?
The term "value stream" refers to the series of steps an organization takes between the initial order of raw materials and the delivery of the finished product to the customer. This includes both value-added actions (steps that contribute to the product's value for the customer) and non-value-added actions (steps that bring no value to the customer, such as moving equipment or waiting between tasks).
What is a value stream map?
A value stream map is a detailed flow chart representing every step in your manufacturing process. It shows you how materials and information progress through your workspace and indicates all inventory points and processing and lead times, helping you spot bottlenecks and wasteful activities.
Value stream mapping actually entails creating two maps: one of your value stream as it currently operates, and another representing your ideal future process, with current problems solved.
Creating a detailed map of your workflow's current state is a crucial first step. To find effective solutions, you'll need a thorough understanding of your existing process.
Why create a value stream map?
The essential function of a value stream map is to help you visualize the following aspects of your production process:
Flow of information: How information is communicated throughout the workspace
Flow of materials: How parts progress through the workspace
The big picture: How individual processes fit together as a whole
Representing these things visually makes it easier to spot strengths and weaknesses across your entire workflow—not just in specific areas. For instance, you might notice that operators spend the first five minutes of their shift awaiting instructions from a supervisor. You can then figure out how to eliminate that wait time, such as by posting instructions at workstations. Or, you might see that parts tend to pile up at one workstation, causing delays further down the production chain. You can then come up with a strategy to eliminate the bottleneck.

If you're planning to adopt the principles of continuous improvement in your workplace, it's best to start with value stream mapping. You'll find out exactly what needs to be fixed and be better equipped to choose the right solutions.
How do you create a value stream map?
First, choose which process you wish to map. If you manufacture several types of products, they likely go through different processes and will each require their own map.
Once you've decided which value stream to focus on, put together a team. Value stream mapping is not a solo endeavour—to get an accurate picture of your current workflow, you'll need to consult the people who are performing the tasks.

Next, begin gathering data. To ensure accuracy, it's essential to observe operators at work and ask questions rather than relying on reports from managers. The goal is to get realistic information about each step, such as turnaround time, quality level, and changeover time, as well as details about any setbacks the operators face. Let people know your goal is to find ways to improve the overall workflow, not to criticize their performance; they'll be more honest about the challenges they face and may volunteer useful information.
Now it's time to map out your data on a whiteboard. The finished value stream map should resemble a flow chart, with detailed notes about every step of the workflow. Analyze your map and identify problems that need to be addressed.
Consider what changes could be made to solve these issues. You can start by asking yourself what the customer needs, then work backwards: what should the finished product look like? What steps are involved in creating that product? Can any steps be combined or eliminated? The answers to these questions will allow you to map your ideal workflow and determine how to achieve it.

Above all, remember that value stream mapping is a diagnostic tool, enabling you to assess the health of your production chain as a whole. Once you've completed a value stream map, you can implement specific lean manufacturing techniques, such as an Andon system or visual management, to create a more robust workflow.
TXM - Who they are?
TXM is a leading international lean consulting company with projects in more than 15 countries. Established in 2004, the company's scope has since expanded beyond the manufacturing industry, with a team of diverse lean professionals lending their expertise to the resources, services, agriculture, supply chain, and distribution sectors.
____________________________________________________________________________
WHAT CAN FLEXPIPE DO TO OPTIMIZE YOUR PLANT EFFICIENCY?
Flexpipe Modular industrial pipe racking system can help you with implementing continuous improvement principles. Your team's creativity can result in a 10% increase in productivity per year. It has been a proven system for more than 50 years now.
See how the modular system improve operational efficiency while saving time in manufacturing processes at Waterax.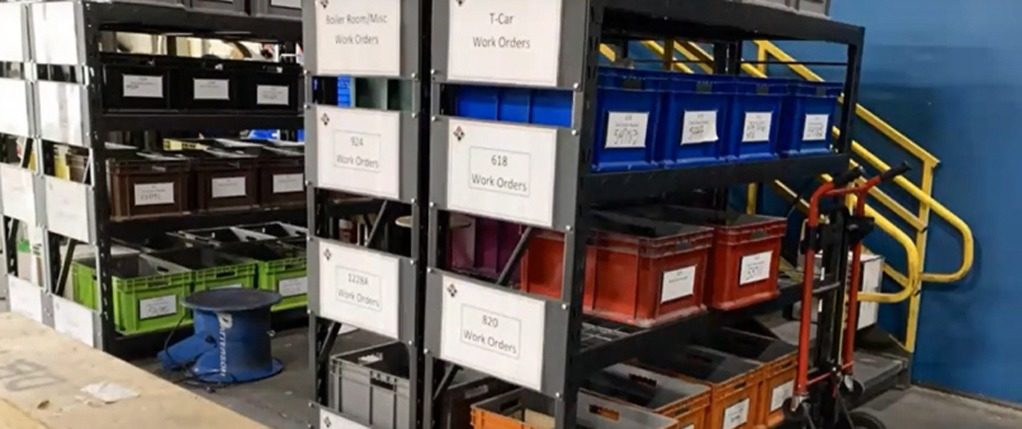 Lean visual management for machines, maintenance and operations
One of the principal tools of lean manufacturing, visual management is used to communicate information about your operations in a way that is easy to understand at a glance, helping to facilitate safer and more effective workflows as well as saving time and reducing waste.
In this video, Leslie Pickering, co-owner of consulting firm Quadrant5, explains some of the key concepts of visual management and how they can help you make your workspace more efficient.

Communicate with visual indicators
Visual indicators, such as colours and floor markings, are one of the simplest ways to convey information in your workplace, allowing employees to locate equipment or determine production status with just a glance.
For instance, you might mark the upper end of a floor-to-ceiling pole with red paint to signal the location of a fire extinguisher. Or, you might install different colored anodized washers behind lubrication points to indicate different types of lubricants or different lubrication schedules (for example, red for weekly lubrication and yellow for monthly lubrication). Colors can also be assigned to machines, parts bins, and their associated tools so that there is never any doubt as to which tool should be used for a given machine.
Floor markings, meanwhile, can be used to communicate workflow and define the purpose of particular areas of your space, such as loading and unloading zones.
Optimize efficiency with visual aids
The idea behind visual aids is to lay out all the tools an employee needs to perform a particular task, and nothing else. They can be configured in various ways depending on the operator's needs.
Tool boards—either a wall or a mobile board with a spot for every tool, designated by colour, shape, and label—are a great example of a visual aid. Unlike with toolboxes, a missing tool can be spotted immediately, meaning the operator can easily determine whether they have everything they need before beginning their task. A well-designed tool board will have plenty of space between tools so that the operator can easily pick them up.

Boost productivity by reconfiguring visual spaces
It's a good idea to look at individual workstations, storage spaces, and equipment and assess how their layout might be improved; this can save operators significant time and effort.
Workstations should be tailored to meet the needs of the people who use them every day, and with the expectation that processes will change, ensuring maximum usefulness and adaptability.
A disorganized shelving rack, for example, might benefit from the addition of a pipe-and-joint system to keep materials organized and in place, thereby reducing the time the operator spends looking for a given material.
Consider also the differences between a heavy steel cart versus a modular cart with a pipe-and-joint system: when transporting materials, the modular model is not only lighter, but can also be adapted to accommodate different shapes.
These examples highlight just a few of the ways visual management can improve process efficiency. What's more, these techniques are in many cases cost-effective and relatively simple to implement.
Protective panels for Le Chaînon
Le Chaînon is a Montreal-based organization that has been helping women in transition since 1932. In addition to its helpline and support services available at all times, it offers short and long-term accommodation to more than 500 women annually.
One of its most-used services is emergency accommodation, which houses 12 women every day. They spend the night in a secure dormitory, can eat supper and breakfast, and receive many services, such as healthcare and clothing care.
Unfortunately, with the arrival of the COVID-19 pandemic, the shelter had to reduce its lodging capacity by almost 50%. In fact, due to the physical distancing measures decreed by Public Health, only seven women could sleep there.
Since the occupancy rate was 100% before the health crisis, the organization did not want to penalize those needing its services by accommodating fewer women.
Helping Le Chaînon continue its mission
Le Chaînon's management came up with the idea of installing protective panels. After doing some research, they learned that Flexpipe made sneeze guards to limit the spread of the coronavirus. Excited by this great project, we donated several panels to them and made the trip to Montreal to come and install them.
Flexpipe sneeze guards are made with steel tubing and connectors that form the frame of the structure. Mika fabric, which helps block droplets, forms the wall and is attached to the frame with self-locking tie wraps.
There are several models, some of which are installed directly on the floor, and others on counters or furniture. Regardless of the model, assembly time is generally only 15 to 20 minutes per panel.
Panel installation
At Le Chaînon, we installed protective panels in the dormitory, as well as in the common dining room. In the first case, we installed partition walls between each of the 12 beds, starting at the height of the pillows. 
Since the fabric used for the panels is transparent, the organization's officials can easily see each of their residents and chat with them, while respecting the hygiene rules related to COVID-19. Solid panels, for example those made of plywood, would not have provided the same advantage.
In the dining room, we installed smaller sneeze guards the middle of each of the tables. Thus, the organization can serve as many meals as it wishes, without having to reduce its capacity. Additionally, women can sit across from each other to eat and chat, which helps to overcome isolation.
Mika fabrics not only improve communication, they also increase the lifespan of the panels. If the fabric ever got damaged, the organization would not need to get a new structure, it would only need to replace the damaged fabric, a process that only takes a few minutes. Tubes and connectors are strong and built to last for years.
Multi-purpose equipment
Once the pandemic is over, Le Chaînon can easily use the protective panels to meet new needs. Like the other Flexpipe products, these are fully modular and easily convert into a shelf or support for an electronic tablet or laptop.
We are very happy to have helped this wonderful community organization continue to operate during this time of uncertainty. Thanks to our sneeze guards and partition walls, Le Chaînon can continue to welcome and support women in transition in a safe environment for everyone.