Employee's creativity contributes to the deployment of the lean culture
Minus Forty is a leader in the commercial refrigeration manufacturing industry. Everyday, 120 employees are committed to providing freezer solutions. For over 20 years, they have been working around quality, reliability, and efficiency.
Buying custom structures from a catalog is very expensive. It's even often not very beneficial. This is why Minus Forty started to use the modular system in 2015. They didn't know it was going to be this useful for the whole plant.
---
Reducing internal transport
Flexpipe modular systems were used to build this packing zone rack. This type of efficient storage has diminished internal transport and freed up space on the production floor. Before the new solution was implemented, workers were stacking cardboard panels on pallets. Additionally, the new storage feature reduced the use of forklifts, which consequently improved employee safety.
Reducing unnecessary movements
Efficiency is an integral part of Minus Forty culture. Based on this core value, the 5S method had been implemented in the plant for some time before the use of modular systems came about. Yet, some improvements were still needed. For example, each tool was not strategically located for the operators to be efficient, despite having its respective foam cut-out inside a drawer.
The new lean manufacturing workstations built with tubes and joint systems contributed to reduce workers' unnecessary movements significantly. Any hidden and underutilized areas in the drawers were eliminated, and the worker's workstation surface was replaced by non-skid tubes.
This ergonomic workstation now encourages workers to free up the workspace by putting away their tools instead of leaving them lying around. By reducing the size of the workstations, Minus Forty was able to streamline its production line. As such, workers have reduced their unnecessary movements and increased their productivity.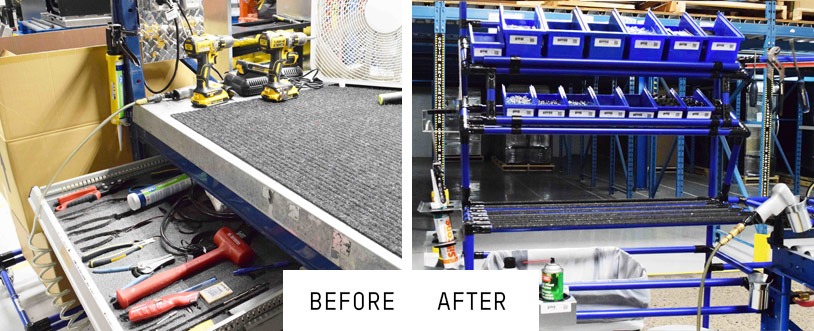 Reducing manufacturing defects
These custom-built carts helped Minus Forty considerably reduce manufacturing defects. The carts which were previously used were not adapted to their products, and this caused an increase in defects due to the friction between parts. As a sheet metal transformer, Minus Forty leveraged its raw materials on hand to create tailor-made carts, perfectly sized to store the refrigerator parts.
Increase employee satisfaction by stimulating their creativity
Modular systems have now become inherent to Minus Forty's modus operandi, though management had to prompt its employees to buy into lean manufacturing principles at first! A mere 18 months later, employees now propose solutions daily that are implemented without even needing management's approval.
After their first three months on the job, each employee undergoes White Belt Training to reinforce adherence to lean manufacturing principles. The training occurs across all sectors of the company, whether in sales, operations, or production floor.
Employees at Minus Forty have become more autonomous and committed to their work as they are involved in the creative process required to build the structures. Also, they have created a moonshine shop equipped with tubes and joints where two employees, Rob and Luke, are the designated assemblers to build custom solutions. Buying bulk Flexpipe parts is now an approved monthly expenditure at Minus Forty.
A modular system helps reduce wastes and maximize productivity in a plant.
You can recycle everything which is a big bonus with the modular system

Aaron Reid – VP of Manufacturing at Minus Forty.
They can be adapted easily according to the company's evolving needs. Minus Forty chose to forgo Flexpipe assembly training. They just challenged their employees' creativity!
Easy as counting up to six
See our simple steps