How HRE Performance Wheels reduced its assembly floor space and lead time by 50%
HRE Performance Wheels designs and manufactures forged aluminum alloy wheels for racing, performance & luxury cars, and SUVs. Based in San Diego, California, HRE's operations in their 30,000 square-foot factory covers everything from forging to powder coat painting in-house.
The problem the employees were contending with was that the inner and outer rim sections of a wheelset were being sent separately to different stages of production—which would often cause some parts to be misplaced. Some of them would be at the washing station while others, at the blasting station or the machining center.
Read on to learn how HRE implemented a solution that would result in less time searching for lost parts and more efficiency when tracking orders.
Estimated reading time: 4 min.
---
The problem: too much time spent unloading, loading, and searching for parts
HRE Design's 3-piece wheel kit requires up to 12 pieces to complete a 4-wheelset (inside, outside, and rim). Workers would be batching and stacking on pallets or placing wheel components anywhere on steel racking. The production manager would spend up to 4 or 5 hours a day locating parts on the floor. Worse yet, forklifts would periodically have to swerve from their designated path to avoid hitting a $75,000 set of machined wheels!
We were spending a lot of time loading and unloading parts to pallets/carts/shelving, and we were spending considerable time searching for parts

Supervisor – HRE Performance Wheels factory
The solution: a kitting cart for each order
Even though workers were a bit skeptical, the production manager prototyped and tested a modular tube and joint kitting cart to fit a 4-wheel order perfectly. Each order had its black kitting cart, creating a one-piece flow effect in the factory. The work order followed the flow cart on a simple hook that could not be removed.
Furthermore, red kitting carts were dedicated to rush orders for clients paying the rush fee, and blue kitting carts were devoted to returning goods authorization.
One of my best days working here was when I took a sledgehammer to the old steel racking

David McBride – HRE's operations manager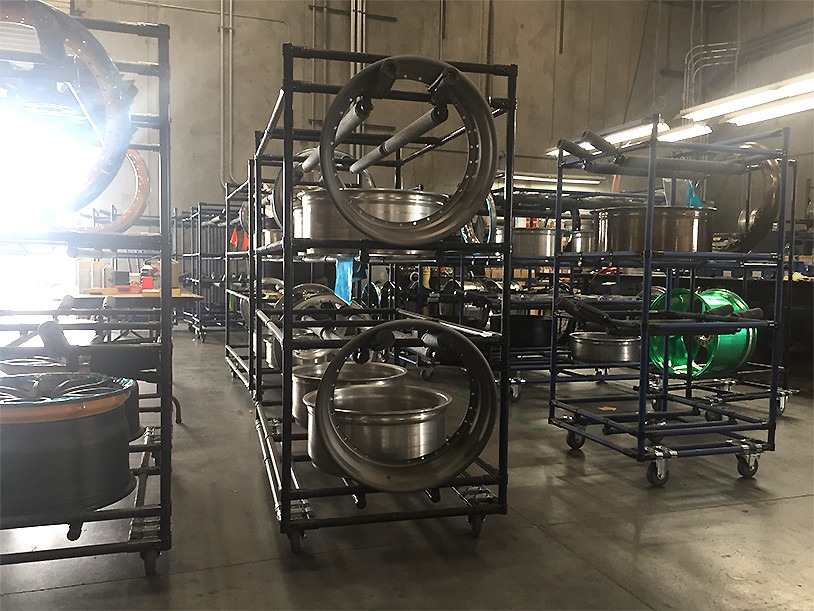 The results: lead time and assembly floor space reduced by 50%
Since implementing the material handling system, HRE has cut its lead time by 50%, resulting in less handling and less time wasted looking for misplaced parts. The production manager now saves 4 hours a day. The new carts offer better staging, better flow, better order tracking, and greater visual management, thanks to the color coding and the first-in-first-out floor marking for the carts.
Batching parts were taking up a considerable amount of space, especially in the assembly area. Now, with one-piece flow kitting carts, 50% of the floor space has been recovered, allowing the quality control station, the assembly line, and the packaging spaces to be closer together. Bringing the workstations together has consequently reduced walking and handling times.
With the kitting flow carts, HRE reduced WIP ("work in progress") by 25%—and realized that they built too many carts! This happened because they based the cart construction on the old WIP. The HRE production team is now planning to dismantle some of the excess carts to build something else with the components, such as an operator desk.
Before using Flexpipe, HRE tried another system, but its performance fell short of expectations. Here's what they told us about their reasons for choosing the Flexpipe material handling system: ''With other brands, you do not get the same service. Flexpipe helped us with the flow cart designs and tube-cutting list and did the follow-up. When we started to assemble the components, we noticed that the Flexpipe system was sturdier and that the pipes were thicker."
The takeaway: less unnecessary movements with custom kitting carts and more available floor space
To conclude, reducing the amount of time devoted to loading, unloading, and searching for parts was the core issue addressed in this case study. It's incredible to see how kitting carts were able to streamline operations, drastically cut down on wasted time, and exponentially increase productivity. No matter the challenges you face, Flexpipe systems can be configured to meet your needs efficiently and cost-effectively.
Intrigued as to how our equipment can help get rid of production headaches?
6 simple steps to implement our
material handling system