Flexpipe Blog
Learn more about the Flexpipe system and its applications with Continous improvement, Kaizen Blitz, Lean Six Sigma, 5S and more.
---
My Shining Experience
With clutter gone and the storage area organized, the next step is to properly and thoroughly clean and paint equipment and work areas. This step is critical as a way of sustaining the improvements begun in the Sort and Set phases.
Initial painting and cleaning require an extra task outside regular working hours, but after that, a daily routine should be established. The entire team should participate in cleaning, but make sure that every team has adequate cleaning supplies and equipment; this is not a task for a special janitorial crew.
Now that I work for an assembly plant, it is much easier to keep the work areas clean compared to my previous job, Martins Industries, a welding plant where cutting, welding, and painting resulted in dust, grease, and sometimes paint powder coating all the equipment. In 2010, Martins Industries was getting very involved in lean manufacturing/5S culture. Each employee had 10 minutes during every shift to clean their work area, including sweeping and washing equipment used. Lights were bright and often cleaned from dust; floors were marked with tape and polished, and the air system was in proper condition (very important in this industry!). Back then and still to this day, people (suppliers, employees, and clients) talk about how clean the factory is.
When I started to work for Martins Industries in 2006, we would do everything in our power to avoid a client's visit. Even if our finished products were of good quality, a quick visit could wind up going bad. Four years later, we would do the exact opposite! A tour would help convince clients that we built good quality products and on time. Clean welding machines and shiny painting equipment gave a good impression. This was also a selling point when we would attract new welders, and good welders were hard to find! They would tour the plant and leave the interview, thinking it was a pleasant, safe, and well-run environment. (Again, it was not just perception!)
Shining will provide a more comfortable and pleasant environment.
Shining will keep a workplace safe and easy to work in.
Shining will encourage good quality production.
Shining will increase ownership of the organization's goals and vision.
Shining will prevent machinery and equipment deterioration.
Shining will be used as inspection (leaks, vibrations, breakages, and misalignments).
How your Layout can reduce forklift accidents
The Occupational Safety and Health Administration (OSHA) estimates that there are 34 900 serious injuries, including 85 fatal accidents per year in the United States involving forklifts. 11% of all forklifts will be included in some type of accident each year, and the manufacturing industry is the most affected, with 42.5% of fatal accidents.
Many work-related factors can cause accidents with forklift trucks, such as lack of training, poor maintenance, blocked vision, improper reversing, speed, poorly stacked loads, inadequate communication, or workplace design. In assembly factories, poor floor layout is one of the main factors for forklift accidents.
Creating designated walkways to separate pedestrians and forklifts is a must in the industry. Still, poor workplace design also includes narrow, crowded, and cluttered aisles, working in the general area of forklift operations, and mainly forklift traffic in work areas.
Traffic in work areas occurs when forklifts are used to handle and transport input, work in progress, or output to work cells.  Most companies have limited workspace, increasing the risk of accidents. To reduce the risk of accidents, process engineers need to consider handling the material differently. Light materials (less than 2000lbs) can be handled by using jiggers, conveyors, kitting carts, tugger carts, or by redesigning the floor layout and redefining processes. The spaghetti diagram on the right is an excellent tool to review forklift congestion.
Safety is not the only concern for reducing forklift use; maintenance, congestion, flexibility, and productivity also benefit from this change; for example, instead of carrying one load of finished products at a time from a work area to a storage area with a forklift. Tugger carts can be used to carry multiple loads of finished products, including empty carts that can be left in work areas afterward.  Furthermore, tugger operators always have a clear view because the loading is done in the back.
Forklifts should be restricted to their designated work areas, where vertical storage is needed or for shipping purposes. This should contribute to the reduction of accidents involving forklifts.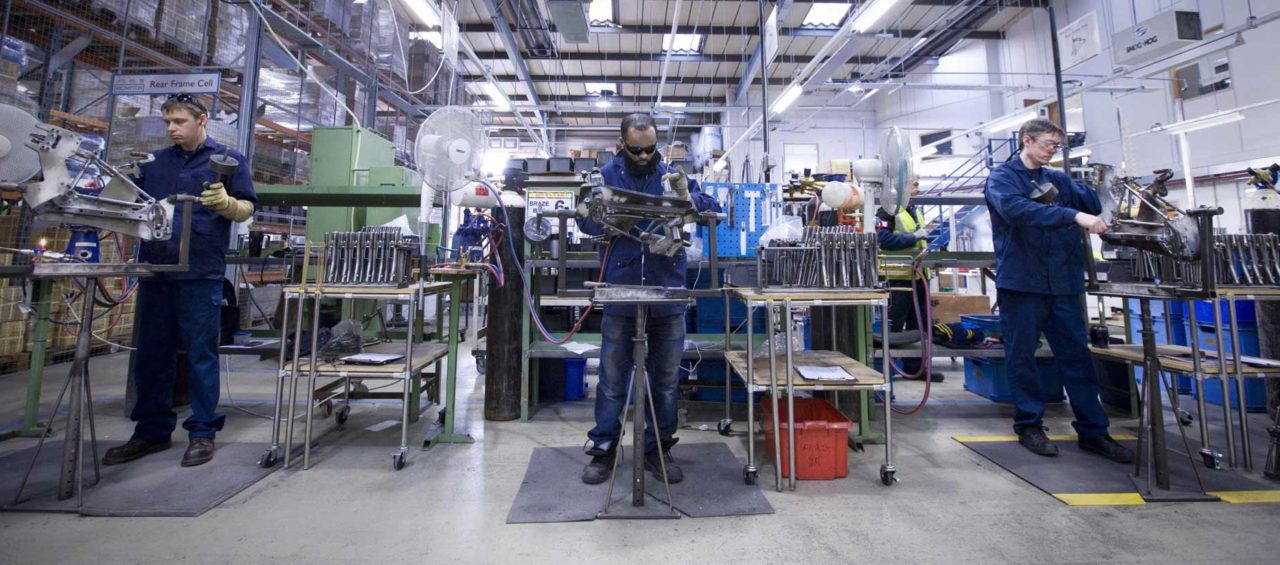 10 tips to liven up standardized work
Our employees are responsible for the team's success, and management is accountable for its failures; it is essential to optimize so you can do a better job tomorrow. In operations, we use standardized work, among other things, to always go further.
Here are nine tips from Benoit Chouinard on how to standardize your workplace.
1 - An organized mind in an organized workspace
There is nothing better than a well-organized space and a free mind to get a good job done. And this is true for all services.
Make sure that your teams can rely on optimized workspaces. In production and assembly, create workstations that are perfectly adapted to the job. In offices, make sure that piles of files are put away at the end of the day, and don't forget to keep everything tidy in the computer network by performing a regular cleanup.
Take pictures when everything is neat and tidy to use as a reference for future cleanups. Lead by example, as we usually require from ourselves what we want from others if you want to know more about keeping a clean work area.
2 - Bring work back to the basics
To always improve, one should ever question themselves. To that effect, your employees are your best allies. Involve them in the improvement of your work methods and discuss it with them!
You can follow these steps:
Break down work into steps and number them
Discuss each of these steps with your employees.
Think of ways to optimize each of these steps
Apply the improved work method together
Be thankful to all employees for their involvement and the expertise they acquire every day while working. Always remember that it is their work that your clients purchase.
3 - Set up the basics and make them grow   
Once the workload has been fractioned, the results must be put on paper. Ph.D. theses are very useful in college, but in the field, you need to prove yourself. Establish the bases of what has to be done. Even if it isn't perfect, it can always be improved over time. You will, therefore, create a place where you will make the most of your staff's experience. Experience is the sum of your mistakes…and to benefit from them, then you will have to consolidate the know-how. The market is continuously evolving, and improvement is necessary to remain competitive and to gain an advantage.
4 - Give meaning to work done by your team
To perform their duties well, employees need to understand them. Don't just show them the starting point and the finish line.
Explain to them the essential details of the job and the reasons why it is done that way. Thus, you will give meaning and importance to what they do.
5 - Standard time ≠ average time
Too often, we estimate the duration of a task. Task duration doesn't have anything to do with the time estimated that it will take to complete a task using various operators. Standard time is the time required to complete a specific task using the best-known methods. All in all, standard time is the result of the improvement of the technique used to complete the job.
6 - The devil is in the details!
Frequently, you think you are in full control of the situation. Then a client makes a complaint because of a detail that slipped through the cracks. Or you notice you're missing an essential tool on Tuesday night when there's a delivery planned for Wednesday morning. Being 99.9% good is not enough, because customers are more and more demanding, we need to be excellent at all times! In conclusion, get involved in all aspects with an attention to details.
7 - Down with paper!
Nowadays, mobile devices give employees direct access to information. Since Apple launched tablets in 2010, we can now get rid of the heavy burden of physically storing paper, illustrations, photos, and videos. Visit www.dozuki.com to learn more, and see Documentation Just Became Painless.
8 - Take control of task training
Work procedures are essential, but you need to make sure that they are passed along to the employees. You are responsible for the development of your team's operational skills and must offer them the necessary resources to progress. You act as the pivot between the apprentice and the trainer. Develop a detailed and rigorous training plan, set clear goals, and follow each employee's output every week.
9 - If the apprentice hasn't learned, the teacher hasn't taught.
This is a relatively simple rule that is easy to remember. Your trainers need to efficiently train the apprentices by teaching them the critical steps of their work, apply their teachings in practice, check that the job is well done, and proceed with adjustments if needed.
Ask your trainers to use the instructions they probably put together for themselves and don't let them teach using the "trial and error" method. So, when somebody tells you the new guy doesn't understand anything, refer them to tip #9…
Bonus - Measure, measure, measure
You already put this in practice. If the manager's responsibility is to generate results, his or her primary tools are indicators. Performance measuring is fundamental to managers as well as their employees.
It's simple, communicate yesterday's results to better present today's goals!
This post was made with the collaboration of
Benoit Chouinard, ing.
Main associate at Solutions vSmart, continual improvement and management infrastructure specialist.