Creform alternative - Specs, prices and Flexpipe parts comparison
Creform alternative - Specs, prices and Flexpipe parts comparison
Our analyses of competitors' products and our customer feedback indicate that for most applications, Flexpipe offers products and services superior to those of the competition. We carried out a comparative study of Flexpipe's products and services as an alternative to Creform to identify each one's strengths and weaknesses. You will also find price comparison tables for 3 structures. The purpose of this analysis is to facilitate decision-making when choosing between the different suppliers of similar modular systems. In the end, the choice is simple!
Creform Alternative Services Comparison
Comparable Quality Products at Unbeatable Prices
Creform Alternative Comparison tables of 3 Different Projects
Price Comparison Creform Alternative - 10 Most Popular Items
Creform Alternative Technical Product Comparisons
Creform Alternative Services Comparison
Flexpipe
Creform
Price

★★★★★

Flexpipe products are among the most competitive on the market.

If you compare Flexipipe's shopping cart price for a project and a similar project at Creform, buying from Flexpipe is more economical every time. The savings vary between 18% and 46%.

Joints, roller tracks, and casters are the most advantageous items to buy from Flexpipe. If these parts are purchased from Creform, your invoice on larger projects requiring more of these types of components will increase much faster.

★★

Creform is the American subsidiary of the Japanese company Yazaki Industrial Chemical Co., founded in 1953. Japanese management relies on its reputation to build customer loyalty. Offering competitive prices is not one of his priorities.

Product offering

★★

Flexpipe offers only the 28 mm steel tubing system, compared to Creform and other competitors who provide multiple modular systems simultaneously.

To reduce inventories and maintain a Lean philosophy, Flexpipe has a more limited range of products, particularly in terms of the various accessories used in modular systems. Flexpipe offers approximately 180 products, while Creform has around 1100.

★★★★★

Creform offers a greater variety of products than Flexpipe. This is useful when projects are complex, but at other times it is complicated to consult the catalog to find the parts you are looking for. It is easy to get lost. You become more dependent on the sales engineer.

Creform offers three different modular systems: the 28mm, the 32mm, and the 42mm. The latter two are useful for large loads and intended for heavy industries. For everything else, the 28mm is more than enough, if it is well designed.

Creform has extended its product range to AGC and AGV as well as to the

Pick to Light

system.

Creform offers more pipe colors, more sizes, more accessories, and more roller track sizes.

Product quality

★★★★

Flexpipe joints are the most popular in the tubular market.

Overall, the quality of Flexpipe's products is similar to that offered by Creform.

★★★★★

The pipe and roller track quality is particularly appreciated.

Creform is ISO 9001 certified. This designates the stability of its production quality.

Purchasing process - Purchase online

★★★★★

Flexpipe offers

online purchasing

, which saves time when the customer manages their lean projects.

Product prices are posted on the website and are up-to-date.

Shipping costs are calculated in the online order, which simplifies purchase order management.

You can share your shopping cart with a colleague, the buyer, for example.

Not applicable

Creform offers a downloadable PDF catalog. It's a huge file, and therefore the pages take a long time to appear.

It is difficult to search for specific parts because the search engine is not accurate.

Prices are not available in the catalog. You must, therefore, ask for the price list and match it to the catalog and photos.

You cannot place an order on the website. Everything is done via email to the technical seller or customer service. The order process is more complex, which lengthens shipping times.

Customer service

★★★★★

Four people are dedicated to answering customer questions by phone, email, or chat during business hours.

A person will answer you anytime between 8:00 a.m. and 6:00 p.m.

Questions asked in chat are answered by humans, usually within a minute.

Customer service managers have thorough technical knowledge and can answer all of your questions quickly.

★★★

There is no chat service available on the Creform site, and if you want to communicate with them, you must do so by email or by phone. They redirect you to the seller in your area, and the reply does not always happen quickly. 

Design software

★★★★★

Flexpipe offers the Flexpipe Creator design tool, an extension of SketchUp. Designing structures is quick and easy.

You can chat online with a design expert during business hours. They usually respond within 4 minutes.

Once your structure is completed, the software provides you with a list of equipment to buy and is directly linked to the online store. The products are added automatically to your shopping cart.

The software uses the imperial system.

NA

No information is available.

Website

★★★★★

Flexpipe produces useful content every month for manufacturers who want to optimize their production floor. Here you can read case studies, blog articles, valuable tips for setting up structures and using the design software.

Online shopping

Registration for online training

Chat

★

The Creform website is outdated and does not offer any online services.

Training

★★★★★

Flexpipe provides several types of training: on-site, in our Montreal premises, or online by appointment.

Flexpipe encourages and supports the customer to become autonomous when completing their projects.

★★★

Creform offers training in its factory or at the customer's site. There is none online.

The sales engineer becomes the customer's key contact person, who will not generally become autonomous; Creform favors the purchase of already-assembled structures, which further increases the total invoice. Kits also cost more in shipping costs.

Design

 

★★★★

Flexpipe offers the first presentation drawing within 24 to 48 hours.

Flexpipe has a team of 4 dedicated designers working together with project managers who are in direct contact with customers.

You can download around 200 2D and 3D plans that are available online for free. This database is continuously growing.

★★★★

The technical representatives at Creform are sales engineers. They advise and design the projects themselves.

Creform has a large database of plans and extensive industry experience.

Delivery

★★★★

Parts orders are shipped the next business day with a 98% success rate.

Because the range of parts is limited, it is less common for products to be out-of-stock.

Flexpipe has three distribution centers

(Atlanta, Montreal, and Los Angeles), thanks to which 95% of its American customers will receive their orders within 3 to 4 days.

Shipping costs are very competitive thanks to commercial agreements with national carriers like FedEx and XPO.

★★★★

As orders are placed exclusively by email, the process can take a few days. Delivery times suffer.

Given the impressive quantity of parts offered by Creform (the parts catalog has 140 pages), some more specialized parts are regularly out of stock. 

Return policy

★★★★

Returns in less than three months under the following conditions:

A choice of refund or credit

No restocking fees

The customer bears shipping costs

A return authorization must be issued, and the equipment must be in resale condition.

The deadline is shorter, but the policy is practical if you order too much material for a project.

★★★★

Returns in less than six months under the following conditions:

Pipes cannot be returned.

Only one credit can be issued.

A charge of 15% or more will be applied for restocking.

The customer bears shipping costs.

A return authorization must be issued. The equipment must be in resale condition and its original packaging.

The deadline is twice as long but more restrictive with credit.

Terms of sale

★★★

Accepts purchase orders with 30-day credit terms

Online account opening

Accepts credit cards

$25 fee for orders under $100

Parts are guaranteed for one year.

★★★★

Accepts purchase orders with 30-day credit terms

Account opening by email or fax

Accepts credit cards

Minimum order of $50

Parts are guaranteed for two years.
Comparable quality products at unbeatable prices
Here are a few examples of Flexpipe products
Creform Alternative Pipes
Flexpipe offers a wide variety of 28mm pipes in several color choices. You will have the choice between cold rolled steel pipes or stainless steel pipes, some of which are designed to minimize the possibility of electrostatic discharge (ESD).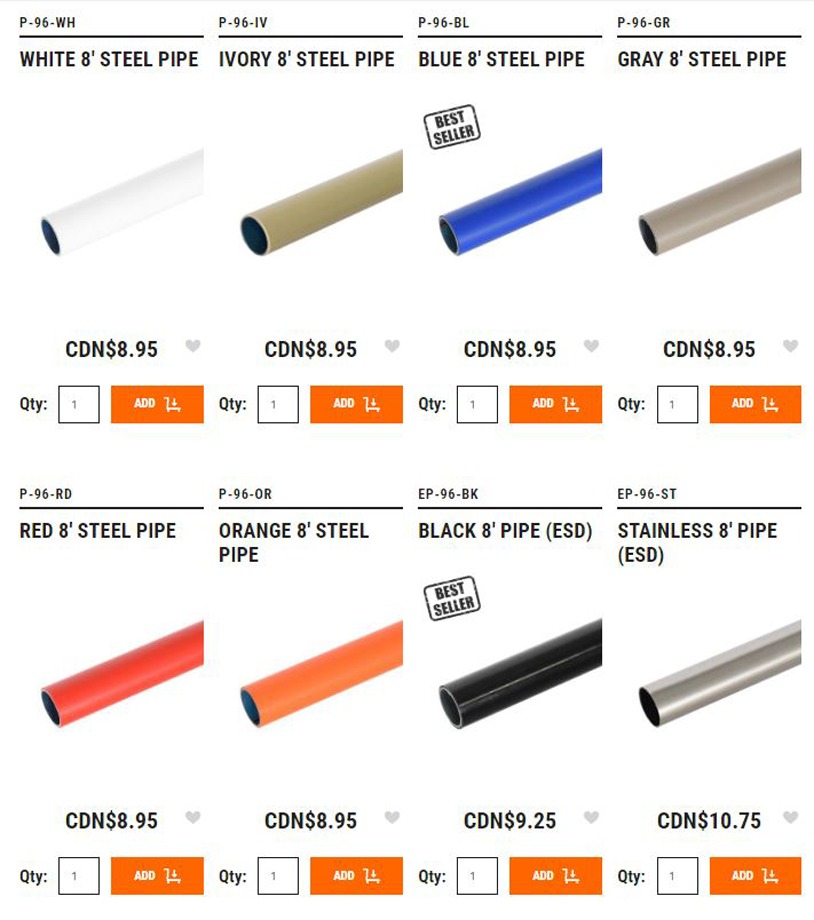 Creform Alternative Conveyors Roller Tracks
Creform Alternative Joints
Creform Alternative Casters
Creform Alternative Accessories
Creform Alternative Comparison tables of 3 different projects
According to the 2020 price lists of both companies, the 2-shelf cart below has a 28% cost-benefit ratio when purchased with Flexpipe. This represents an economic Creform alternative.

According to the 2020 price lists of both companies, the 2-level flow rack below has a 46% cost-benefit ratio when purchased with Flexpipe. This represent an economic Creform alternative.

According to the 2020 price lists of both companies, the 3-shelf rack below has an 18% cost-benefit ratio when purchased with Flexpipe. This represent an economic Creform alternative.

Price Comparison Creform Alternative - 10 Most Popular Items
The comparison table below shows 10 most popular items among Flexpipe and Creform parts. According to the 2020 price list of both companies, see what is the cost-benefit ratio on this Creform alternative.
| | | | | |
| --- | --- | --- | --- | --- |
| Flexpipe Part Number | Flexpipe Price | Number Creform Part Number | Creform Price | Savings with Flexpipe |
| HJ-1 | $1.23 | HJ-1 | $2.50 | 51% less |
| HJ-2 | $2.15 | HJ-2 | $4.76 | 55% less |
| HJ-3 | $3.08 | HJ-3 | $6.72 | 55% less |
| HJ-4 | $1.96 | HJ-4 | $3.89 | 50% less |
| P96-BL | $8.95 | H-2500-BLU | $7.48 | 20% more |
| AF-ILEV | $2.25 | EF-1209B | $9.29 | 76% less |
| R40-RT96 | $18.50 | EF-2044-2500 | $31.30 | 41% less |
| R40-MS | $1.40 | EF-2044C | $3.51 | 61% less |
| W-3ESB | $12.00 | ESW-75SR | $14.72 | 19% less |
| W-6PSB  | $26.50 | YJ-150S | $44.35 | 41% less |
Creform alternative comparison table
Creform Alternative Technical product comparisons
Here you will find technical comparisons between Flexpipe and Creform products. The outside diameter (28 mm) of the pipes is the same for Flexpipe and Creform, so the vast majority of parts, including joints, work on both Flexpipe and Creform pipes.
Pipe comparison
Creform sells primarily 4' lengths, and some colors are also available in 8' lengths. Flexpipe sells primarily 8' lengths, and some colors are available in 4' lengths. There are advantages and disadvantages to each of these lengths. One hand, the 8' costs less to ship, is easier to handle, safer, easier to store as there is no need for a wooden container in which to store it, but there will be waste to anticipate when cutting lengths for certain projects. The article, entitled Why to buy 8-foot pipes, deals with this issue and sums up the difference between the two.
Problematic cases encountered
ABS glued to steel pipe
This problem encountered with Creform pipes has an advantage and a disadvantage. Since it is glued, it is more durable over time, but it cannot be recycled. This problem seems to be a significant issue for Toyota plants in Japan, which are using this type of pipe.
Unglued PE
Flexpipe's manufacturing method makes it possible to remove the plastic sheath from the pipe. This can pose a problem if the pipe is stuck by a sharp object, which is a fairly rare situation, but you still have to be vigilant, especially with transport carts. On the flip side, the pipe is easily recycled because you can separate the plastic from the steel at the recycler.
0.7 mm steel thickness with Creform
1.0 mm steel thickness with Flexpipe
Flexpipe's load capacities are a little higher. It is difficult to say how much higher, because, if we consider 39" (1000 mm), Creform's 0.7 mm pipe has a capacity of 128 lbs, and Flexpipe's 1.0 mm pipe has a 240-lb capacity. We do not have sufficient data to compare the results.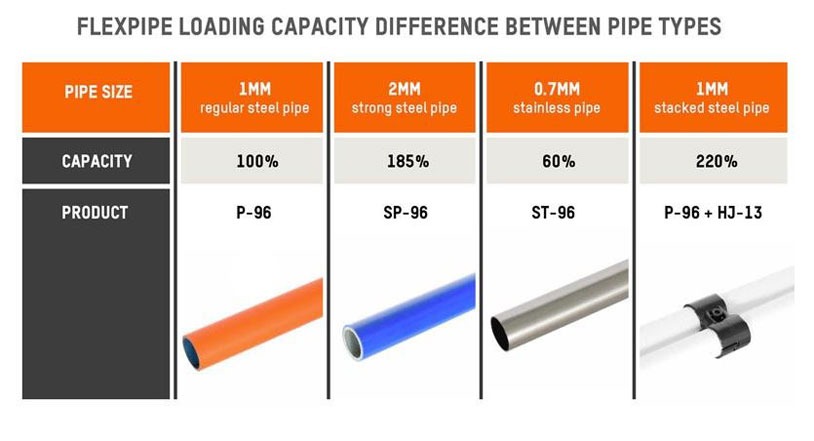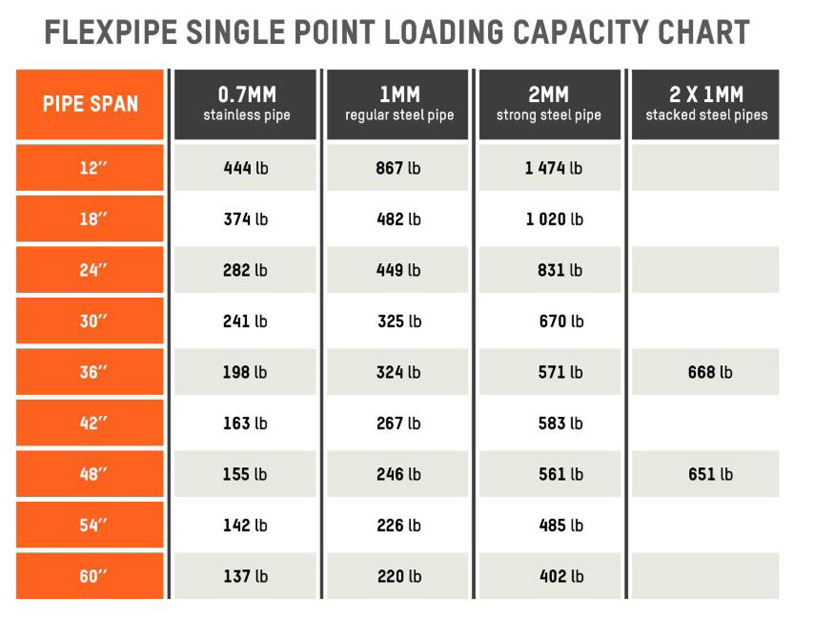 Since the thickness of the steel is different between Flexpipe and Creform, the internal diameter differs by 0.6mm between the two brands. Certain parts designed to fit into the pipe, such as casters, caps, or other accessories, should be checked. Several of them work, but others do not.
Creform alternative steel pipe thickness comparison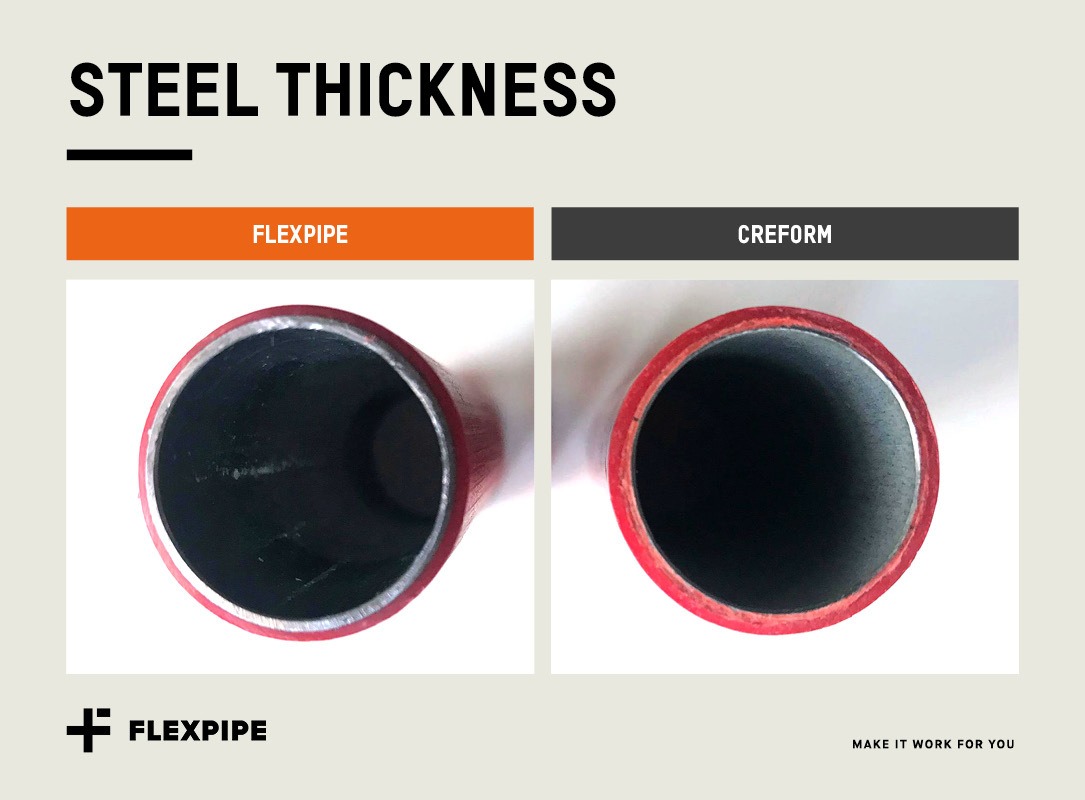 Creform alternative tubes colors comparison
Some colors may vary, and not all colors are offered in both companies. Here is a color comparison table to help you see the differences.

Joint comparison
Flexpipe joints have more grip inside, and so I would say that a pull and push test would have better results. This is particularly attractive in the HJ-2 corner joint, which often supports shelving.
Creform joints are 9.7% heavier and seem stiffer than Flexpipe's. Even if their thickness is identical, that is 2.5mm. The steel used by Creform seems of better quality, which could be more durable if we have to frequently disassemble structures to assemble new ones.
| | | | |
| --- | --- | --- | --- |
| Part number | Creform weight (lbs) | Flexpipe weight (lbs) | Difference |
| H-1 | 0.1631 | 0.1474 | 9.6% |
| H-2 | 0.2248 | 0.2068 | 8.0% |
| H-3 | 0.2954 | 0.2640 | 10.6% |
| H-4 | 0.2645 | 0.2332 | 11.9% |
| H-5 | 0.1080 | 0.0990 | 8.3% |
| | | | Average: 9.7% |
Finish
The coating on the parts seems very similar, and the quality of the two suppliers is excellent. At Flexpipe, we use a black electro-galvanized coating (e-coated), which is difficult to scratch. Information is more limited on the Creform website, but our tests provide similar results for black joints. Both companies display the part numbers on the joints, which is a handy little detail when it comes to asking a new employee to assemble a structure with a plan showing the part numbers!
Safety screw
At Flexpipe, we have added safety holes on some popular joints like the HJ-1 and HJ-2.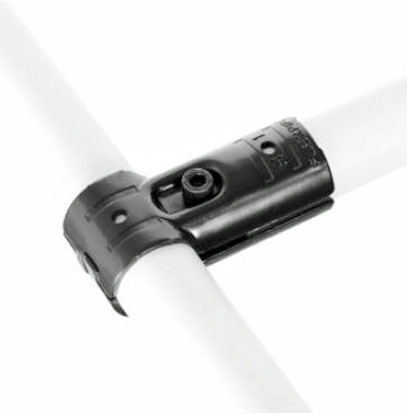 "In the safety screw, one of my colleagues saw a lack of quality assurance of the product. In reality, I used these holes quite often and would have liked to have had them when I assembled Creform. The holes are used, among other things, to secure the corners which are often exposed to being struck by carts. They also serve as cantilever structures and, more ironically, they serve to "secure" the Department of Environment, Health and Safety (EHS). "

- Kaizen Leader at a kitchen cabinet maker in Wisconsin.
Guidelines
Flexpipe joints have two guidelines on their sides to check if the pipe is properly inserted. Like a Poka-Yoke, this visual indicator helps less-accustomed assemblers ensure that their assembly is safe and prevents using pipe that is cut too short. A rack's capacity is defined by its design and compliant assembly.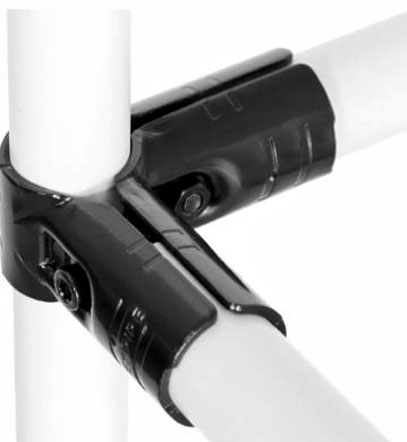 Joint compatibility
Always keep in mind that the Flexpipe range of joints (HJ) works well on a Creform pipe and that the reverse is also true. This compatibility is possible thanks to the outside diameter.
In the field, it is quite common for a cart or assembly line to be dismantled and the joints to be stored in containers until the next structure is assembled. In order to avoid problems during a change of supplier, it is good to know that joints are compatible with modular component manufacturers.
The two companies' systems are primarily metric, so this helps with compatibility. For example, the bolts and nuts are, in both cases, identical, i.e., M-6, and both require the same tools. In addition, the set of keys used for most assemblies is the same. This is the case, for example, with HJ-1, HJ-6, and HJ-7.
The length and alignment of the holes for the M-6 are much the same. For example, with the HJ-4, the holes may not be perfectly aligned, but the bolt and nut can still be connected.
It should be understood that a joint assembly involves at least two parts: the bolt and the nut. This is the case for the HJ-1 = H-1 + H-1 + bolt + nut. We will, therefore, compare the H parts, which are the most common.
| | | |
| --- | --- | --- |
| Flexpipe part number | Creform part number | Compatibility |
| H-1 | H-1 | 99% |
| H-2 | H-2 | 99% |
| H-3 | H-3 | 99% |
| H-4 | H-4 | 99% |
| H-6 | H-6 | 99% |
| H-7 | H-7 | 99% |
| H-12 | H-12 | 99% |
| H-13 | H-13 | 99% |
For the complete list, download the comparison table: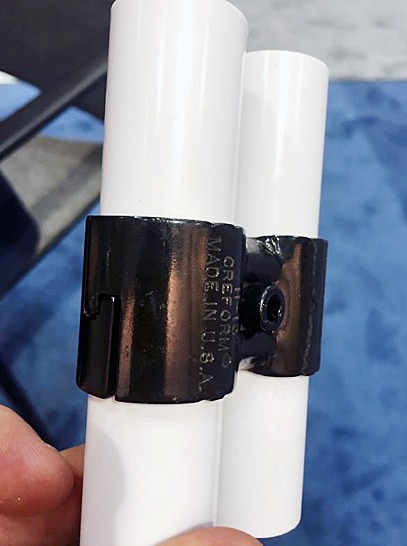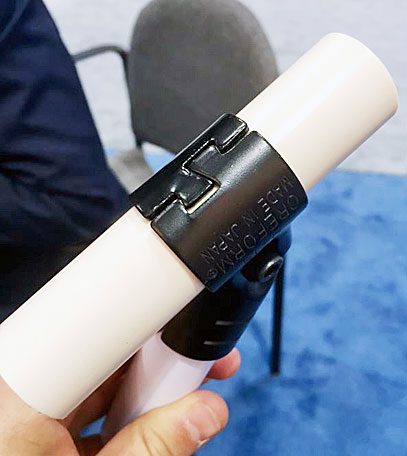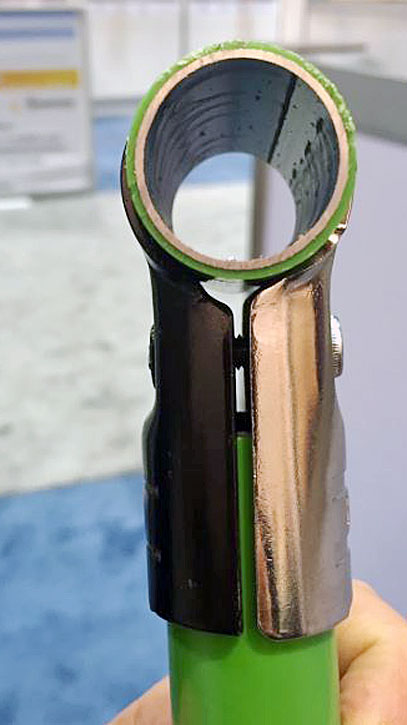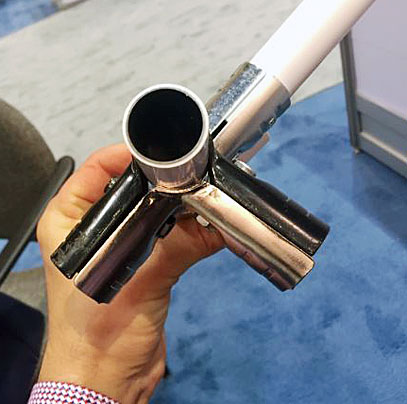 Stem casters
Creform has more models, including 2", 3" and 4" diameter casters.
Flexpipe offers 3" and 4" diameter casters.
Creform's casters have a rubber or urethane tread.
Flexpipe's casters have a rubber tread only.
If we compare the most common casters, for example, the 3" swivel caster with brake and rubber sole (W-3ESB vs. ESW-75SR), the product quality is very similar. The bearing is very good in both cases and the tread quality as well. The Creform caster seems to take a little more load, but Flexpipe's locking foot brake is easier to use.
Both brands use expansion rubber attached to the caster.
Since the internal diameter of the pipes differs, it is important to know the following details:
The Creform caster will work in the Flexpipe pipe, but you will need to widen the stem further.
The Flexpipe caster will not fit into the Creform pipe because the stem rubber is too wide by about 0.6 to 0.8 mm. You can sand it in order to make it fit.
You can replace a caster on an existing cart, and thus use a mix of Creform and Flexpipe casters on the same structure, but be aware that the wheel colors differ and that the heights vary from ⅛ ", 3/16" and ½," depending on the wheel models.
Creform Alternative Comparison Table
Creform has more models, including 5", 6" and 8" diameter casters.
Flexpipe has 4" and 6" casters.
Creform's casters have a rubber or polyurethane tread. Flexpipe's casters have only a rubber tread.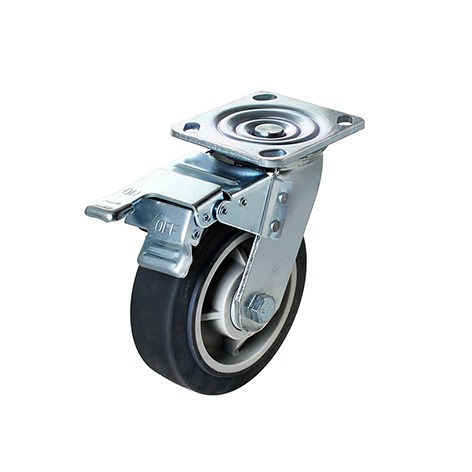 Creform does not offer the smaller 4" mounting plate, which is available through Flexpipe.
Flexpipe and Creform have the same 6" mounting plate.
The only caster compatible between the two brands is the 6" model (150 mm at Creform).
Both brands use similar mounting plates, with the same M-8 bolt, but Creform uses 2x fewer bolts per plate.
Roller tracks
Creform has a few series of roller tracks. The series has aluminum or galvanized casing with stainless steel axles. The roller track needs to be butted with a clip to prevent wheels "free falling" from casing. Aluminum is lightweight and is less noisy when bins are rolled. If you want to have ESD, you need to purchase galvanized steel.
The first group consists of EF-2044, EF-2045,EF-2047D and EF-2047F. This group has a 40mm wide and 35 mm high aluminum casing. Because of the width, Flexpipe mounts can be used in this series, although a gentle strike with a mallet is required. Creform mounts can be used on Flexpipe roller tracks. The difference between the various options is in the diameter and type of wheel used.
| | | | |
| --- | --- | --- | --- |
| Creform code | Casing type & width, height | Wheel diameter & type | Flexpipe equivalent |
| EF-2044 | Aluminum, 40 mm, 35 mm | 34 mm, flat | R40-RT96 |
| EF-2045 | Aluminum, 40 mm, 35 mm | 44 mm, flat | R40-RT96 |
| EF-2047D | Aluminum,40 mm, 35 mm | 44 mm, narrow | R40-RT96 |
| EF-2047F | Aluminum,40 mm, 35 mm | 34 mm, flanged | R40-RT96 |
Creform has 4000 mm long roller tracks, except EF_2044, which is also available in 2500 mm and 3000 mm lengths.
The second group consists of PCC2-3000-H16-EBL and KKC2-3000-H16-EBL. It is an ESD galvanized steel that is 40 mm wide and 35 mm high. Mounts can be interchanged in the same order as the previous series.
| | | |
| --- | --- | --- |
| Creform code | Casing type, width, height | Flexpipe equivalent |
| PCC2-3000-H16-EBL | Galvanised, 40 mm,35 mm | R40-RT96 |
| KKC2-3000-H16-EBL | Galvanised,40 mm,35 mm | R40-RT96 |
Flexpipe's choice is R40-RT96, which comes in an 8' length and with a galvanized steel casing. Since it is also ESD, it consolidates the choice into one option. The casing is 40 mm wide and 32mm high, and will easily fit into Creform's mounts, although they may be a bit loose.
The third group is the place (wide track roller). Again there are many options, but the same result can be obtained by having only one type. The casing is galvanized steel with a stainless axle. There are six non-ESD and 3 ESD rollers. They come mainly in 3-meter lengths.
The casing is 88.6 mm wide and 28 mm high.
The fourth group is the mini skate wheel roller tracks. These have 29.5 mm wide casing and come with ESD or none-ESD.
Flexpipe offers a single product to obtain the desired result. The casing is galvanized steel and ESD. It is 85 mm wide and 32 mm high. The roller tracks will fit into the Creform mounts but are a bit loose. The wide roller track is used when the material conveyed has a large surface area. This works well to convey cardboard or bins with an oddly-shaped bottom surface (ex. honeycomb).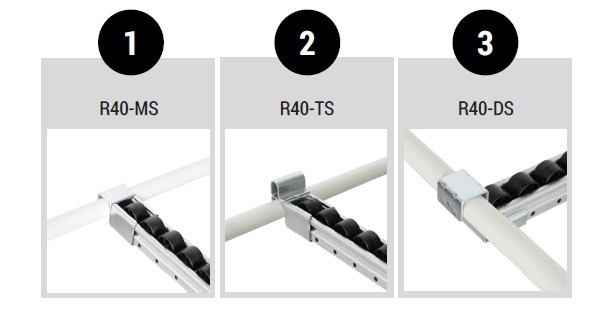 Roller track mounts
The various mounts offered by both companies are secured by snapping them into the pipe. In both cases, all mounts snap into the 28mm; therefore, there is no concern for incompatibility.
Flexpipe's mounts have a pilot-hole, if needed, to secure mounts with self-tap.
Flexpipe mounts are galvanized and ESD rated.
Creform mounts are plated, but not ESD. The only series that has conductive plated mounts is the mini skate wheel roller tracks.
---
Compare and see for yourself
Ask for a free sample now