When should I draw with CAD or do a freehand sketch?
Estimated reading time: 5 minutes
Is training your staff to use 3D CAD software to design a structure necessary for all your projects? In our opinion, absolutely not! Depending on the complexity of the required structure, a freehand sketch may be faster than a computer drawing with CAD software. Read on to know when to design a structure using CAD software versus only doing a freehand drawing.
At Flexpipe, when we need a structure for internal use, we draw by hand instead of using CAD. When we say this to clients that are using 3D CAD software, they are quite surprised!
First, we carry out some "try-storming" with sketches, and, once tested and approved, we do reverse engineering and create a 3D design. This way, we speed up the process considerably rather than waiting for the design department to model a structure that we're not 100% quite sure will work.
In 90% of cases, you'll want to change and improve the initial concept after just one day of use. A pipe and joint system will allow you to tweak and fine-tune the structure easily. If you make the design process longer, you'll end up wiping out the quick improvement advantage of the product.
In some cases, a CAD design is not what the situation calls for.
With these wise words in mind, "Problem in the morning, solution in the afternoon," we'd rather waste a few pipes and joints on a quick structural test rather than spend a long time thinking of the ideal design in front of a computer. Our motto is "Fail fast – Learn fast – Improve fast!"
Benefits of freehand sketching
One of the significant benefits is that freehand sketching is a simple solution that requires only a few types of equipment. There's no need for software or computer or special skills that require you to be in an office setting. You can draw the sketch where the action is taking place and with the people who are most impacted by the structure.
Here are other benefits of doing your project design on paper instead of using computer software:
Lower development costs: a CAD drawing can get expensive as each picture requires an average of 5 hours of staff time.
Reduces wastes, improves efficiency and saves on costs when improvements are implemented within a shorter timeframe.
Stronger employee involvement: a key for better engagement is to act fast, especially when operating with a suggestion system!
Increased employee reach because freehand sketching is easily accessible to everyone. The employee suggesting a new structure or improvements on an existing structure is, logically, the best person to do the sketch.
It's easier to think outside the box because you are making multiple drawing iterations; ideally 7 – see our 7-Ways Idea Template to Avoid Tunnel Vision article. Getting various departments and workers participating in this brainstorming process is invaluable and can reap numerous rewards, such as different perspectives and diversified work techniques.
Benefits of making a CAD drawing after a first structure is built
Most of the time, we suggest making a 3D CAD drawing once the prototype phase is over because the final result will be accurate measurements, a bill of material, and a precise cut list.
Here are some other benefits that it's essential to document, using CAD software, a project that will be reproduced:
Avoid the occurrence of mistakes or leaving details up to an assembler's preferences. It's best to stick to a final design, so each structure is identical.
Reduces the time spent cutting pipes and assembling the structure. This is especially true when making multiple copies of an existing and tested structure.
Keeps a detailed record of your structure's components if you need to build additional units in the future. Regardless of who makes the structure, the "recipe" will be the same.
Enables you to share improvements made to structures with other departments or factories to share best practices and standardize work methods.
Helps you order the exact quantity of material needed or calculate the cost of a large project.
Makes requesting quotes from pipe and joint suppliers easier. Though we hope you'll choose Flexpipe!
Better to develop a concept with CAD software for these types of structures
For complex structures with over 20 pipes and 50 joints – for example, a flow rack 60″ long with five levels and a 40″ depth with multiple roller tracks. A CAD design will make it easier to draw up a bill of material, reduce the risk of errors and reduce waste, and save money.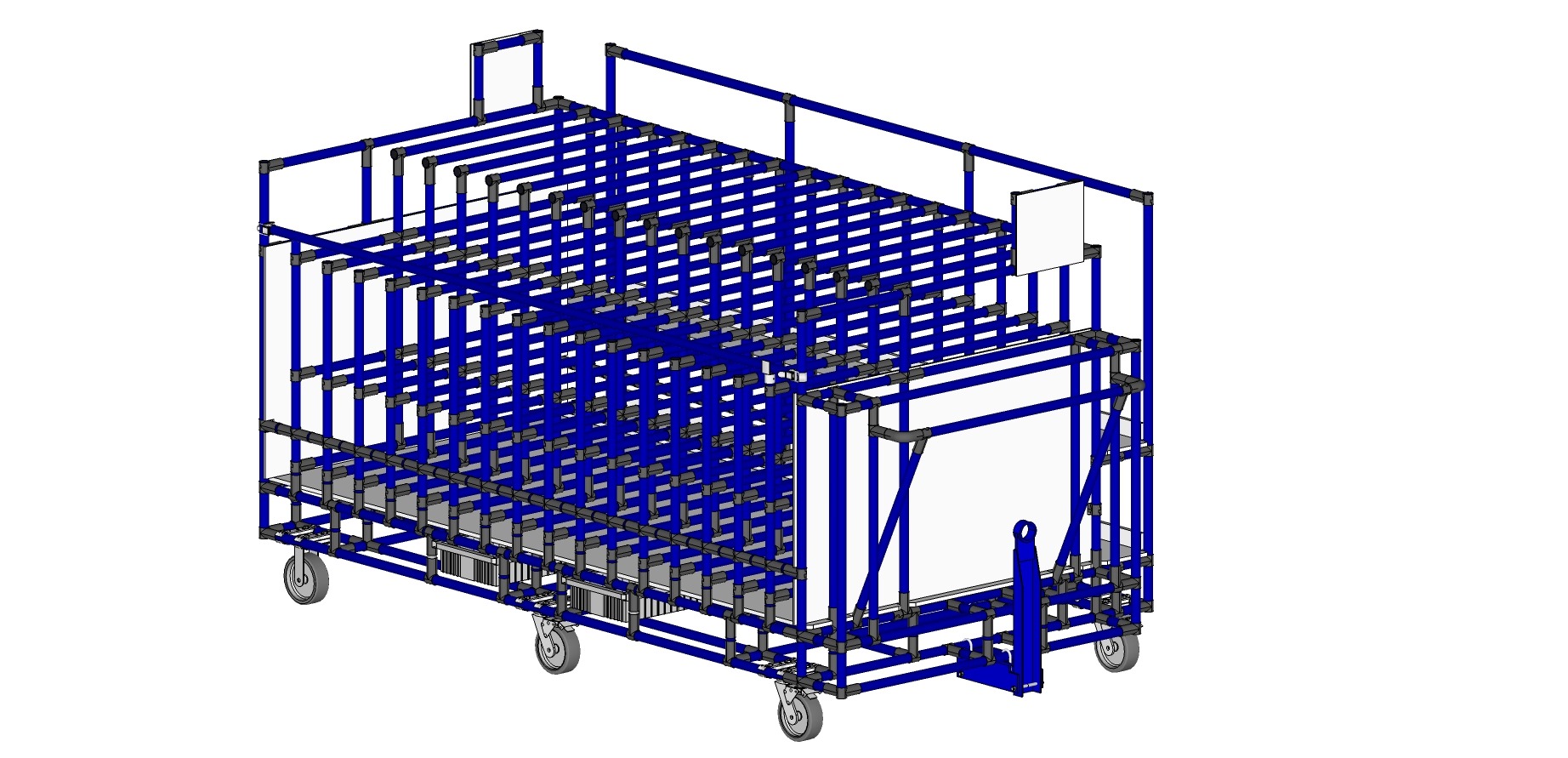 For critical structures with a heavy loading capacity exceeding 1000 lb – for example, a WIP (work-in-progress) cart that will hold parts weighing 1200 lb and is to be moved around the production floor. Calling upon the CAD design team members is a wise move as they are specialized in calculating loading capacities and optimizing work methods.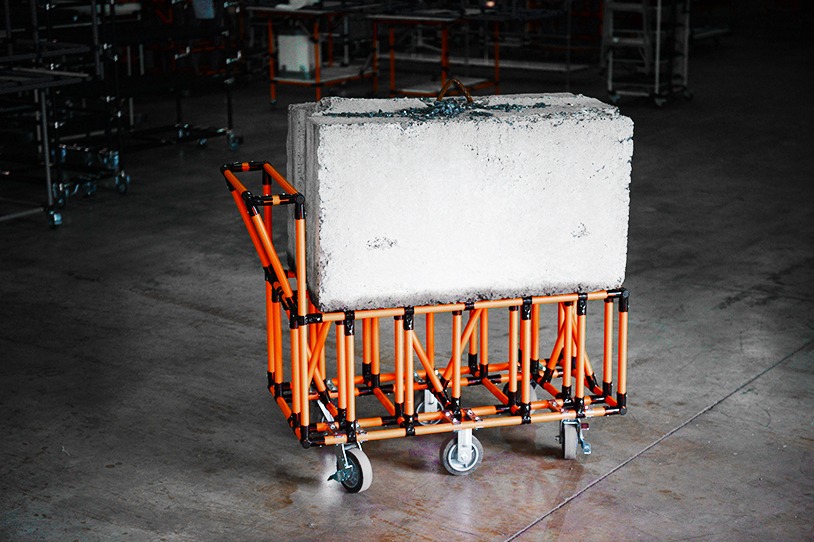 For projects bringing about resistance to change – for example, replacing workbenches that have been used for the last 15 years by new workstations. Some projects generate more passionate debate than others. In such cases, presenting a 3D CAD drawing with multiple perspectives to the team can provide reassurance, bring about product improvement suggestions, and motivate employee engagement.
Projects that require a significant financial investment – for example, new kitting carts to reduce the use of wood pallets and forklift traffic. These types of projects generally require formal approval as it takes a certain amount of time to recoup the investment. Therefore, a 3D software design will help justify the expense of key decision-makers. They will be able to visualize the project and understand its benefits.
It's essential to evaluate the scope of the structure that you want to create; that is, don't overthink the process. Large projects should be done on CAD once the prototype phase is done. Major projects should be drawn on CAD once the prototype is done. Other than that, we suggest that you encourage people to keep it simple: do a freehand sketch, start assembling the structure, and test it quickly!
A coated pipe is less than a $1 per foot, and you will be able to reuse the casters and joints if the structure does not work or has to be improved upon—but at least you'll be getting closer to a structure offering top-notch efficiency.